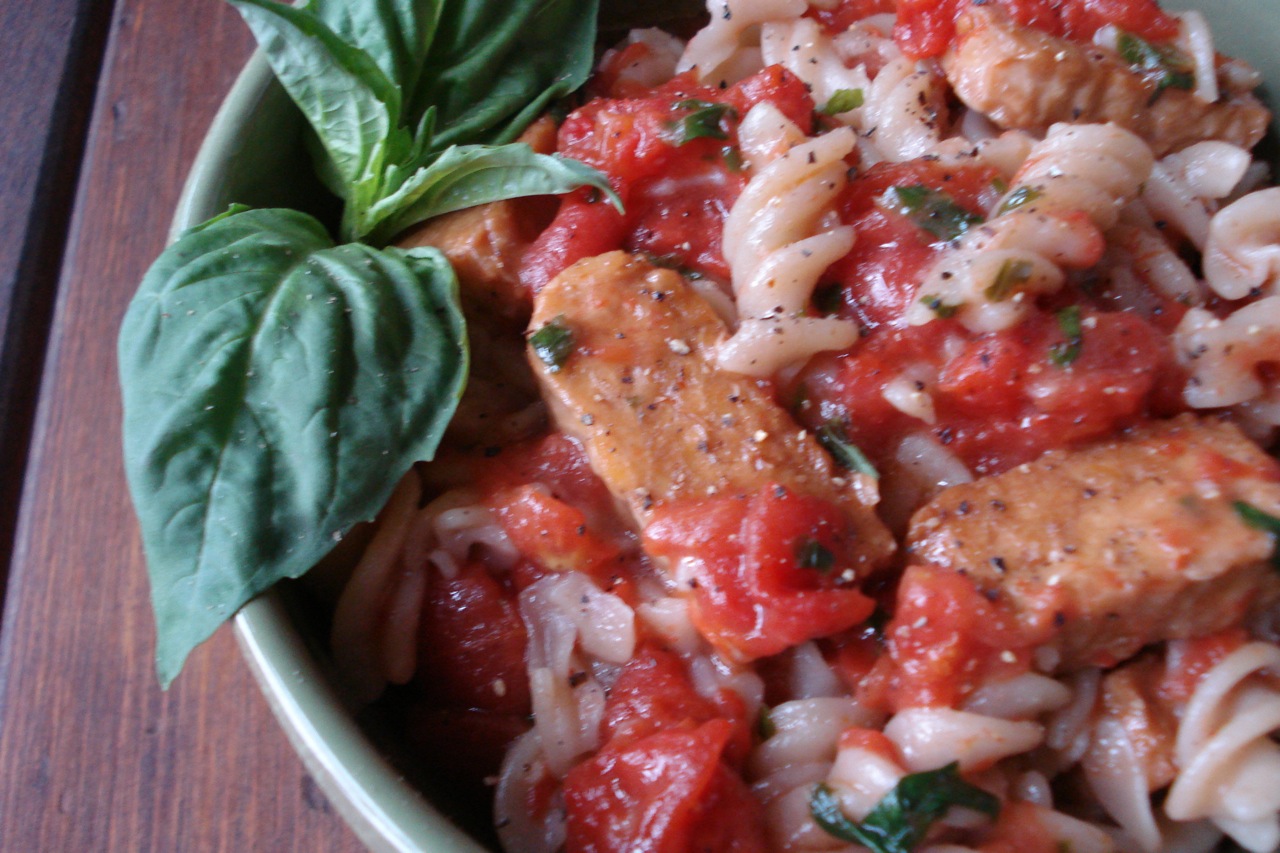 1 28 oz package diced tomatoes
2 medium garlic cloves
1 tsp water
2 TBSP extra virgin olive oil
3 TBSP coarsely chopped fresh basil (or more)
1/4 tsp sugar (optional)
1/2 tsp plus 1 TBSP pure salt
1 additional TBSP extra-virgin olive oil
1/4 cup reserved cooking liquid (pasta water)
1 lb whole grain pasta
Bring water to a boil in large pot, add 1 TBSP salt along with the pasta and cook until al dente.
Meanwhile, crush garlic into a small bowl & stir in 1 tsp water.
Heat 2 TBSP oil in a 10 inch saute pan over medium heat and saute garlic/water mixture until fragrant but not brown, approx 2 mins.
Stir in tomatoes (with their juice) and simmer partially covered approx 10 mins.
Stir in basil, sugar & 1/2 tsp salt.
Reserve 1/4 cup cooking water before draining pasta.
Add pasta, reserved cooking water, & remaining 1 TBSP of oil into the sauce pan.
Cook together over medium heat for 1 min, stirring constantly, and serve immediately.
Optional Add-in

:

8 oz tempeh (one package)
2 TBSP extra virgin olive oil
2 TBSP tamari/soy sauce
Slice tempeh into small rectangles & toss in a bowl with the oil & soy sauce.
Let marinate for 1 hour.
Preheat oven to 350.
Place tempeh on a cookie sheet (I like to line w/ parchment paper) and bake 10 – 15 mins.
Once sauce is done, mix in tempeh.
______________________________________________________________________________________
SIDE NOTES

:

~ The "quick tomato sauce" recipe was adapted from "The Best Recipe" cookbook.

~  I always use a lot of extra basil.

~ This is something that can really be thrown together quickly. If opting to use tempeh, just remember to toss it together w/ the oil & soy sauce an hour or so before you want to eat so it has time to marinate. Put the tempeh in the oven when you start preparing the sauce.

 For those with various food restrictions

, this recipe falls into the following categories:

Dairy Free, Gluten Free, Egg Free, Nut Free, Sugar Free, Grain Free, Vegan, Raw

If eating gluten and/or sugar free, use an appropriate pasta (brown rice pasta is our personal preference), "soy" tempeh, gluten free tamari, and double check labels of any packaged products such as tomatoes.  If strictly avoiding sugar, use 1 drop of liquid stevia instead.