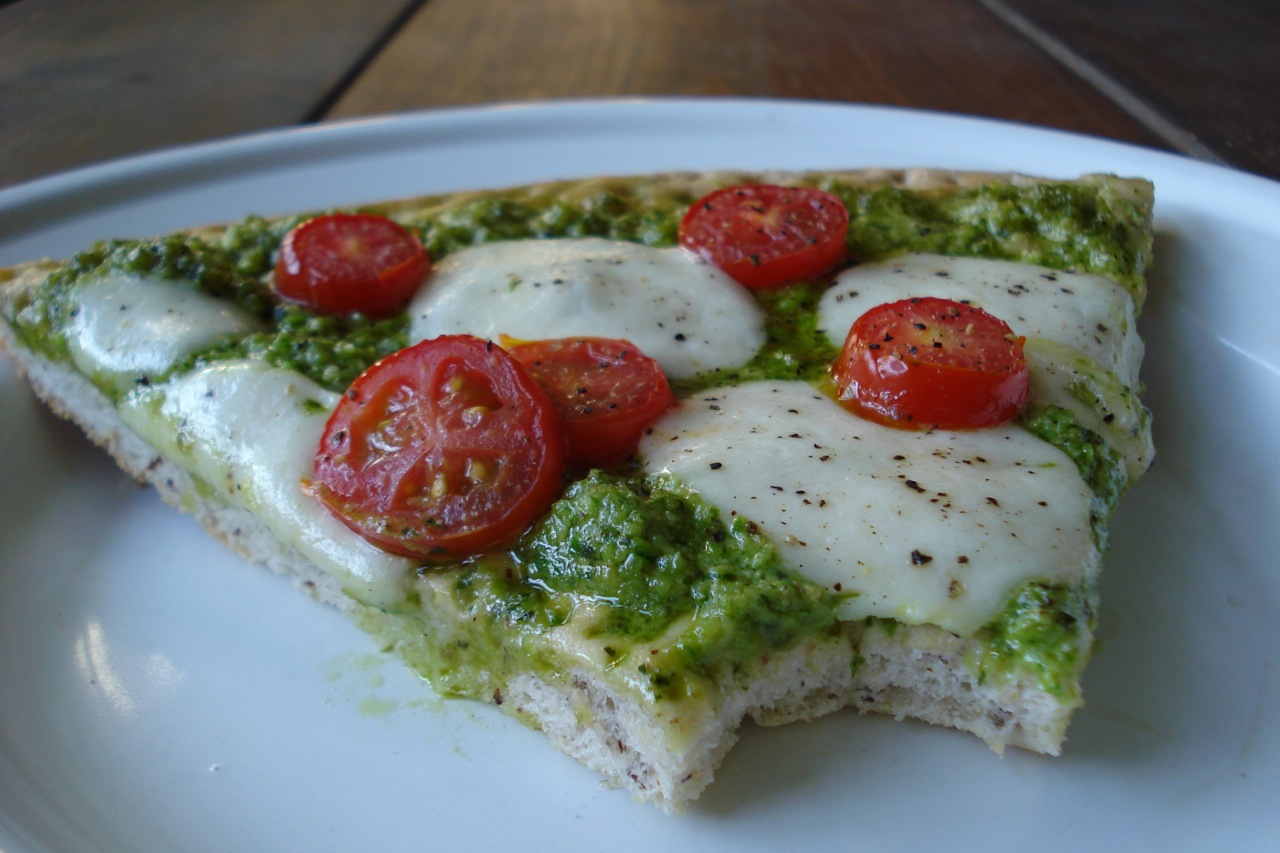 For the PESTO

:

12 garlic scapes, chopped (about 1/2 cup)
1 cup fresh basil (tightly packed)
1/2 cup walnuts
1/3 cup parmesan
1/2 cup extra virgin olive oil
1/4 tsp pure salt
Add everything to a food processor & blend.
If you have the option, process the first 4 ingredients, then add olive oil and salt while machine is running.
To assemble the PIZZA

:
Spread the pesto on (a pre-cooked) pizza crust.
Add some sliced, fresh mozzarella, grape tomatoes, and freshly ground black pepper.
Bake at 375 for about 10 mins.
You can of course use any pesto recipe for this, so if you can't get scapes – no biggie.
For a DAIRY FREE version of a pesto style PIZZA

:

To die for!

______________________________________________________________________________________
SIDE NOTES

:

~ The pesto can be enjoyed as a sandwich spread, pasta sauce, pizza topping, or dip.

 For those with various food restrictions

, this recipe falls into the following categories:

Dairy Free, Gluten Free, Egg Free, Nut Free, Sugar Free, Grain Free, Vegan, Raw

If eating gluten and/or sugar free, be sure to use or make an appropriate crust.

~ I had never heard of garlic scapes before joining our local CSA. We've come to really enjoy them & look forward to their brief appearance each year. A garlic scape is the flowery part of the garlic plant that's trimmed off to enable the garlic bulb to form and thrive. I think it's fair to say that a garlic scape is to garlic what a scallion is to an onion (only twirlier!). They can be chopped up and added to any dish for a delicate, garlic flavor. If you'd like to get your hands on these pretty, little things, look for them at your local farmers market (they're in season now – early July – but they come & go pretty quickly).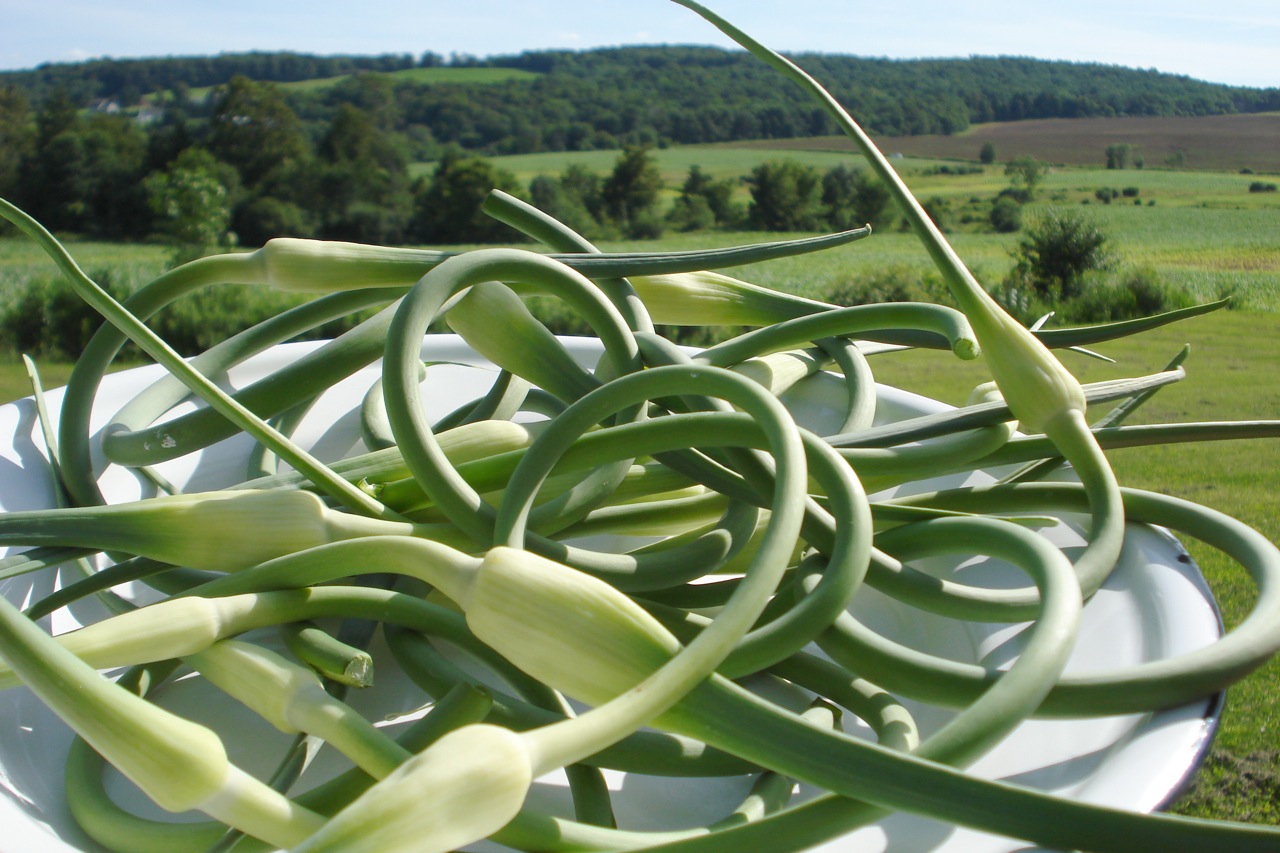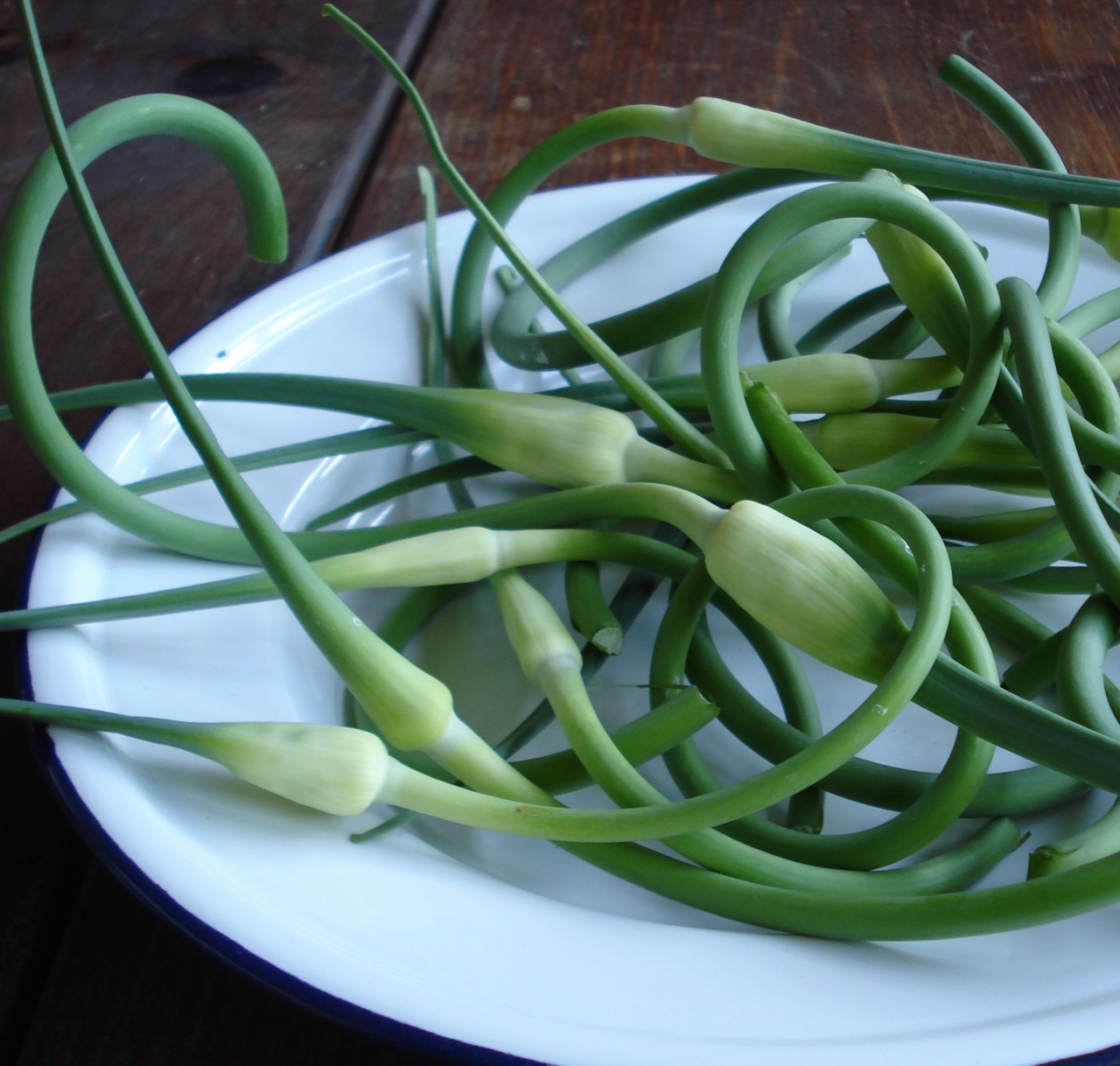 They almost look like they need names. I think I'm having a childhood flashback. What were those things called – those small fuzzy worms that almost looked like they were moving themselves – twirling around your fingers. Can't think of what they were called, but if only I had a bag of googly eyes, I'm sure these scapes would come to life  =)
Speaking of googly eyes….If you google it, you'll find several other garlic scape pestos out there. They all look great. I opt to use walnuts instead of almonds, simply because we already eat a fair amount of almonds & I like to change it up. I also like using basil in this pesto (as opposed to having the scapes be the only green thing in there). Spinach and/or parsley work as well, and of course, pine nuts are a good, old-stand-by for pesto if you'd prefer them to walnuts or almonds. Good luck w/ your creation! =)