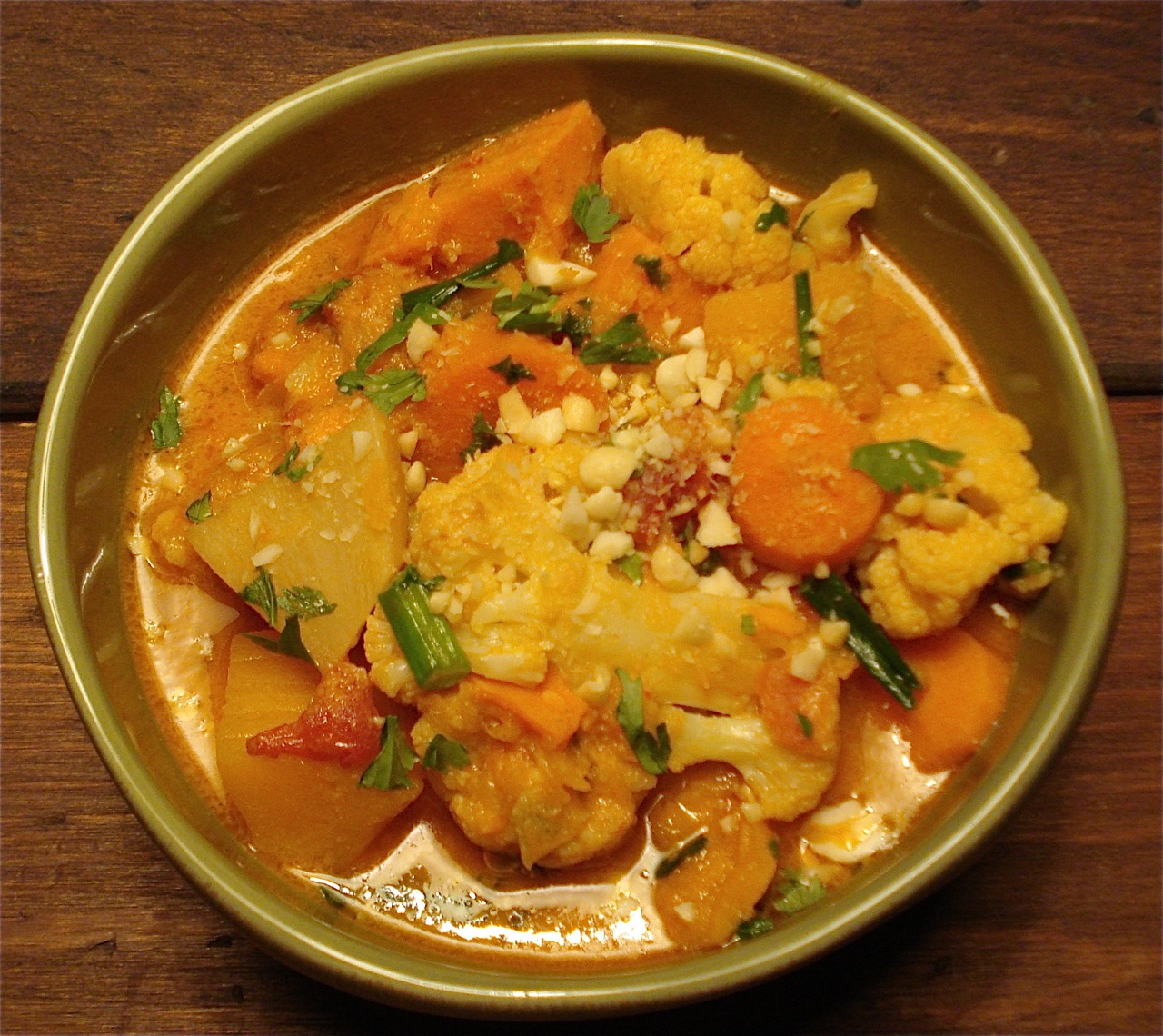 TO DIE FOR………..(but not an everyday dish!)
1 small head of cauliflower, cut into large florets (3 cups)
4 TBSP coconut oil, divided
pure salt
1 onion, diced (1 cup)
2 garlic cloves, minced
1 TBSP minced peeled ginger
1/4 tsp hot red pepper flakes
1 medium turnip, peeled & cut into large chunks (1 cup)
2 medium carrots, peeled & cut on the diagonal (1 cup)
1 celery stalk, cut on the diagonal into 2 inch pieces
1 (14.5 oz) can diced tomatoes
2 TBSP tamari/soy sauce
2 cups water
1 small sweet potato, peeled & cut into large chunks (1 & 1/2 cups)
1 lb butternut squash, cut into big chunks (about 4 cups)
1/4 cup natural, creamy peanut butter mixed with 1/2 cup warm water
2 TBSP ginger juice (or extra minced ginger)
1 scallion, chopped into 1 inch pieces (1/4 cup)
1/4 cup chopped fresh cilantro, plus more for garnish
pinch of cayenne pepper
1/2 cup chopped, roasted, unsalted peanuts, for garnish
Preheat oven to 375.
Toss the cauliflower in a bowl with 2 TBSP of the oil & sprinkle with salt.
Spread on a parchment-covered baking sheet & roast in the oven for about 30 mins, stirring after 15 mins, until the cauliflower has begun to brown.
Heat the remaining 2 TBSP of oil in a large (6-8 quart pot).
Add the onions & cook over medium-low heat for about 5 mins, or until the onions are translucent.
Add the garlic, ginger, and red pepper flakes & cook another 5 mins.
Add the turnips, carrots, celery, tomatoes, and soy sauce & cook uncovered over medium heat, stirring from time to time, for about 5 mins.
Add the water, cover the pot & bring to a boil over high heat.
Lower the heat & simmer, partially covered, for 10 mins.
Add the sweet potato, squash & 1 tsp salt & cook for another 15 mins, or until the vegetables are tender.
Stir in the roasted cauliflower & the peanut butter mixture & cook for just a few minutes, stirring (gently) every so often to make sure nothing sticks to the bottom of the pot.
Add the ginger juice, scallions & cilantro, adjust salt to taste & add a generous pinch of cayenne.
Serve with peanuts & chopped cilantro sprinkled on top.
______________________________________________________________________________________
SIDE NOTES

:

~  From "The Voluptuous Vegan".  For us, this is a special occasion dish – the main event of our annual Thanksgiving meal.  It's simply the best.  Although I'd love to have it once a month or more, there's a lot of prep work involved, & reserving it only for Thanksgiving makes it extra special when that time comes around.

~  When buying your ingredients, don't forget to pick up parchment paper if you want to use it for roasting the cauliflower.

~ Get your nearest husband, friend or person who owes ya to help you peel & chop the veggies. I always have Al prep the squash, turnips & sweet potatoes.

~ Can use jarred minced ginger if you can't get, or don't want to deal with fresh (look in asian aisle).

~ The peanuts are more than a garnish. Everybody loves the peanuts on top. Use "kwik cut" tool (under "favorite tools/gadgets") to chop (or pulse a few times in a food processor or blender).

~  Just as good the next day. Maybe better.

~  The following products are gluten free: All Eden Organic Canned Tomatoes, San-J Organic Wheat Free Low Sodium Soy Sauce.  If avoiding sugar, careful what kind of peanut butter you use.

 For those avoiding certain foods

, this recipe falls into the following categories:

Dairy Free, Gluten Free, Egg Free, Nut Free, Sugar Free, Grain Free, Vegan, Raw

If eating gluten free, use a gluten free tamari, and be sure to double check the labels of packaged goods (tomatoes).  If avoiding sugar, be careful what kind of peanut butter you choose.  If avoiding nuts but can tolerated sunflower seeds, substitute sun butter for the peanut butter, and sunflower seeds for the peanuts.