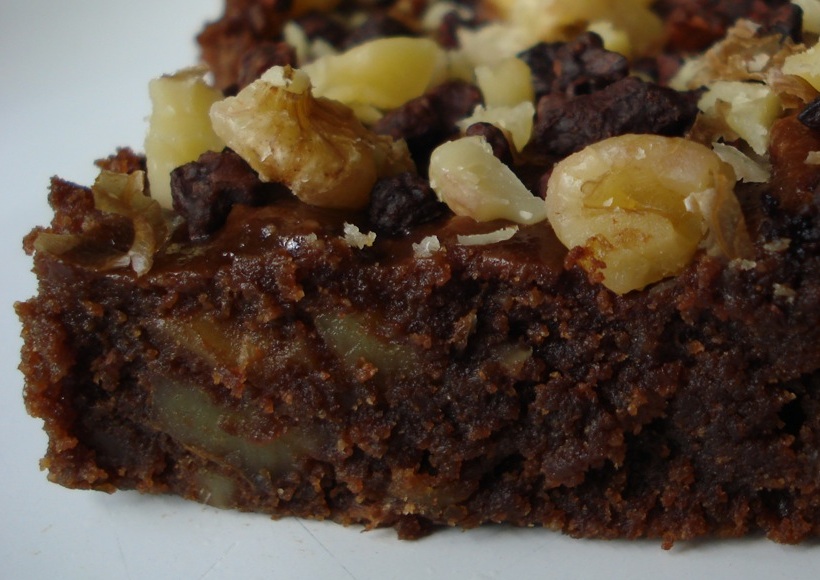 1 cup nut-butter (almond, peanut…whatever type you like)
2 eggs
1/4 tsp pure salt
1/3 cup plus 2 TBSP honey
1/4 tsp pure vanilla
1/4 cup cocoa (or cacao) powder
1/2 cup chopped walnuts, divided
1/4 cup chocolate chips or nibs (more or less)
Preheat oven to 325°.
Grease an 8×8 square baking dish.
Mix all ingredients except choc chips & walnuts into a bowl, & beat with electric mixer.
Mix in some of the walnuts (I mix in about 6 TBSP & sprinkle about 2 TBSP over the top).
Press mixture evenly into baking dish.
Sprinkle remaining walnuts & chocolate chips over the batter.
Bake for 25 mins on middle rack.
______________________________________________________________________________________
SIDE NOTES

:

~ Adapted from the Spunky Coconut Cookbook.

~ If you like to make every bite count, I can recommend a few products, such as "Really Raw" brand honey, "Navitas Naturals" cacao sweet nibs (for choc. chips) & cacao powder (both loaded w/ antioxidants & trace minerals).

~  I use PECAN-BUTTER for this and it is heavenly!

~ The recipe can be doubled using a 9×13 baking dish (bake time is the same).

~ Freezes well (I cut into individual servings before freezing).

For those with various food restrictions

, this recipe falls into the following categories:

Dairy Free, Gluten Free, Egg Free, Nut Free, Sugar Free, Grain Free, Vegan, Raw

If eating gluten free, be careful choosing your chocolate products and vanilla (if using).  If you can't eat nuts but can tolerate sunflower seeds, use sunbutter  and omit the walnuts or use sunflower seeds (which would make this recipe nut free).