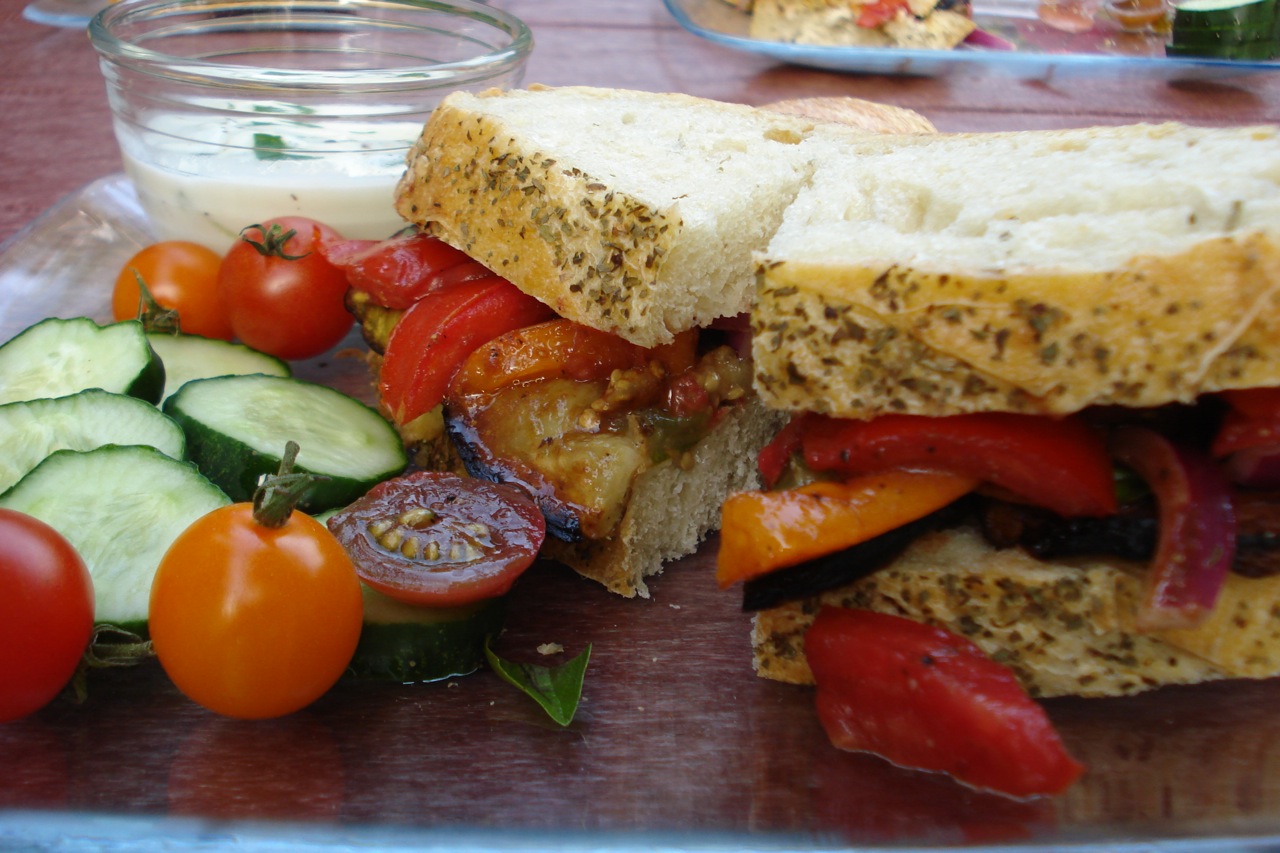 eggplant, peeled & cut into rounds
extra virgin olive oil
pure salt & freshly ground pepper to taste
TOMATO SALAD<—–(click to view simple reciepe)
bread of choice
fresh basil (optional)
feta cheese or fresh mozzarella (optional)
Pre-heat broiler.
Lay eggplant on broiler sheet, brush with olive oil & sprinkle w/ salt & pepper.
Cook under broiler until done to your liking (about 10 or 15 mins).
Remove tray from oven & turn eggplant slices over.
Brush second side with olive oil, and broil again until they look good.
Layer eggplant and tomato salad on your favorite bread & pour some of the juice from the tomato salad over the top.
Fugghetaboutit.
______________________________________________________________________________________
SIDE NOTES

:

~ This sandwich was first made for me many years ago by my Dad, who often made it w/ his fire-fighter buddies during down-time at Brooklyn's fire station 253. So juicy & delicious.

~ Don't cut the eggplant rounds too thin, as they'll shrink quite a bit while cooking.

 For those with various food restrictions

, this recipe falls into the following categories:

Dairy Free, Gluten Free, Egg Free, Nut Free, Sugar Free, Grain Free, Vegan, Raw

If eating gluten free, be sure to use a certified gluten free bread. If eating dairy free, omit the cheese.

~  Personally, we don't use cheese with this, as to us, it distracts from the fresh, flavorful veggies, but depending on your taste buds – you might prefer it cheese-y!

~ Here, I served it with a side of YOGURT-CUCUMBER-DIP for the raw veggies.  (We also like to dip the sandwich in there too.)