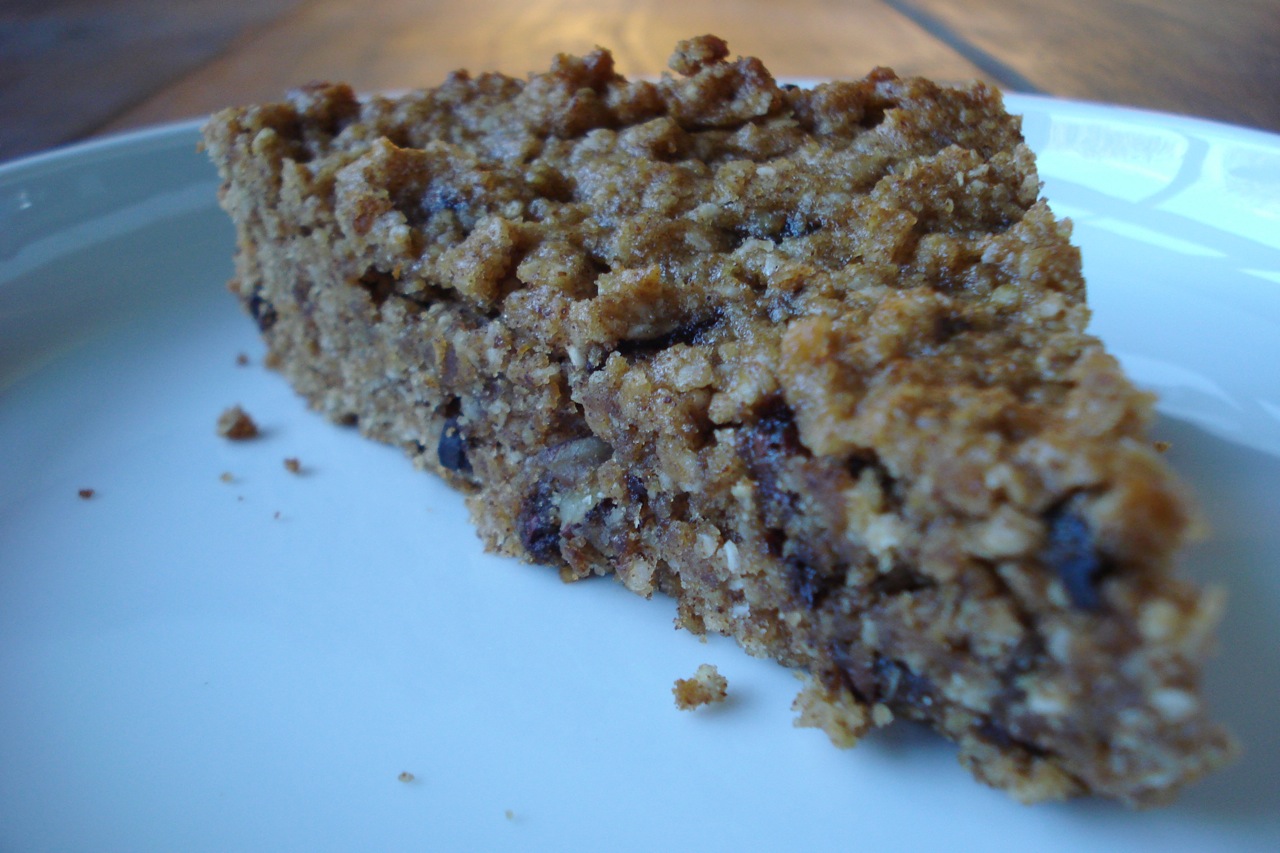 4 eggs, beaten
3/4 cup honey
1 tsp powdered white stevia
1 cup almond butter (or other nut/seed butter)
1 TBSP pure vanilla extract
1/2 tsp pure salt
1/4 cup cream of buckwheat cereal (dry – straight from the box)
1/4 cup tapioca flour
1/2 cup coconut flour, sifted
2 cups quinoa flakes
1 tsp baking soda
1/2 tsp baking powder
2/3 cup chocolate chips (I use Navitas Naturals Sweet Cacao Nibs – one 4-0z bag)
1/2 cup coconut oil, melted
Pre-heat oven to 350.
Beat all ingredients together with an electric mixer.
Divide into 2 square greased baking dishes (I use coconut oil to grease pans).
Bake for about 22 minutes, being careful not to over-bake.
______________________________________________________________________________________
SIDE NOTES

:

~ Adapted from "The Spunky Coconut Cookbook"

~ Originally had a different (more seasonal) recipe in mind to post today, but shifted gears at the last minute. This cookie cake was my contribution to yesterday's get-together at a friend's house. Part 1 of the get-together was a super-cool tubing excursion – which was a 2 hour, lazy float down the West Canada Creek. How very nice it was – w/ sun & scenery & friends =) In any case, I was asked if the cookie cake recipe was on my blog, & that's when I realized it wasn't, even though I've had it in rotation for almost a year now. I decided today was indeed a good day to post it (after all, when is cookie cake not in season??)  =)

~ I was also asked if it was difficult to make, and I answered no, as it's not. But typing it up now, I do realize it's a longer list of ingredients than I normally use for baking – and some of those ingredients are not things people ordinarily have around the house. SO, maybe I answered incorrectly! And come to think of it, that's probably why I've been subconciosly avoiding posting it. I know people get turned off by a long list of strange ingredients, and I try to avoid posting too many recipes like that – but for today – se la vi =)

~ This "cake" is real food – with fiber, protein, antioxidants, vitamins, minerals and more. The recipe yields 16 servings, and each one contains less than a tablespoon of honey (3/4 TBSP to be exact). That's pretty low for a delicious, sweet tasting, dessert food.

~ You'll probably have to take a trip to the local health food store for some of the ingredients. The cream of buckwheat cereal & quinoa flakes can be found in the cereal aisle (or in the gluten free aisle if one exists). The tapioca flour & coconut flour should be with the other flours, but might also be hiding in the gluten free aisle as well. The stevia powder will be either in the sugar aisle or supplement aisle.  Don't worry about wasting your money on all these strange ingredients (you might imagine, the remains of which will just sit in your pantry rotting). I predict you will use them all up, making this cake, again & again & again =) AND, keep in mind, it's presicely these odd ingredients that give this cookie cake some of its super powers.

For those with various food restrictions

, this recipe falls into the following categories:

Dairy Free, Gluten Free, Egg Free, Nut Free, Sugar Free, Grain Free, Vegan, Raw

If eating gluten free, be careful with your choice of vanilla and chocolate chips.  If eating dairy free, be sure there are no milk ingredients in your chocolate chips.  If you can't eat nuts but can tolerate sunflower seeds, use sunbutter (which would make this recipe nut free).

~ I highly recommend seeking out the Navitas Naturals nibs (or other reputable brand), as high quality chocolate is such a super food – loaded with antioxidants (flavanols & polyphenols). Why feel guilty about splurging with chocolate when you can feel fantastic about it!? Unfortunately, most of the chocolate out there is junk food, due to additives & the way it's processed. Just because a particular brand of chocolate chips is gluten free or dairy free, doesn't mean it's junk free.

~ I'm a big advocate of coconut oil (click here for more details—–>MY-OILS-OF-CHOICE, but you can use melted butter if preferred. If you do use coconut oil, the idea is to melt it over low heat & remove from burner right away (you want it melted, but not necessarily hot). I mix it into the batter last (right before the choc nibs), so that the cold eggs don't harden the oil (coconut oil will return to its semi-hardened state if mixed with something very cold). The other way to avoid that is to let the eggs sit out on the counter for an hour or 2 before cracking them open, so they're not so cold. Then it doesn't matter so much when you add the coconut oil. Either way will work. I also use the coconut oil to grease the baking dishes.

~ Freezes well. I make a batch of this & cut it up into 16 triangles (8 triangles per baking dish). I then individually wrap each triangle in parchment paper & freeze together in a large zip-lock bag. The kids love when they find this as a surprise in their lunchbox & I love that it's so good for them  =)

~ Alright, I might have used too many smiley faces in this post, but what can I say – This cake makes me happy =) =) =) =)