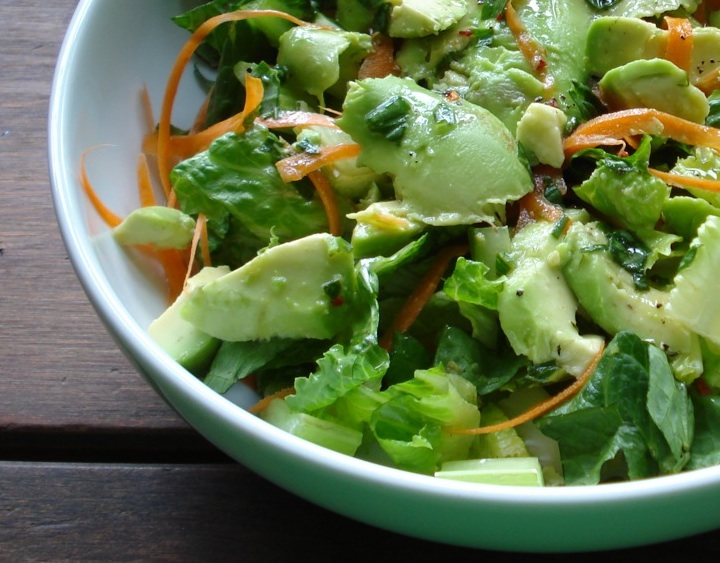 6 TBSP extra virgin olive oil
2 TBSP fresh lemon juice
1/4 tsp pure salt
handful fresh basil, chopped
1/4 tsp black pepper
pinch of crushed red pepper
Store any extras in the fridge.
______________________________________________________________________________________
SIDE NOTES

:

~ This is a great dressing if you're avoiding vinegar (or even if you're not!).

~ Swap out the basil for any herb (or combination of herbs) you'd like.

~ LEMON JUICE TIP – Sometimes I don't have fresh lemons on hand when I need them. On the other hand, if I buy a bottle of lemon juice, I'm inevitably at some point holding half a bottle in my hand, alternating between sniffing & wondering if those floating white "things" are supposed to be there. I've found the best thing to do is to buy a whole bunch of organic lemons when I can get a good deal, juice them all, and put the juice into ice-cube trays in 1 TBSP servings. This way, when I need a tablespoon or 2 of fresh lemon juice, I just pop out a couple of cubes. See "FAVORITE-TOOLS-&-GADGETS" page for ice-cube tray with snap on lid. Comes in really handy for things like this.

 For those with various food restrictions

, this recipe falls into the following categories:

Dairy Free, Gluten Free, Egg Free, Nut Free, Sugar Free, Grain Free, Vegan, Raw

Be sure to use fresh lemon juice if eating raw.