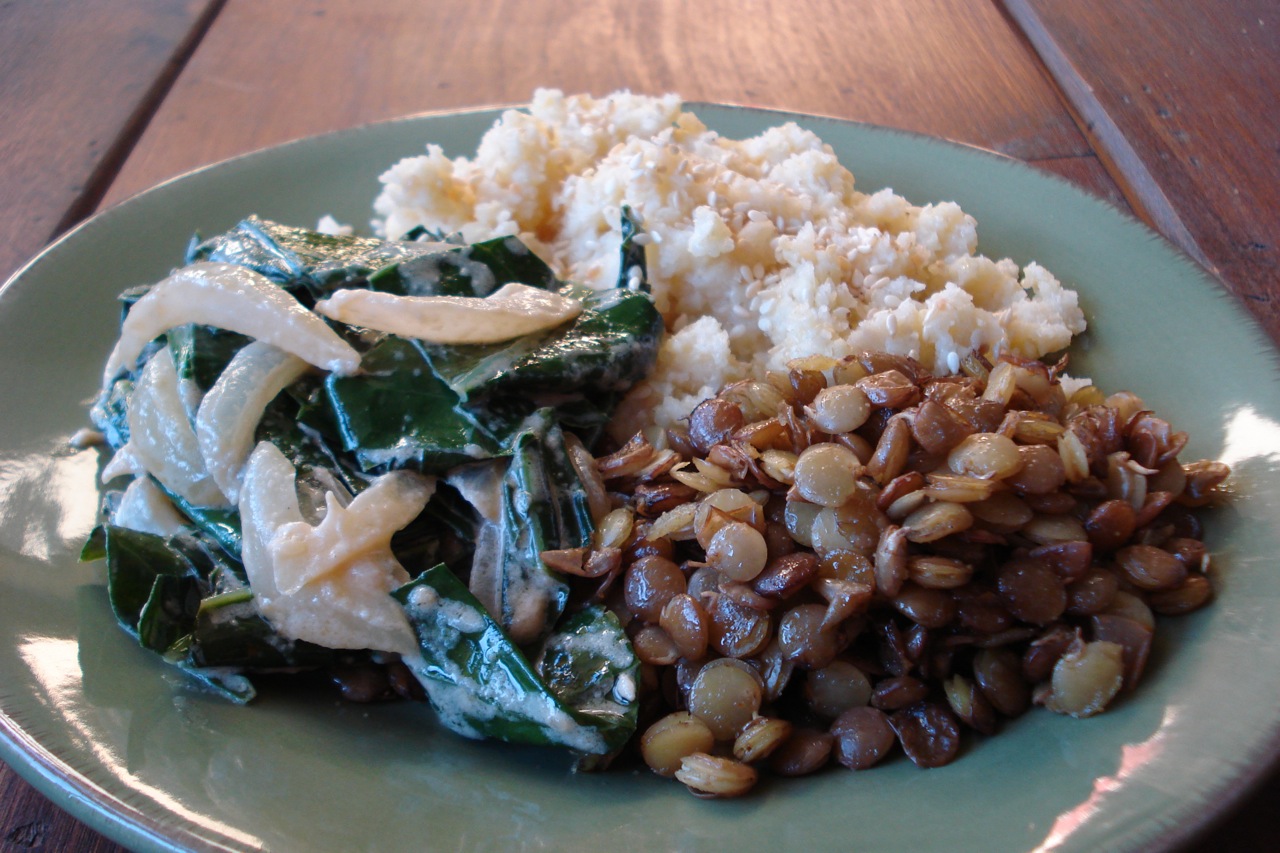 2 to 4 TBSPs butter, ghee, or coconut oil
1/2 tsp garlic powder
1/2 tsp curry powder
1 cup (dry) sprouted lentils (truRoots brand)
salt & pepper
Add lentils to 3 cups boiling water.
Cook for 5 mins, turn off heat, cover w/ lid & let sit for 2 mins.
Drain excess liquid.
Melt butter in saute pan.
Stir in curry & garlic powder until combined, then add drained lentils.
Saute for about 5 mins, or until done to your liking.
Add salt & pepper to taste.
Serves 2 to 4 depending on the accompaniment.
______________________________________________________________________________________
SIDE NOTES

:

~ Really simple with delicious flavor. These lentils are quick & easy to prepare due to the fact that they're pre-sprouted. After cooking & draining, you can alternately add them to soups and salads. They're shown here with COLLARD-GREENS-W-TAHINI-SAUCE & SESAME-MILLET.

~ For this one, my 1/2 tsps (spices) are rounded/heaping.

~ Of course, you can make this recipe with regular lentils.  It will just take longer to cook.  The upside to sprouted legumes, aside from the quick cook, is the fact that they'll be more nutritious (increased nutrient content, easier digestion & better absorption of nutrients).   If interested, check your local health food store for truRoots sprouted green lentils, or order online.  Of course, you can sprout your own lentils, but then, the recipe title wouldn't begin with the word easy.

 For those with various food restrictions

, this recipe falls into the following categories:

Dairy Free, Gluten Free, Egg Free, Nut Free, Sugar Free, Grain Free, Vegan, Raw

If eating dairy free, use coconut oil instead of butter.