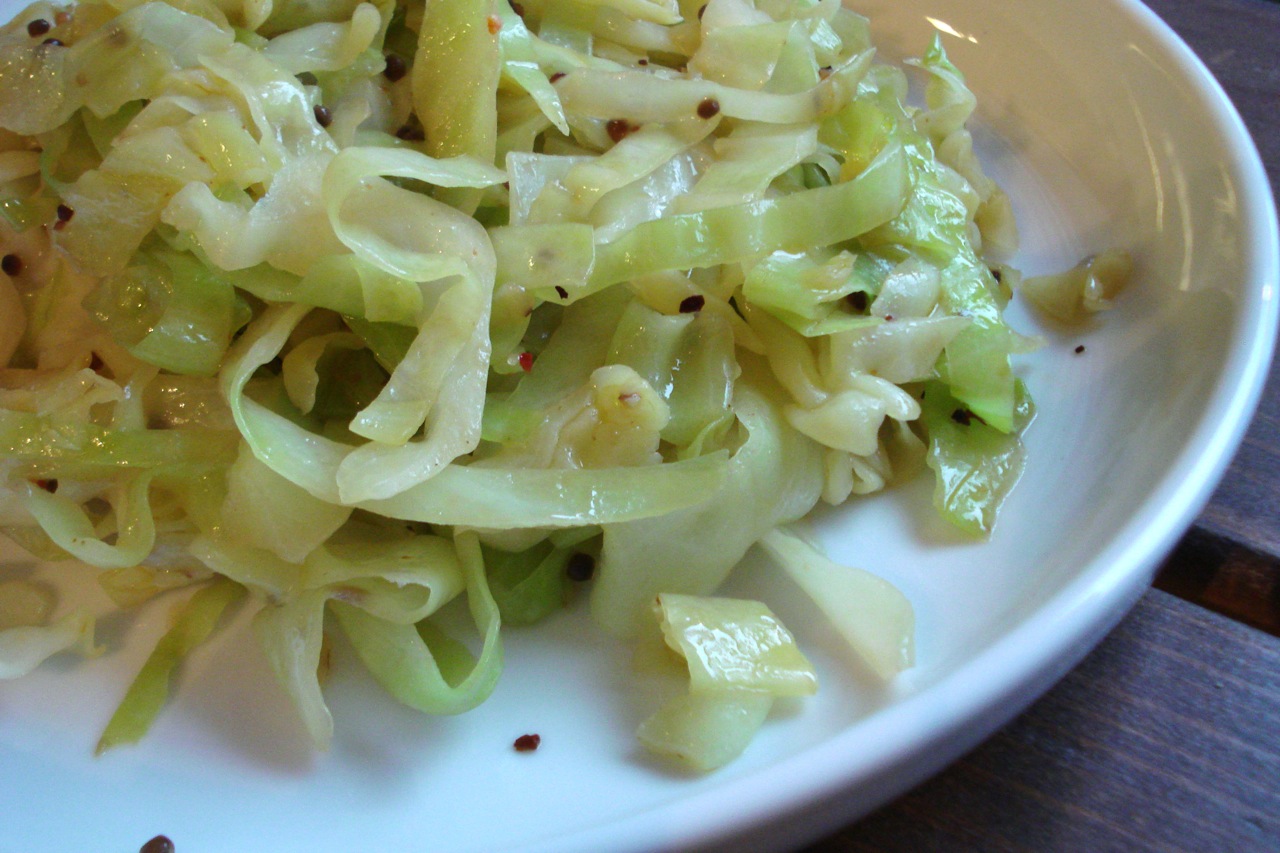 2 TBSP butter, ghee, or coconut oil
2 tsps mustard seeds
1/4 to 1/2 tsp red pepper flakes (depending on how spicy you like it)
1 tsp natural sugar (or 2 drops liquid stevia)
1/2 tsp pure salt
1 small green cabbage (about 2 pounds)
5 TBSPs water
Quarter, core, and thinly slice the cabbage.
Heat butter (or oil) in a large saute pan over medium heat.
Add mustard seeds, red pepper flakes, sugar (or stevia), and salt.
Cook, stirring frequently, until the mustard seeds start to pop, about 2 mins.
Immediately add the cabbage & saute, stirring occasionally, until it wilts, about 4 mins.
Add the water, stir to combine, cover, & cook until most of the water has evaporated, about 4 mins more.
______________________________________________________________________________________
SIDE NOTES

:

~ Adapted from "Vegan Soul Kitchen"  (Thx for the cool book J.V.! – it's only taken me about 10 months to actually open it….busy days…)

~ I love watching my kids gobble up vegetables. Especially green ones with a bad reputation. And in fact, they both had seconds of this. I don't really think cabbage deserves its bad rap. It's just a green crunchy thing with very little flavor. If you mix it with tasty herbs & spices, it's awesome. And I probably don't have to tell you how healthy it is. It's at the top of the heap as far as cancer fighting vegetables go. I don't know that I would call this cabbage smothered as the author does, as that puts a particular image in my mind. However, I'm keeping the title intact, as it was that particular word that caught my attention. Even coming from someone who likes vegetables, smothering them does have a certain appeal  =)

~ The middle of a cabbage is hard & needs to be cut out, so after you quarter it, just slice off the inner white part from each quarter.

~ Try TANGY-SWEET-COLESLAW for another tasty way to put this season's cabbage to good use.

 For those with various food restrictions

, this recipe falls into the following categories:

Dairy Free, Gluten Free, Egg Free, Nut Free, Sugar Free, Grain Free, Vegan, Raw

If eating dairy free, use coconut oil instead of butter.  If eating sugar free, use stevia instead of sugar.