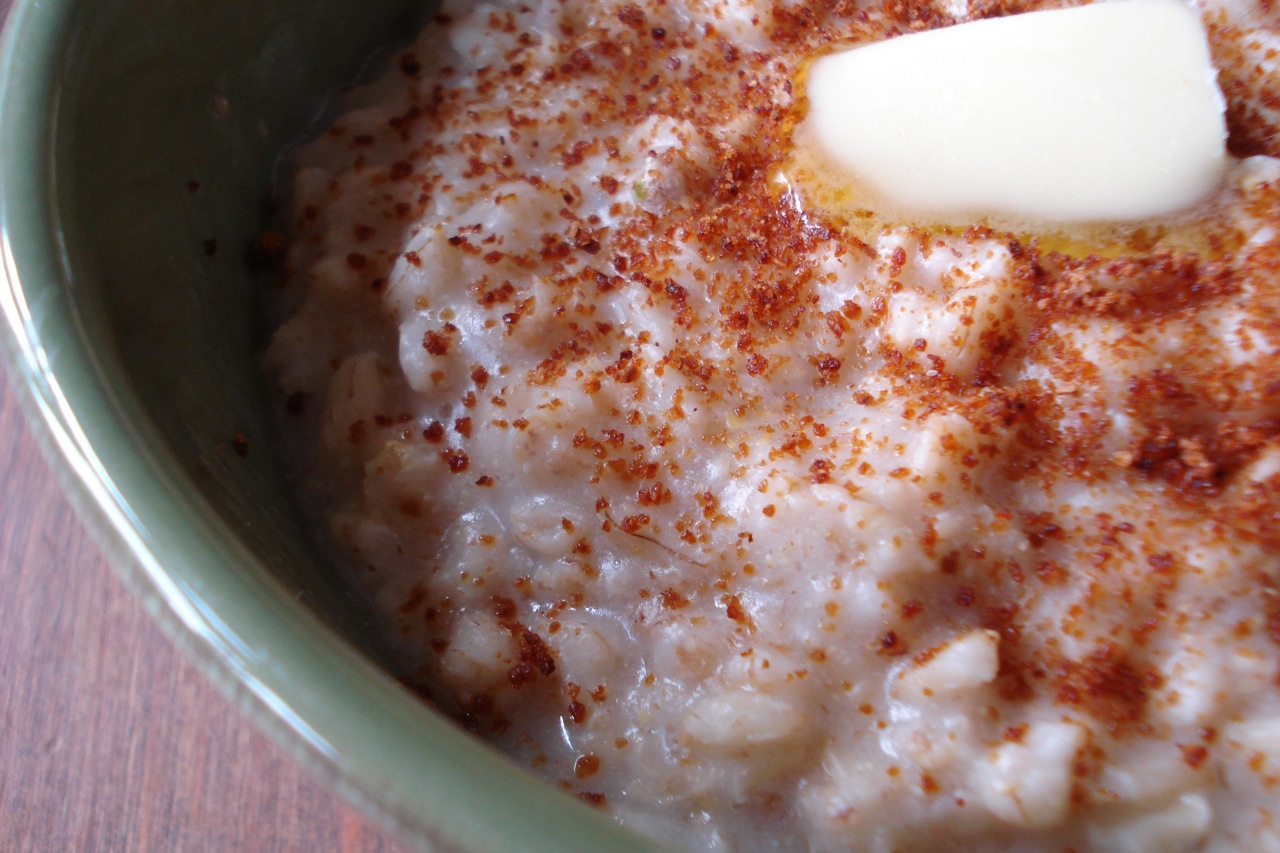 1/2 cup rolled or steel cut oats (can use gluten free oats)
1/2 cup water (for soaking)
1 TBSP plain yogurt (or lemon juice if dairy intolerant)
1/2 cup water (for cooking)
1/4 tsp pure salt
1/2 TBSP ground flax seeds
(real) butter (or coconut oil)
sweetener of choice
Before bed, mix oats, 1/2 cup water & yogurt together in small saucepan.
Cover & leave in a warm place overnight (see notes below).
In the morning, bring an additional 1/2 cup of water to a boil in a separate pot or tea kettle, then add it to the oat mixture, along with the salt.
Stir once to combine, then cover & cook over medium low heat for a few mins (3 – 5).
Remove from heat & stir in ground flax.
Add toppings of choice.
Serves 1.
________________________________________________________________________
SIDE NOTES:
~ From "Nourishing Traditions."
~ For those who have to rush out the door in the morning, but would like to be able to enjoy a warm, nutritious breakfast – this will do the trick. It usually comes around twice a week at our house and the kids say "Yay." I do too, especially because it's the easiest breakfast I make. I quadruple this recipe to feed a family of 4.
~ To soak the oats, stir together the oats, water & yogurt in the pot you plan to cook in the next day. Cover the pot and place it in the oven with the oven light turned on (in other words – I don't turn the oven on – just the oven light).
~ If possible, grind flax seeds just prior to serving, as pre-ground flax tends to go rancid pretty quickly due to the high oil content. Cuisinart has a nut/seed grinder (very similar to a coffee grinder) with removable, dishwasher safe parts. This is what I use & it's pretty effortless. I keep my flax seeds in the fridge, and just pulse them for a few seconds in the grinder when I need a tablespoon or 2. Alternately, if you can't find a seed grinder, you can simply use a coffee grinder (but the grinder should be dedicated solely to nuts & seeds – if you do grind coffee beans, you should have a separate machine).
~ Grains that are fermented (as are the oats in the above breakfast porridge) are extremely nutritious. The fermentation process breaks down hard to digest proteins and encourages the production of many beneficial enzymes (which actually increase the amount of many vitamins – especially the B vitamins). The end result is a very nutritious, easy to digest food. However, depending on your taste buds – this may be somewhat of an acquired taste. Think sourdough bread – it's something like that. For us, it only took a couple of tries before it became our oatmeal of preference, especially in the winter months. I do remember though, that the thought of this recipe didn't sound too appealing at first, and I automatically assumed it would be a flop for the kids – but that didn't stop me from trying it. We've been eating it for a couple of years now, and in all honesty, the kids absolutely love it. You never know until you give it a try, but remember, this one may need 3 or 4 tries before it clicks. If it's simply not happening, try OATMEAL-&-BERRIES for a version of soaked oatmeal that is not fermented.
~ Adding high quality butter, cream or coconut oil will help you absorb the fat soluble vitamins in the oats (in addition to providing nutrients of their own).
~ Try a little date sugar (pictured above), maple sugar, or maple syrup over the top. Or, mix in a few drops of liquid stevia to sweeten without sugar.
I am so into breakfast! It's my favorite meal of the day.
For those with various food restrictions
, this recipe falls into the following categories:
Dairy Free, Gluten Free, Egg Free, Nut Free, Sugar Free, Vegan, Grain Free, Raw
If eating gluten free, be sure to use certified, gluten free oats.  If eating dairy free, use lemon juice instead of yogurt and coconut oil instead of butter. If eating sugar free use stevia or lakanto instead of sugar.