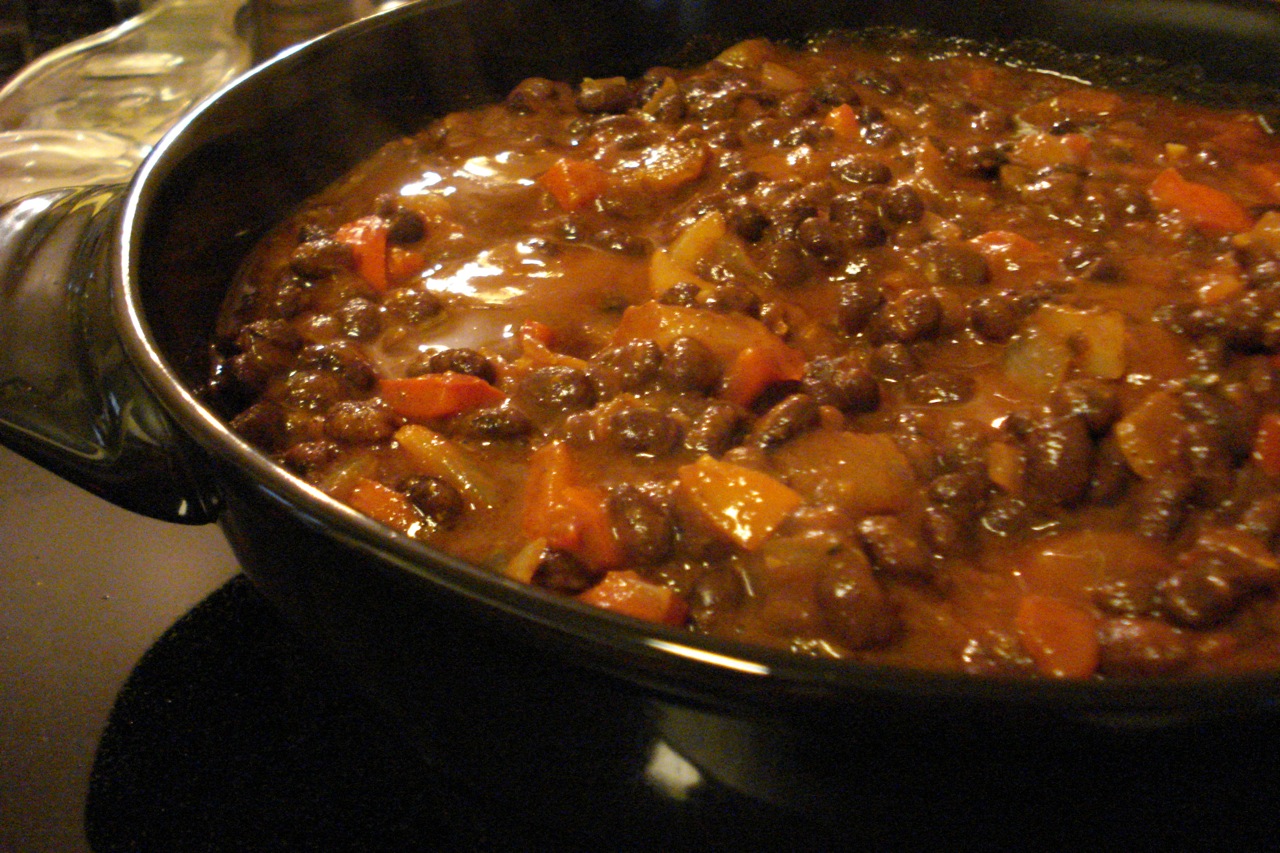 1/4 cup coconut oil
2 cups chopped onions (one medium to large onion)
2 medium red bell peppers
6 garlic cloves, chopped
2 TBSP chili powder
2 tsp dried oregano
1 & 1/2 tsp ground cumin
1/2 tsp cayenne pepper
3 cans black beans, drained, 1/2 cup liquid reserved
1 16-ounce can tomato sauce
Optional Add-ins

:

chopped fresh cilantro
sour cream
grated monterey jack or cheddar cheese
chopped green onions
Heat oil in large saute pan over medium heat.
Add onions, bell peppers, garlic, and sauté until onions soften, about 10 minutes.
Mix in chili powder, oregano, cumin, cayenne, and cook 2 minutes longer.
Mix in beans, 1/2 cup reserved bean liquid, and tomato sauce.
Bring chili to boil, stirring occasionally.
Reduce heat to medium-low and simmer until flavors blend and chili thickens, stirring occasionally, about 15 minutes.
Season to taste with salt and pepper.
Ladle chili into bowls and add optional add-ins if desired.
Makes about 5 servings.
______________________________________________________________________________________
SIDE NOTES

:

~ Adapted from epicurious.com. This is an extremely fast, easy, and delicious chili. My sister recently recommended it, and it was a big hit here. Thx Lisa =)

~ I find Eden organic canned beans the best available for 2 reasons – No undesirable additives, and their cans are BPA free.

~  We're big on cilantro here, so really enjoyed the addition.

~  Sticking with the "easy" theme, a bag of high quality tortilla chips are great with this, but here are recipes for SPROUTED-CORN-TORTILLA-CHIPS or CORNBREAD, if you're inclined.

Enjoy!

 For those with various food restrictions

, this recipe falls into the following categories:

Dairy Free, Gluten Free, Egg Free, Nut Free, Sugar Free, Grain Free, Vegan, Raw

If eating gluten free, be sure to double check labels of any packaged ingredients (beans, tomato sauce).