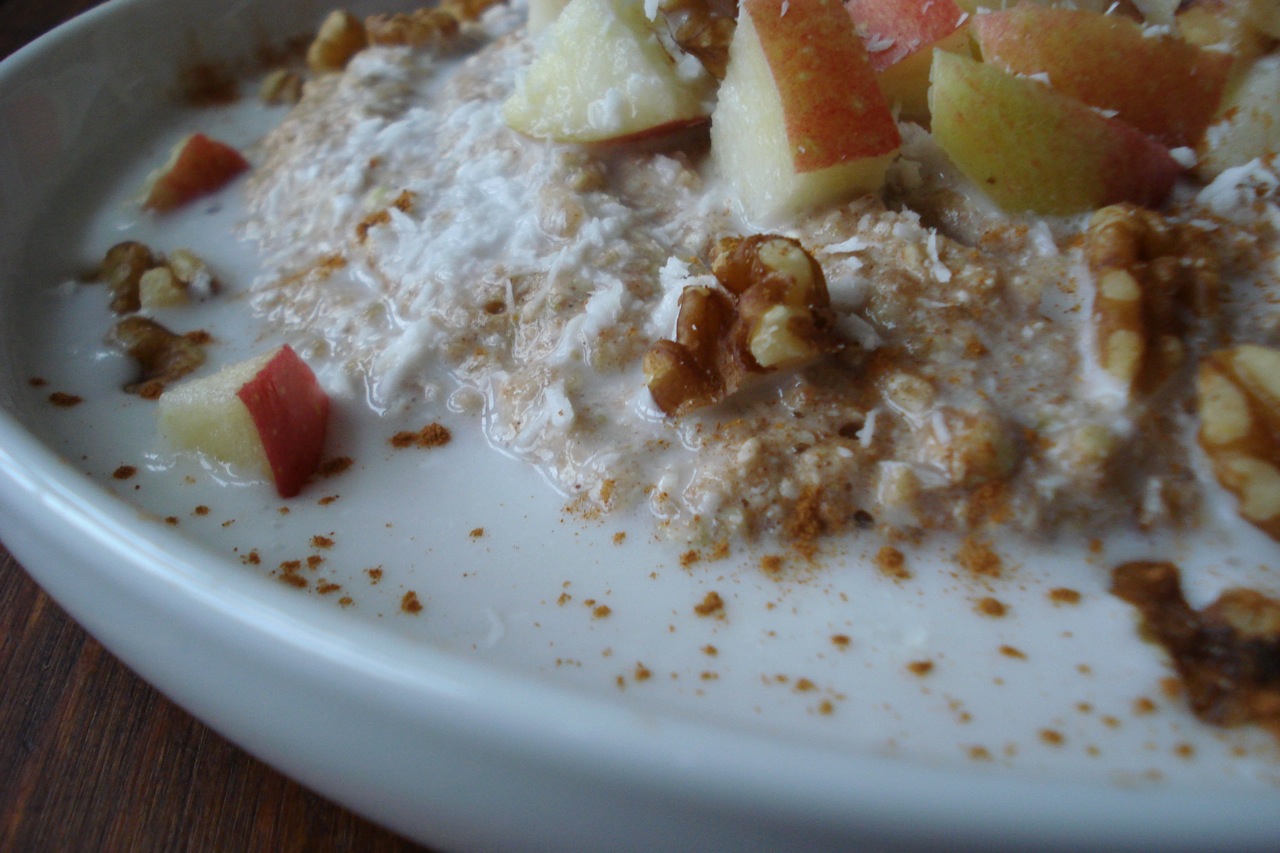 1/3 cup buckwheat groats
1 banana
1/2 tsp cinnamon (more or less)
chopped walnuts (optional)
chopped apples
unsweetened coconut shreds
milk of choice (I like coconut milk for this)
Soak buckwheat in water at room temp overnight.
In the morning, drain and rinse the buckwheat.
Add the buckwheat to a food processor with the banana and cinnamon.
Pulse until desired consistency.
Serve with walnuts, apples, coconut shreds and milk.
Serves 1.
________________________________________________________________________
SIDE NOTES:
~ A quick, delicious, no-cook version of the HOT-BUCKWHEAT-BANANA-CEREAL I posted a few weeks ago. (We happen to like the version on this page better.)
~ I pulse it just enough to leave a bit of texture for a nice porridge-y consistency.
~ There are a lot of ways you can change up this yummy cereal. Try blending buckwheat with half an apple (instead of banana), and slice the banana over the top. Or, if you don't have a banana on hand, blend a few dates (or a bit of pure maple syrup) with the buckwheat instead.
~ Other optional add-ins: raisins, berries, peaches, pears, pecans, almonds, nutmeg, ground flax – really, any nut, seed, fruit, or dried fruit you have on hand will work. Enjoy! =)
~ Buckwheat is a good source of minerals (particularly manganese & magnesium), fiber, high quality protein (containing all essential amino acids, including lysine which is lacking in many vegetarian foods), and 2 particular antioxidants with significant health-promoting actions (rutin and quercitin). Can be served as an alternative to rice, as a breakfast porridge, ground into flour for pancakes, or added to soups & stews to give them a hardier flavor & texture. Great grain for those with gluten sensitivies as it's gluten free.
For those with various food restrictions
, this recipe falls into the following categories:
Dairy Free, Gluten Free, Egg Free, Nut Free, Sugar Free, Vegan, Raw, Grain Free
If eating dairy free, use coconut milk or another non-dairy option.  Of course, omit the walnuts if need be.