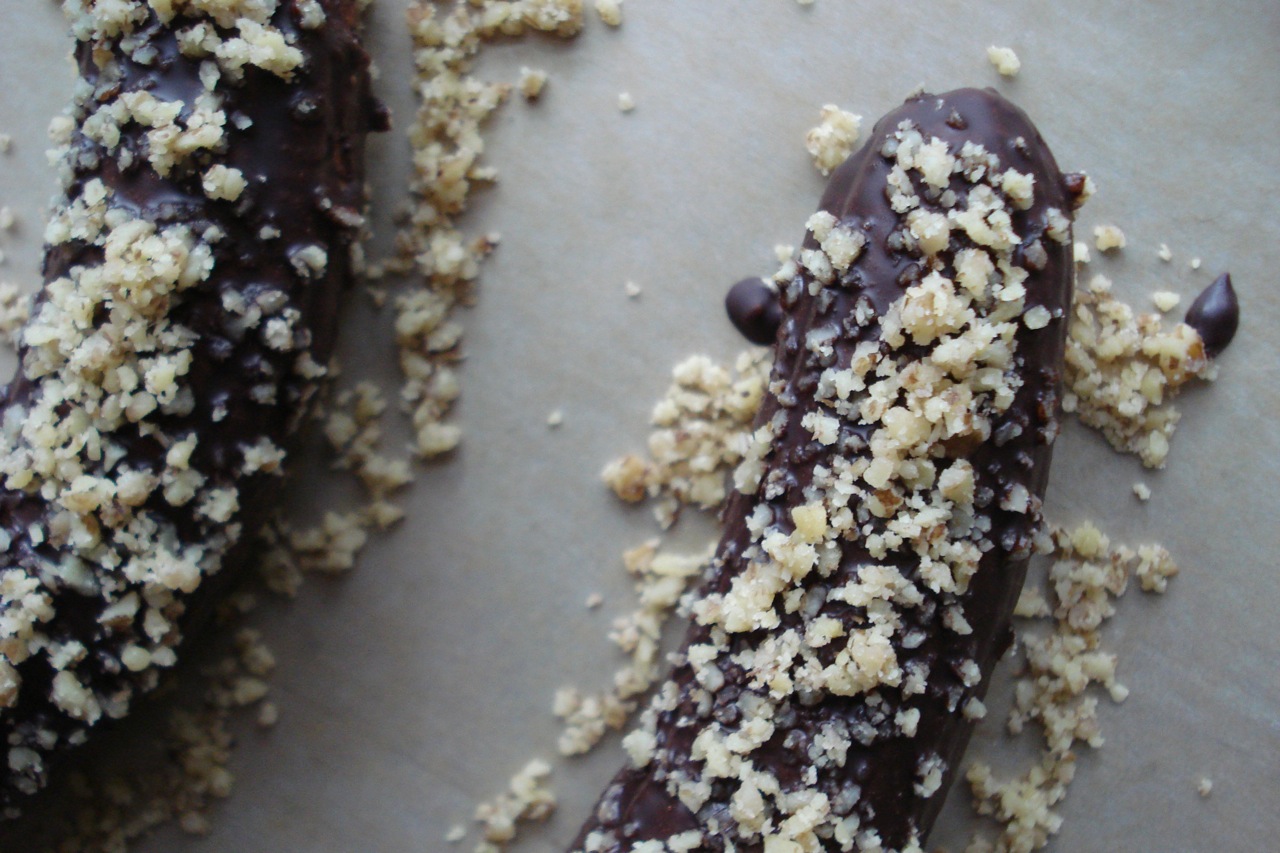 3 or 4 bananas
1  3.5 oz [dark] chocolate bar
chopped walnuts (or topping of choice)
Melt chocolate by boiling water in a small pot, and adding chocolate to a separate pot, securely sitting on top of the small one. The steam will melt the chocolate (chocolate will burn if you put it in a pot directly on the burner).
Pour melted chocolate into a shallow bowl.
Peel bananas & roll them around in the chocolate until covered (or you can put the bananas in the bowl first & pour the chocolate right over them).
Place chocolate covered bananas on a wax paper covered cookie sheet & sprinkle with desired toppings (If you want the underside of the bananas covered as well, first sprinkle topping directly on to wax paper in the general area where you'll be placing the bananas).
You can either eat them within a few minutes – as soon as the chocolate hardens (doesn't take very long), place them in the refrigerator to eat later, or in the freezer if you want a frozen treat (nice for summer).
______________________________________________________________________________________
SIDE NOTES:
~ These are so good (a lick your fingers kind of good). We munched on them while watching the super bowl last week.
~ In the past, I've made these with a dollop of peanut butter swirled into the chocolate as it's melting which is very tasty.  I've also used the melted chocolate to cover almonds, walnuts, pecans, and sunflower seeds, which are a great candy-like treat for the kids.  Of course, when they're in season, chocolate covered strawberries and cherries aren't too shabby either.
~ If you want to make this snack as nutritious as possible, look for dark chocolate with 70% or more cocoa content (or as close to 70% as you can get). Equal Exchange makes excellent chocolate bars. They have one that's 71% cocoa & one that's 80% (among other choices). Both are gluten free, dairy free & relatively easy to come by.
~ Of course, for a topping, any chopped nut will work as well as shredded coconut, or a high quality granola.
~  In case you're unaware, there are what's called "double boilers" which is a set of two pots in which one is made specifically to sit securely on top of the other, but you don't need an official double boiler for this to work (I don't have one).
For those avoiding certain foods
, this recipe falls into the following categories:
Dairy Free, Gluten Free, Egg Free, Nut Free, Grain Free, Vegan, Sugar Free, Raw
Be careful to choose a dairy free and/or gluten free chocolate if you have dietary restrictions.  If you can't eat nuts, sprinkle with unsweetened coconut shreds instead.