1 cup amaranth
1 & 1/2 cups water (for soaking)
1 & 1/2 cups milk of choice
1 large apple, peeled & chopped
1/2 tsp cinnamon
1/8 tsp sea salt
banana slices
chopped walnuts (optional)
drizzle of pure maple syrup (optional) or stir in a several drops of liquid stevia
Soak amaranth in water overnight, covered (in pot you'll be cooking it in).
In the morning, add milk, apple, cinnamon, salt and bring to a boil.
Cover pan & reduce heat to medium low.
Simmer (stirring occasionally) 20 – 25 mins, until porridge thickens & liquid is absorbed.
Top with sliced banana, chopped walnuts, and a drizzle of maple syrup (or stevia).
Serves 3 or 4.
________________________________________________________________________
SIDE NOTES:
~ Why all the different oatmeals/porridges?  With all the variety this world has to offer, why eat the same old oatmeal day after day? Every food out there offers a unique package of goodness. There are things in buckwheat that you won't get in amaranth, and there are things in amaranth you won't get in oats. This goes for every vegetable, fruit, grain, nut, seed & legume out there. Changing it up helps to give our bodies a wide range of vitamins, minerals, antioxidants and phytonutrients.
~ Amaranth is an ancient grain – dating back about 8,000 years – and was considered a sacred, super-food by the Aztecs. Technically speaking, it's a seed, although functions more like a grain. After being largely forgotten about here in the US, it's starting to resurface, likely due to its phenomenal nutrient profile. Amaranth contains a large amount of fiber (about 3 times more than wheat), and is an excellent source of high quality, balanced & complete protein (contains double the amount of lysine as wheat – the amino acid missing from most plant foods). It's also a great source of iron (5 times the amount of wheat), calcium, phosphorus, magnesium, manganese, and many other vitamins and minerals. It's an especially good food choice for vegetarians (with its complete protein) and/or those with gluten sensitivities (as it's gluten free).
~ Aside from eating it as a breakfast cereal, amaranth can be used as an alternative to rice, cooked and used to stuff peppers, added to soups and stews, and even popped like popcorn (try tossing the popped seeds into a salad). Amaranth flour can also be used for baking or making pancakes.
~ I absolutely love this. There's something about the smooth, creamy grain – crunchy walnuts – the soft, warm apple chunks hiding in the porridge – sweet, mushy, banana – hint of cinnamon – and that little drizzle of maple syrup that's just out of this world. A great combination. Hope you like it too. Keep in mind, however, that while my daughter & I really enjoy this, husband & son – not so much. So, might not be a total crowd pleaser.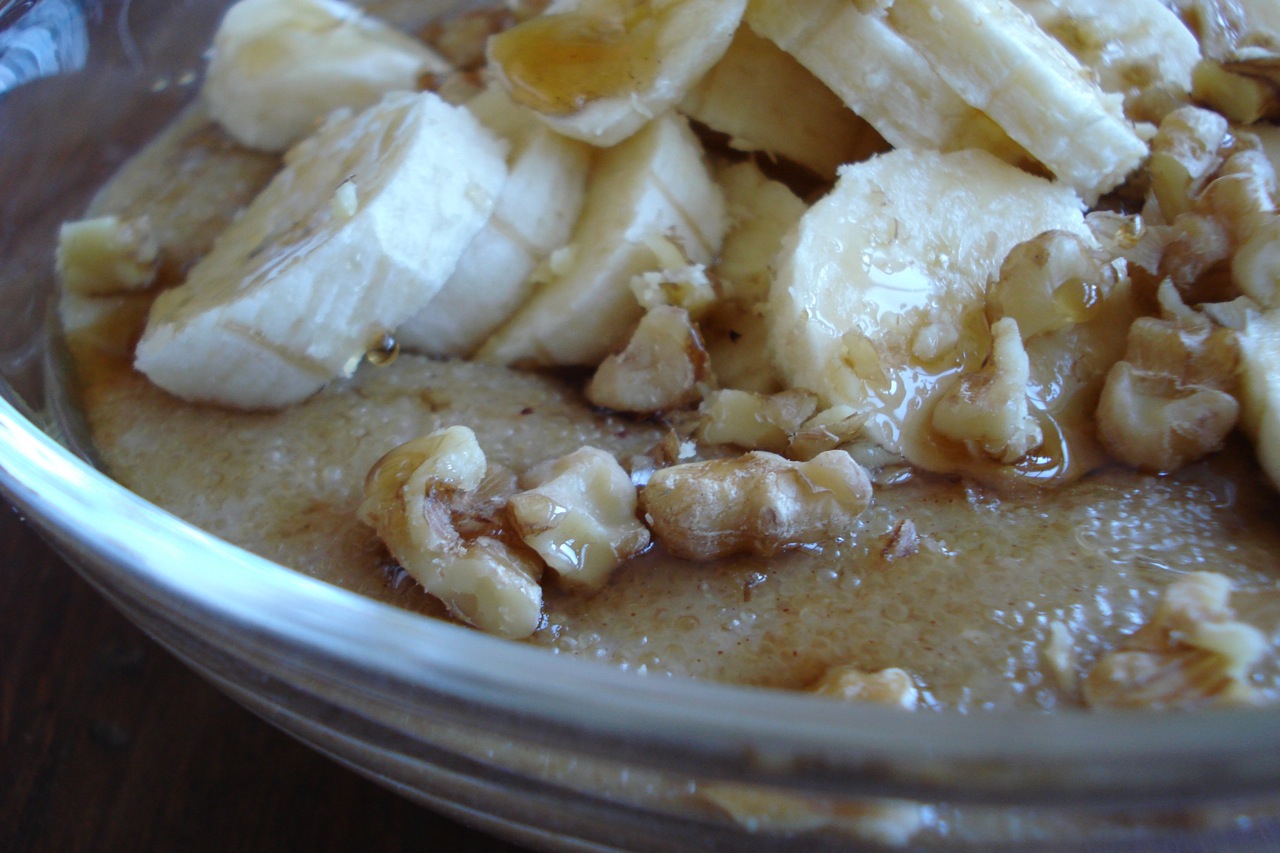 I use COCONUT-MILK-TONIC for this (which is simply coconut milk thinned out with water at a 1:1 ratio), but any milk will do.
 For those with various food restrictions

, this recipe falls into the following categories:

Dairy Free, Gluten Free, Egg Free, Nut Free, Sugar Free, Vegan, Grain Free, Raw

If eating dairy free, use coconut milk or another non-dairy option.  If eating sugar free, use stevia instead of maple syrup.  And of course, omit  the walnuts if you can't tolerate nuts.
____________________________________________________________
A FEW COMMENTS ON SOAKING GRAINS:
~ Several years ago, when the concept of soaking grains came up, it seemed like such a big deal. Ugh – now I have to soak my grains!!?? It was as if someone told me I had to count them & give each individual grain a name. It didn't take too long for me to wonder what I had been stressing about. You put water in a pot, add the grains, cover & walk away. For this 60 second chore, we reap the benefits of being able to fully absorb the minerals within the grain (as well as the minerals in anything we're eating with it). Without soaking, the phytic acid (high in many grains/nuts/beans) binds to the minerals & prevents their absorption. Over time, this can cause serious mineral deficiencies.
~ An overnight soak will do it, but a few grains (including amaranth) do even better with a 24 hour soak. So – if you know you'll be having this on a particular day, after you eat breakfast the day before, just put amaranth in water & let it sit. Otherwise, overnight is ok. If you prefer, you can also make this recipe w/o soaking, as it's ok to eat un-soaked grains occasionally. I just caution against over doing it (especially for vegetarians who rely heavily on grains/beans/nuts/seeds). If skipping the soaking step, use 3 cups of milk (or water, or any combination of the 2) to cook.
~ If you'd like, you can add 2 tablespoons of yogurt to the grain/water mixture as it's soaking (I do). Not completely necessary, but fermenting the grain will increase the nutrient content and absorption that much more. Up to you. For this porridge, I don't notice any difference in taste between using plain water or adding yogurt (I tested it out). When using the yogurt method w/ oats, it does change the flavor (we actually like the flavor better using yogurt). If using yogurt, the soak water should be a little warm & the pot kept in a slightly warm place. I'll be posting a guide to soaking grains, beans, nuts & seeds sometime down the road for those who are interested in more details.