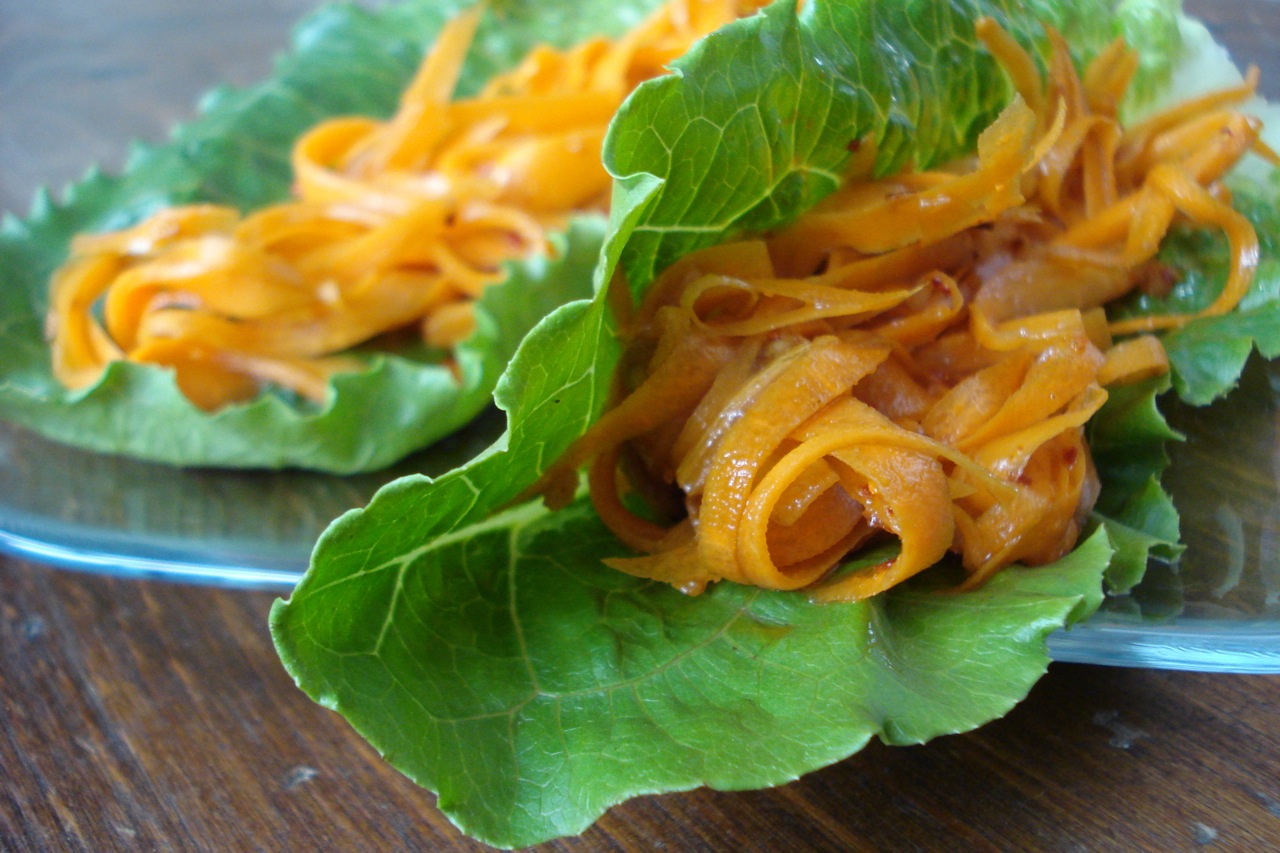 Lettuce wraps are great as a light lunch & just fun to rotate in every once in a while  =)
What you need:
several large romaine leaves
filling of choice
dip (optional)
Some filling ideas:
~  tuna fish
~  egg salad
~  turkey & cheese
~  chicken salad
~  chickpea-salad (my kids' favorite filling)
~  tempeh-salad
~  tomatoes/mozzarella/Italian dressing
~  chunky-bean-spread/sprouts/mustard
~  bacon/tomato/mayo
~  tomato-salad
~  apple slices/feta/walnuts/Italian dressing
~  hummus & tabuli
~  avocado/tomato/red onion/Italian dressing
~  cukes/tomatoes/yogurt
~  guac/salsa/sour cream
~  refried beans/rice
~  shredded veggies w/ chopped nuts or sesame seeds & Asian sauce
~  spicy-carrot-salad (shown above) w/ nut butter
Ideas for dips

:

~  peanut-sauce
~  soy sauce (with or without other seasonings mixed in)
~  Italian dressing
~  yogurt-dip
~  tahini-sauce
~  ranch dressing (or other favorite salad dressing)
~  salsa
~  sour cream
~  guacamole

______________________________________________________________________________________
SIDE NOTES

:

~ Lettuce wraps are a great way to introduce picky eaters to lettuce.  Of course, use a filling you know they'll like.  Any combination that sounds appealing to your kids (or you) will work. All you need are a couple of large romaine leaves & something to roll up. You can either incorporate a dressing into the wrap, or have a dip on the side.

 For those with various food restrictions

, this recipe falls into the following categories:

Dairy Free, Gluten Free, Egg Free, Nut Free, Sugar Free, Grain Free, Vegan, Raw

Of course, you can build these wraps to fit any dietary restriction imaginable.