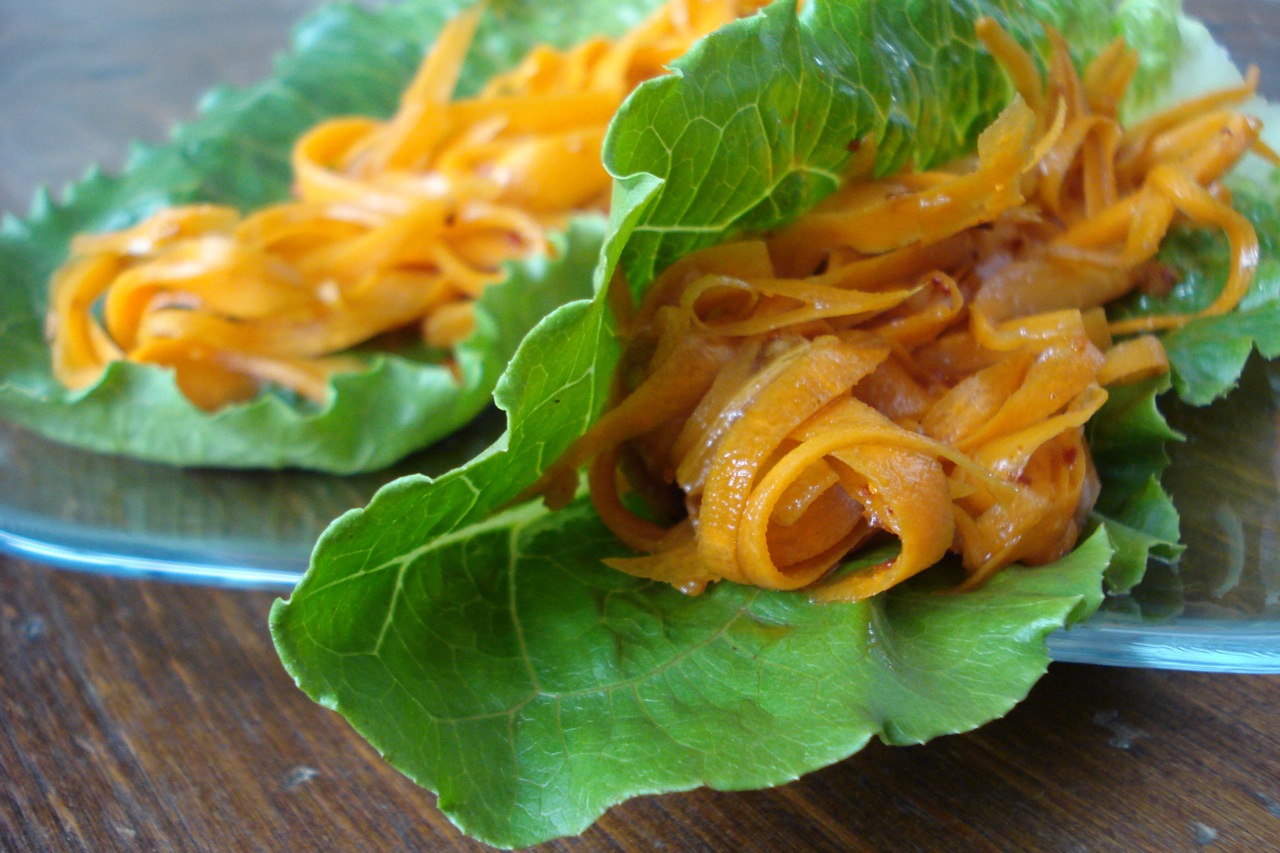 Something colorful & fresh for the 1st day of spring 🙂
1 TBSP extra virgin olive oil
2 tsps tamari/soy sauce
1 small garlic clove (crushed or minced)
2 tsps (give or take) minced, fresh ginger (optional)
1/4 tsp red pepper flakes
dash or 2 of cayenne pepper
1 TBSP water
3 cups carrots, peeled into long ribbons
In a medium bowl, whisk together oil, tamari, garlic, ginger, pepper flakes, cayenne & water.
Add carrots & toss to coat.
______________________________________________________________________________________
SIDE NOTES

:

~ We really enjoyed this spicy salad as a filling for lettuce wraps. I spread on some nut-butter before wrapping them up, & it made a very tasty lunch.  Instead of using straight nut-butter, you can make a peanut sauce for dipping if you're in a fancy mood.

~  You'll have to play around with the red pepper flakes/cayenne to see how much works for you.

~ If your kids are tentative about eating anything green & leafy, you might want to give LETTUCE-WRAPS a try (have them help you make them). Of course, use a filling you know they'll like.  It can be anything…. tuna fish, egg salad, turkey & cheese, chicken salad, whatever.  My kids' favorite filling for a lettuce wrap is CHICKPEA-SALAD.

~  Click HERE for more lettuce wrap ideas.

 For those with various food restrictions

, this recipe falls into the following categories:

Dairy Free, Gluten Free, Egg Free, Nut Free, Sugar Free, Grain Free, Vegan, Raw

If you're eating gluten free, be sure to use gluten free tamari. If eating strictly raw, use a raw, unpasteurized soy sauce.