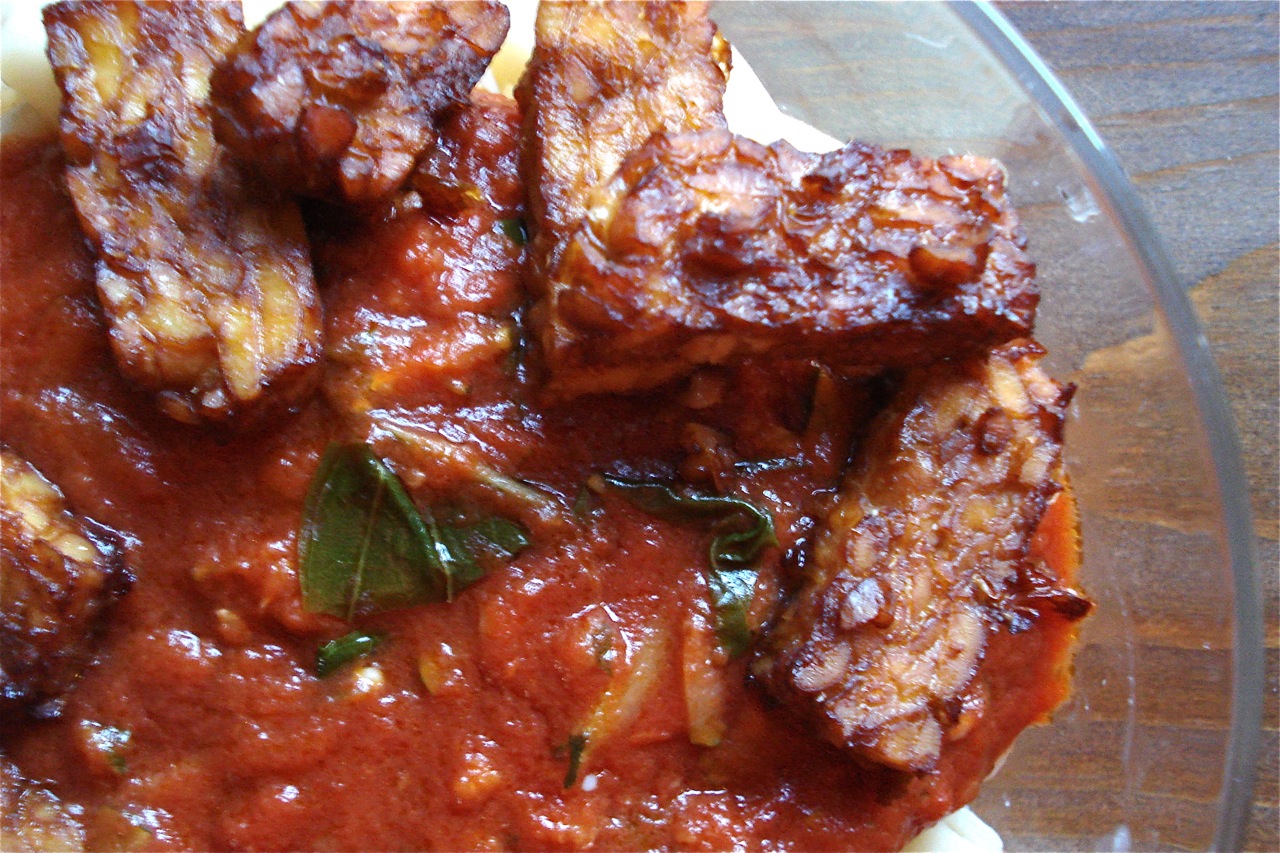 8 oz soy tempeh (one package)
2 TBSP extra virgin olive oil
2 TBSP tamari/soy sauce
Whisk together oil & soy sauce in a medium bowl.
Slice tempeh into small rectangles & toss with marinade.
Let sit for 1 hour (or less if you're in a rush).
Pre-heat oven to 350.
Place tempeh on a cookie sheet (I like to line w/ parchment paper) and bake 10 – 15 mins.
______________________________________________________________________________________
SIDE NOTES

:

~ In my early vegetarian days, I used packaged, frozen soy "meatballs" with pasta dishes. When I started getting more into cooking, I began making my own vegetarian meatballs using tofu. If you freeze tofu, it becomes the perfect texture to crumble & form into meatballs (mixed with seasonings/cheese/eggs…).  At some point, however, I decided making my own vegetarian meatballs was annoying. That's when I came up with this simple recipe! Add additional seasonings as you see fit.

~ This was actually posted a long time ago on the QUICK-TOMATO-SAUCE page. I just realized it was hidden there & thought I'd give it its own space so people who are looking for an easy way to use tempeh can find it. As mentioned, it's great tossed with pasta & marinara sauce (ZUCCHINI-MARINARA pictured above), or simply on its own with rice, vegetable, and/or salad. Of course, you can cut the tempeh into larger patties (like THIS) if you're not mixing it into a pasta dish or casserole.

 For those avoiding certain foods

, this recipe falls into the following categories:

Dairy Free, Gluten Free, Egg Free, Nut Free, Sugar Free, Grain Free, Vegan, Raw

If eating gluten free, be sure to use a gluten free soy sauce and "soy" tempeh (not "3 grain" "flax" or "veggie").