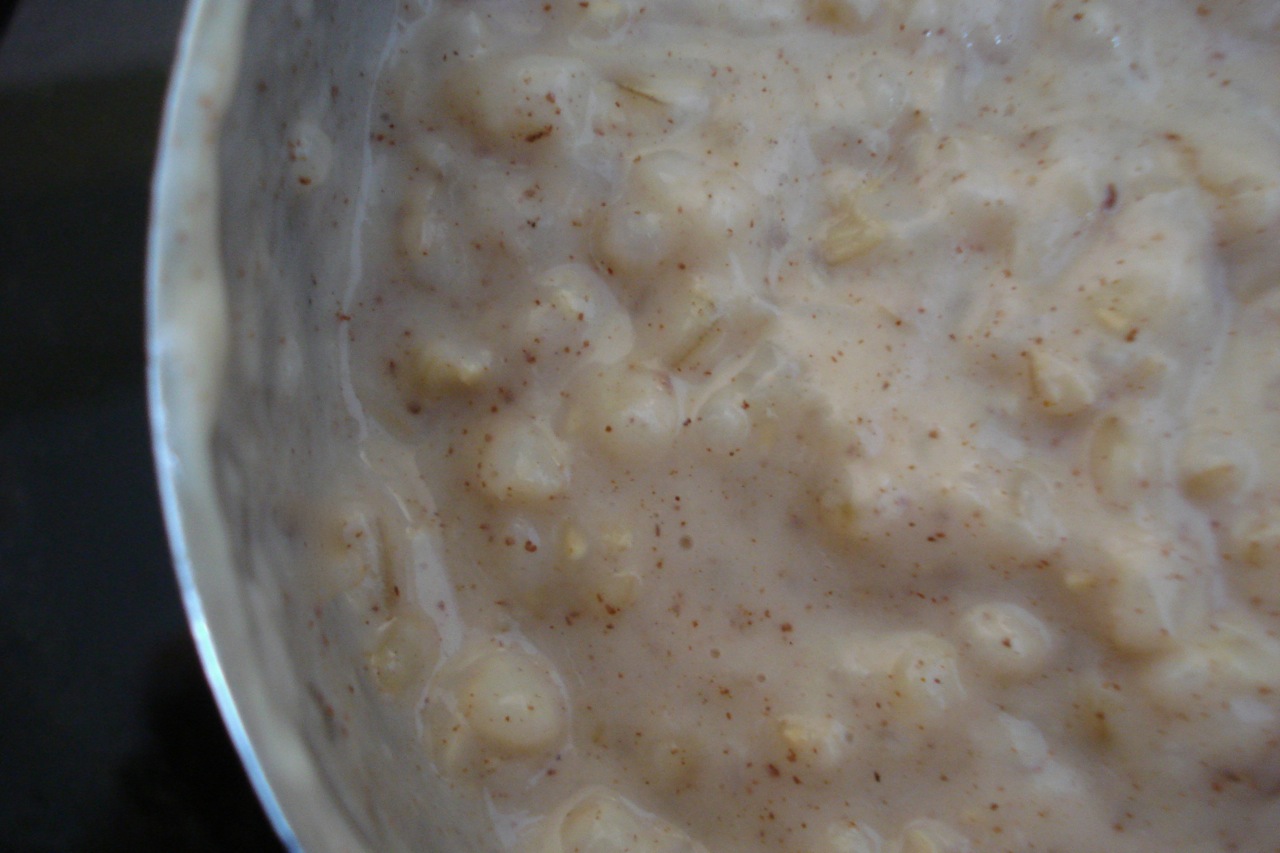 2 cups cooked, short grain, brown rice
1 & 1/2 cups milk of choice
1/4 tsp sea salt
1/4 tsp vanilla (optional)
3 TBSP (give or take) raisins (optional)
1 – 2 TBSPs pure maple syrup (to taste) or stevia
1/2 tsp cinnamon, or nutmeg, or cardamom (or a combination)
In a small saucepan, combine rice, milk, salt, vanilla (& raisins, if using), & bring to boil.
Reduce heat & simmer uncovered for 20 mins (or perhaps less – just until it looks like rice pudding), stirring frequently.
Remove from heat & stir in maple syrup and cinnamon (or whichever spice(s) you prefer).
Serves 3.
________________________________________________________________________
SIDE NOTES:
~ I absolutely love rice pudding. Always have. Using this particular version I've concocted, it's nourishing enough for breakfast, yet sweet enough for dessert. Can be eaten warm, room temp, or chilled.
~ Keep in mind, it's easiest to make this when the previous night's dinner included rice, and you made extra, otherwise, it will take an hour just to cook the rice, before even starting the pudding recipe, which would probably limit this to Sunday morning breakfast for most. Even using left over rice, I'd still consider this breakfast for a leisurely morning, as you can't do other things while it's cooking (have to stay close by & stir it quite a bit).
~ I've made this 2 ways – using whole milk and coconut milk.  Both versions are delicious. If using coconut milk, can either use 1 full can (regular not "lite"), OR 1 cup coconut milk and 1/2 cup water – whatever works better for you convenience and taste wise.
~ If on a gluten free diet, careful with your choice of vanilla (if using).
~ Although we don't, I know some like raisins in their rice pudding, so pointed out the option.
~ For the sweetener, just add 1 TBSP of maple syrup and taste. If you need more, add an additional 1/2 TBSP (and one more 1/2 TBSP if it's still not sweet enough for you). I always like to be careful sweetening, as it's easy to add more, but not the sort of thing you can undo if it turns out to be too much.
~ I like using 1/2 tsp of cinnamon to mix in, then sprinkling nutmeg over the top of each serving. If you'd like to make this dish reminiscent of the rice pudding you'd get at your favorite Indian restaurant, use cardamom (or a combination of cinnamon & cardamom).
~ As it's cooking, I keep progressively lowering the heat as the mixture becomes thicker & thicker. Be sure to stir it quite a bit to make sure the bottom doesn't burn.
~ When you mix in the syrup & spices, you can also mix in 1 TBSP of butter if you'd like. I don't, because I cook my brown rice with ghee (clarified butter) (I add 1 TBSP to to the pot along with the rice & water), so it's rich enough w/o adding extra butter. Remember, butter is nothing to be afraid of, and in fact, will make your grains even more nutritious (provided you're using real butter or ghee).
~ Optional add-ins: You can add chopped almonds, pistachios, shredded coconut, or other dried fruit over the top if that sounds good to you.
~ If you make more than you can eat, of course, you can keep it in the fridge and eat it for dessert later on =) It also freezes well.
~ I've posted this same recipe under "sweets" dropping the word "breakfast" from the title. FYI – It's the same exact recipe.
 For those with various food restrictions

, this recipe falls into the following categories:

Dairy Free, Gluten Free, Egg Free, Nut Free, Sugar Free, Vegan, Grain Free, Raw

If eating dairy free, use coconut milk.  If eating gluten free, be careful with your choice of vanilla. If eating sugar free, use stevia instead of maple syrup.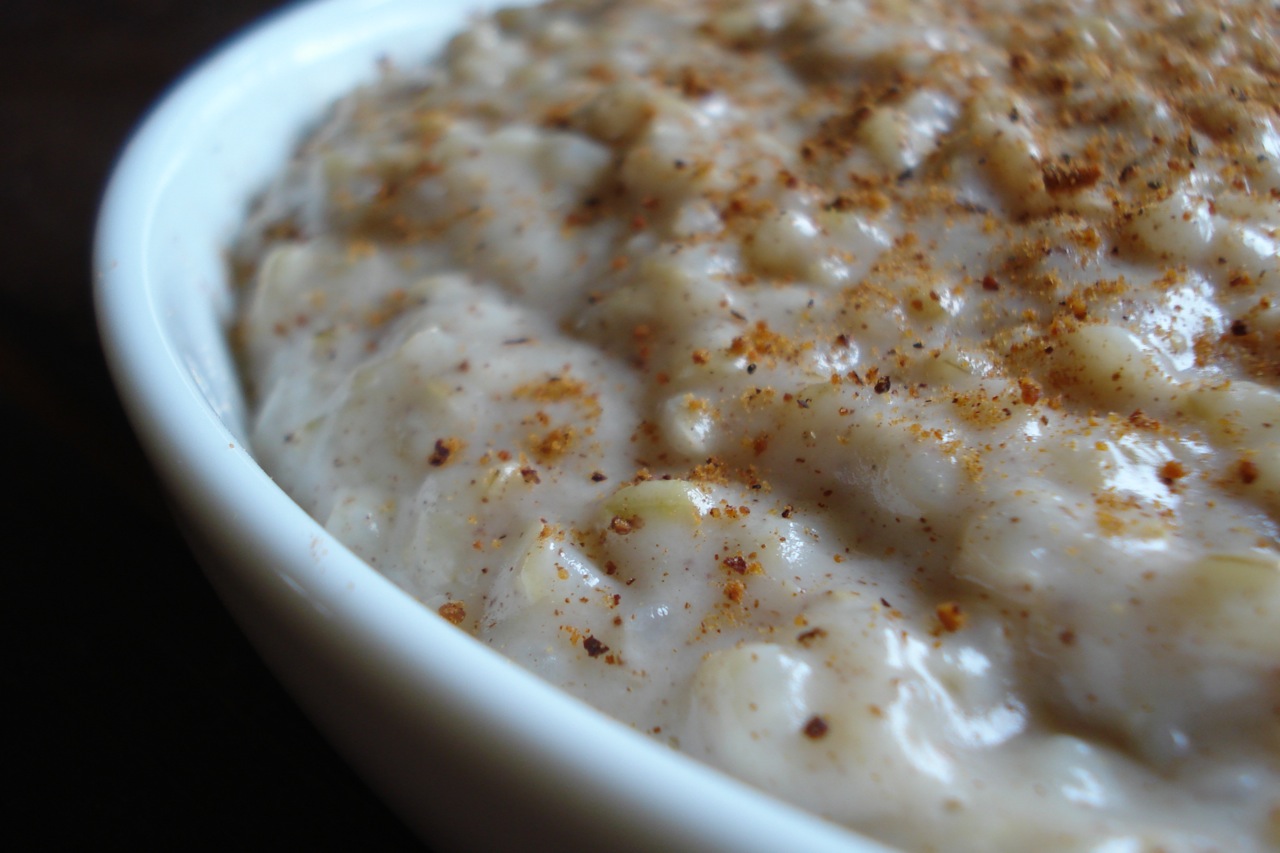 ________________________________________________________________________
~ FYI – 1 cup of dry short grain brown rice will yield 3 & 1/3 cups cooked, so if making rice specifically for this recipe, 1/2 cup dry will not be quite enough. If you'd like, you can cook 1 cup dry and use all of the rice (3 & 1/3 cups cooked), by upscaling the recipe to yield about 5 servings as follows:
3 & 1/3 cups cooked short grain rice (1 cup dry)
2 & 1/2 cups milk**
1/2 tsp sea salt (or just slightly less if you want to be exact)
1/2 tsp vanilla (or just slightly less)
1 & 1/2 – 3 TBSP pure maple syrup (to taste)
1 tsp cinnamon, or nutmeg, or cardamom (or a combination)
I always make this larger portion.  It fits nicely in my 1 & 3/4 quart pot (make the rice first, fluff with a fork, then add the milk/salt/vanilla right to the same pot & continue with the recipe as described above).
**If I don't have fresh cow milk on hand, I use 1 can coconut milk and 1 cup water (remember, use regular coconut milk – not lite).
________________________________________________________________________
If you prefer to use uncooked brown rice, and just cook it all in one pot (as opposed to having to have cooked rice on hand), you can try this recipe, adapted from the coconut lover's cookbook:
1 cup short grain brown rice
1 cup water
1 can coconut milk
1/4 tsp sea salt
1/4 tsp cinnamon
1/4 tsp cardamom
Soak rice in 1 cup of water overnight. In the morning, add remaining 4 ingredients, bring to boil, lower heat, and simmer for approx 45 mins. Add extra coconut milk for serving. Serves 5.
We've eaten this version a few times over the past few years, but the kids didn't really love it (though I thought it was very tasty). In any case, this is what inspired me to come up with a different version that we all loved (which is what the recipe at the top of this page turned into!).