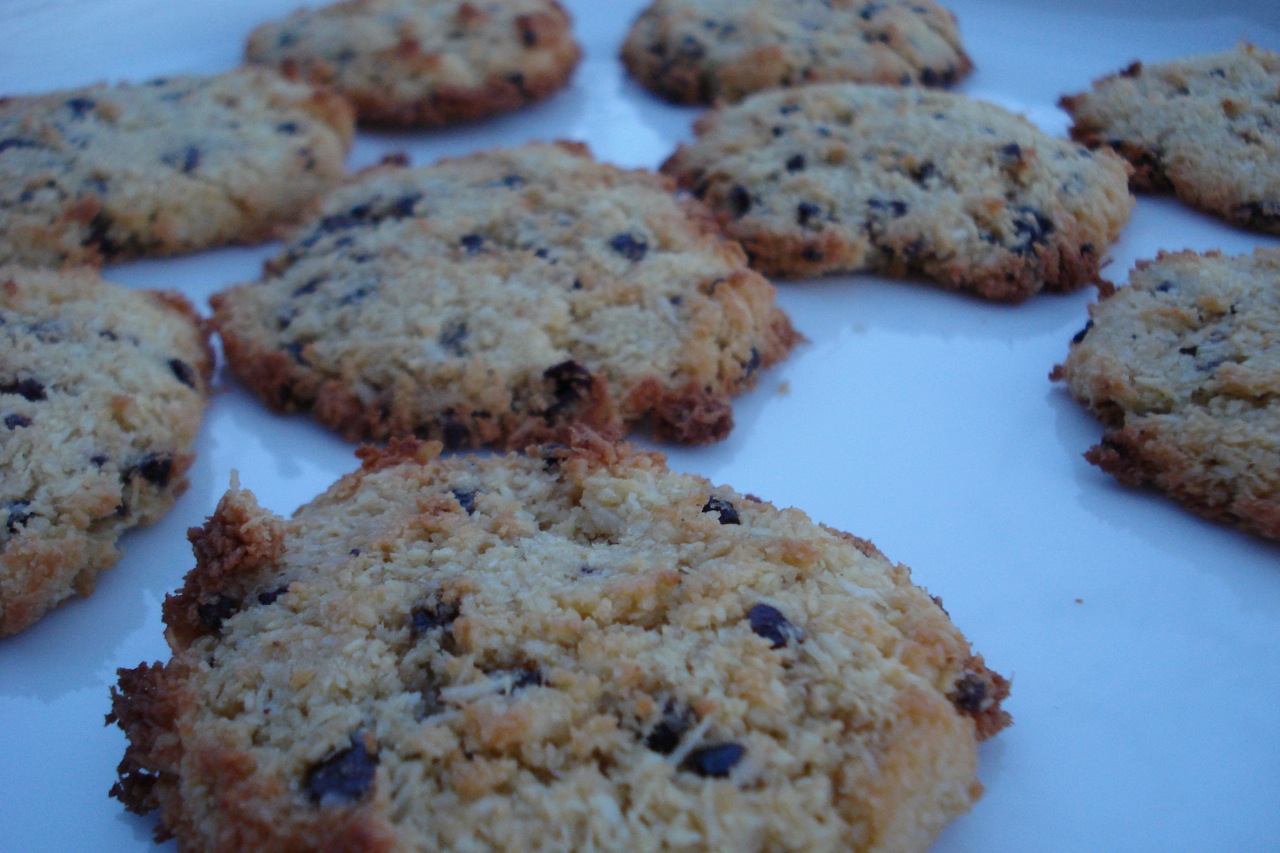 What recipe blog would be complete without a rendition of the good old, chocolate chip cookie? With this version, adapted from "Cooking with Coconut Flour", (cliché as it is) you can have your cookie & eat it too. It's sort of a cross between a chocolate chip cookie & a macaroon.
______________________________________________________________________________________
1/2 cup butter, melted (or ghee or coconut oil)
1 cup natural sugar
4 eggs
1/2 tsp pure vanilla extract
1/8 tsp pure salt
1 & 1/2 cups shredded coconut (unsweetened)
3/4 cup chocolate chips (or nibs – see notes)
1 cup coconut flour, sifted
Mix together butter, sugar, eggs, vanilla &  salt.
Stir in remaining 3 ingredients.
Drop batter in spoon-size mounds, about 1-inch apart, on a greased (or parchment paper covered) cookie sheet.
Bake at 375 for 14 minutes (more or less – depending on how soft or crispy you like them).
Let cool for a few minutes, then remove from cookie sheet.
Yields 24 – 36 cookies, depending on how big you make them.
______________________________________________________________________________________
SIDE NOTES

:

~  A cookie can become somewhat of a superfood using high quality ingredients such as organic butter from grass-fed cows, eggs from local free range chickens, pure salt, coconut (loaded with fiber), real chocolate, and natural sugar.  Let's face it…The world is not going to stop eating cookies any time soon. So, for those who are interested, this is what I would consider a very good alternative to the white flour variety 🙂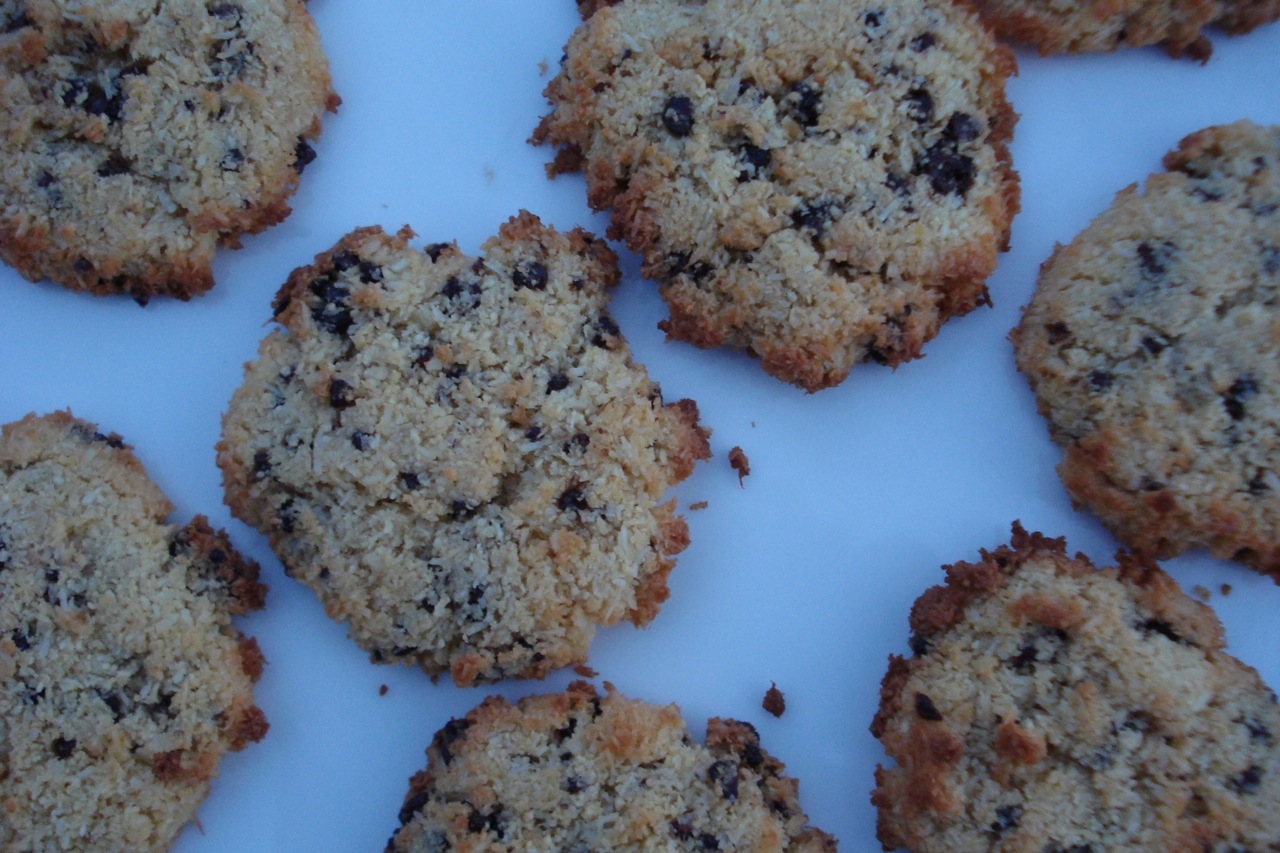 ~ Maple sugar works well in this recipe. I first tried using date sugar but was not satisfied w/ the results (decent cookie, but texture & color were a bit off). I use date sugar a lot for baking, but for this recipe, using maple sugar made the cookies tastier & more "normal" looking. Coconut sugar is another good option. You can experiment a bit & see what type of sweetener works best for you.  If you prefer to use regular sugar, I'd go for brown sugar over white, as it will give you a better cookie).
~ Keep in mind…. If you're not into coconut, these are not your cookies.
For those with various food restrictions
, this recipe falls into the following categories:
Dairy Free, Gluten Free, Egg Free, Nut Free, Sugar Free, Grain Free, Vegan, Raw
If eating dairy free, use coconut oil instead of butter.  If eating gluten free, be careful choosing your vanilla and chocolate chips.
~  What are cacao nibs? Pronounced ka-COW, they're partially ground cacao beans (the source of all chocolate products). If using them to replace chocolate chips in a recipe, use less than what's called for. I usually just eyeball it when adding, but probably use about half of what's called for (since nibs are so small, 3/4 cup would end up being way too much chocolate for these cookies). For me, Navitas Naturals sweetened nibs (dairy & gluten free) always work extremely well to replace chocolate chips (they're sweetened with organic cane juice). Navitas makes an unsweetened version which are good for certain purposes, but not when replacing chocolate chips. Why do I go out of my way to use them? They're real, unprocessed chocolate that taste amazing and are loaded with antioxidants, magnesium & iron. Put that in your cookie & eat it   =)