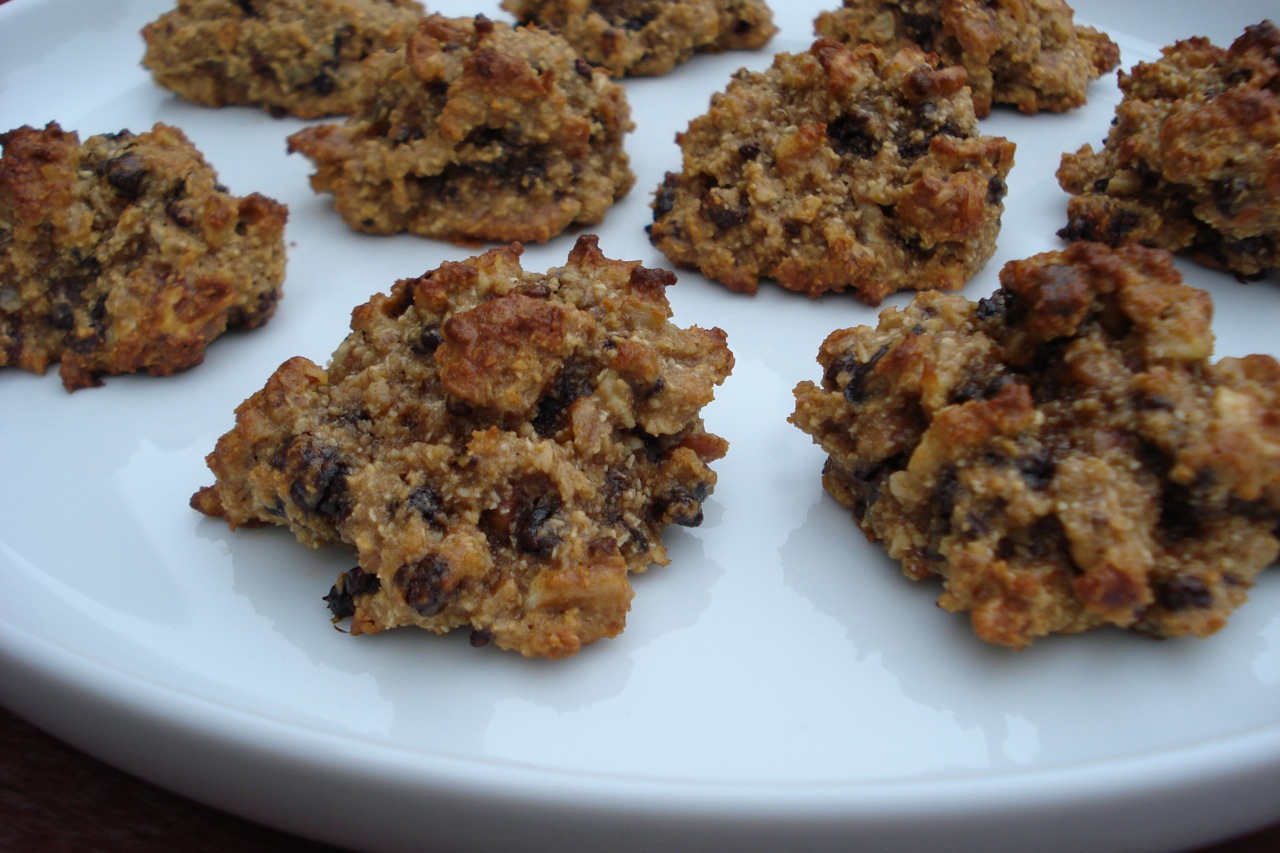 1/2 cup natural nut butter (peanut/almond – whatever you typically use)
1 & 1/4 cups natural sugar
4 eggs
1/2 tsp pure vanilla extract
1/2 tsp pure salt
2 cups nuts, chopped
1 cup chocolate chips (or 1/2 cup nibs)
2/3 cup coconut flour, sifted
Mix together nut-butter, sugar, eggs, vanilla &  salt.
Stir in nuts, chocolate chips and coconut flour.
Drop by spoonful on greased (or parchment paper covered) cookie sheet.
Bake at 375 for 13 minutes (or until done to your liking).
Cool slightly and remove from cookie sheet.
Makes approx 28 clusters.
______________________________________________________________________________________
SIDE NOTES

:

~ These chocolate chip nut clusters are fantastic. Although somewhat reminiscent of a chocolate chip cookie, they're way nuttier (and less coconutty than last week's cookies). A real keeper. Have become the cookie test kitchen lately (the family is not complaining).

~  If you reduce the nuts by 50%, these become more like cookies & less like clusters.

~ I usually cut cookie recipes in half until I tweak them to our liking. Of course, your taste may be different from ours, so consider doing the same – make the first batch a small one.

~ More cookies to come….!  🙂

For those with various food restrictions

, this recipe falls into the following categories:

Dairy Free, Gluten Free, Egg Free, Nut Free, Sugar Free, Grain Free, Vegan, Raw

If eating gluten free, be careful choosing your vanilla and chocolate chips.  If you can't eat nuts, but can tolerate sunflower seeds, use sunbutter and sunflower seeds instead of peanuts (which would make this recipe nut free).