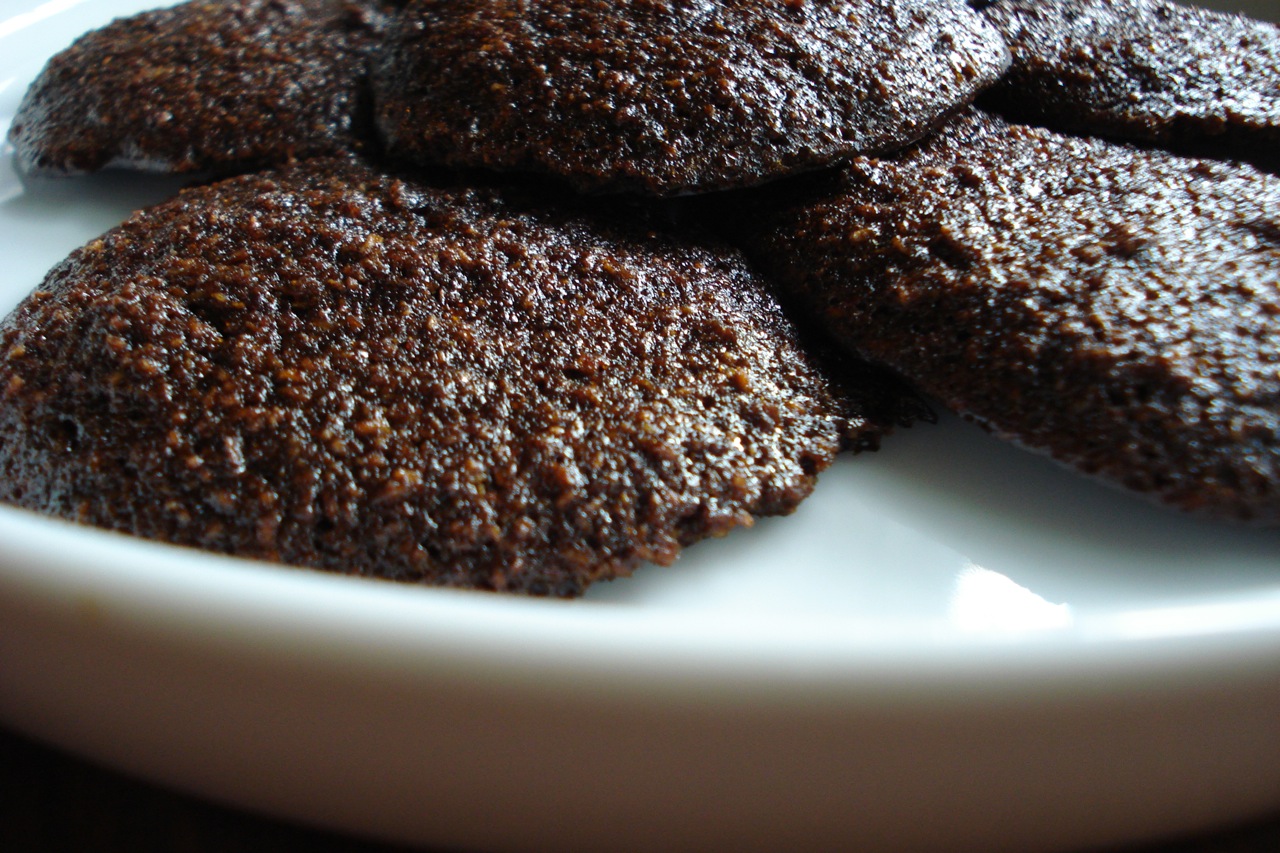 6 eggs
1/3 cup butter or coconut oil, melted
1/4 tsp pure salt
1/2 cup molasses
3/4 cup natural sugar
1 tsp ground ginger
1 tsp ground cinnamon
1/4 tsp ground cloves
3/4 cup coconut flour, sifted
Preheat oven to 400 degrees.
Blend together eggs, butter, salt, molasses, sugar, and spices.
Stir in coconut flour and mix thoroughly. Batter will thicken slightly as the flour absorbs moisture.
Drop batter by spoonfuls onto greased (or parchment paper covered) cookie sheet.
Bake for 12 – 14 mins.
Makes approx 30 cookies.
______________________________________________________________________________________
SIDE NOTES

:

~ These may look similar to last week's chocolate cookies, but they're entirely different (although undoubtably, equally as tasty). This time, it's not chocolate yielding that dark, rich color, but molasses. Very moist & "cake-like" cookies. The kids love them.

~ No need to manually flatten these cookies before baking. The batter will be on the wet side, and they'll spread quite nicely on their own. I did slightly flatten the first batch, so they ended up spreading too much & running into each other. Aside from not having perfect, circle shaped cookies, they were as good as the next batch, so not to worry if this happens to you.

~ What is molasses? Molasses is the by-product of sugar refining, and contains all the nutrients from the raw sugarcane plant. During the refining process, the sugarcane plants are boiled to a syrup from which the crystals are extracted (these crystals become white, table sugar). The sticky syrup that's left over is molasses. The crystals are actually boiled 2 more times, and what's left over after the last and final boiling (the "dregs" of the barrel), is called blackstrap molasses (this type of molasses is the most nutrient dense). In general, molasses is low in sugar and high in nutrients (minerals & B vitamins) – a nutritional powerhouse as far as sweeteners are concerned. For the best of the best, look for unsulphered blackstrap molasses from organic sugar.

~ Adapted from "Cooking with Coconut Flour" – my favorite source for baked goods. Did you ever think you could bake entirely grain free and still put out something worth biting into? Until about 18 months ago, I know I didn't!

For those with various food restrictions

, this recipe falls into the following categories:

Dairy Free, Gluten Free, Egg Free, Nut Free, Sugar Free, Grain Free, Vegan, Raw

If eating dairy free, use coconut oil instead of butter.