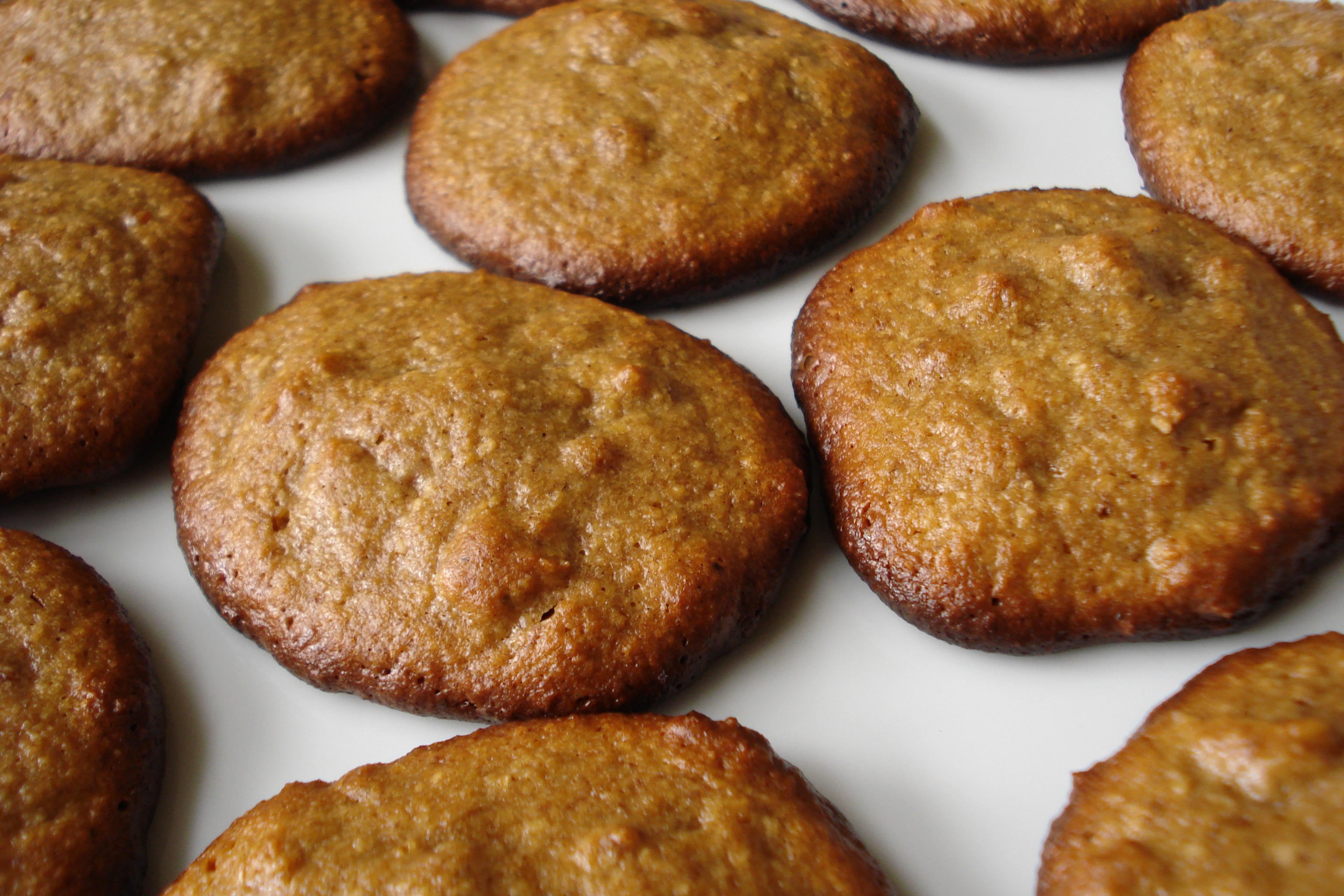 1 cup natural peanut butter (or other nut butter)
1 & 1/2 cups natural sugar
1/2 tsp pure salt
4 eggs
1/2 tsp pure vanilla extract
1/2 cup coconut flour, sifted
1/2 cup peanuts, coarsely chopped (or other nut) (optional)
Preheat oven to 375 degrees.
Mix together peanut butter, sugar, salt, eggs and vanilla.
Stir in coconut flour and chopped nuts (if using). Batter will be wet.
Drop by the spoonful on a greased (or parchment paper covered) cookie sheet.
Bake for 10 – 12 mins.
Makes about 3 dozen cookies.
______________________________________________________________________________________
SIDE NOTES

:

~ This is my kind of cookie =) In fact, we all agreed this is the best cookie yet.

~ Remember, you can use any nut-butter you'd like – peanut, almond, cashew. Personally, I used PECAN-BUTTER and pecans in place of the peanuts. If using the kind of natural, store-bought, nut butter that has oil on the top, be sure to mix it into the nut-butter. I assume most people do this anyway, but just in case you typically pour the oil out to reduce the fat content, don't do it this time, as the oil portion of the nut-butter is an important component to these cookies (you may have noticed, there is no other added oil or butter for this recipe).

~ The cookies will spread on their own, so no need to pre-flatten before you bake.  Also worth noting, the author from "Cooking w/ Coconut Flour" recommends 14 – 15 mins bake time.  When I checked my first batch at 12 minutes, they were already a little toasty on the bottom. This is why I changed the bake time.  Of course, some ovens will bake hotter than others, but it's a good idea to set the timer & start checking at 10 minutes to avoid burnt cookies.  I caught mine just in the nick of time!

~ To reduce sugar content, simply cut the sugar in half (use 3/4 cups) and include 1/2 tsp of powdered stevia.

For those with various food restrictions

, this recipe falls into the following categories:

Dairy Free, Gluten Free, Egg Free, Nut Free, Sugar Free, Grain Free, Vegan, Raw

If eating gluten free, be careful choosing your vanilla.  If you can't eat nuts, but can tolerate sunflower seeds, use sunbutter (and either omit the chopped peanuts, or substitute sunflower seeds).