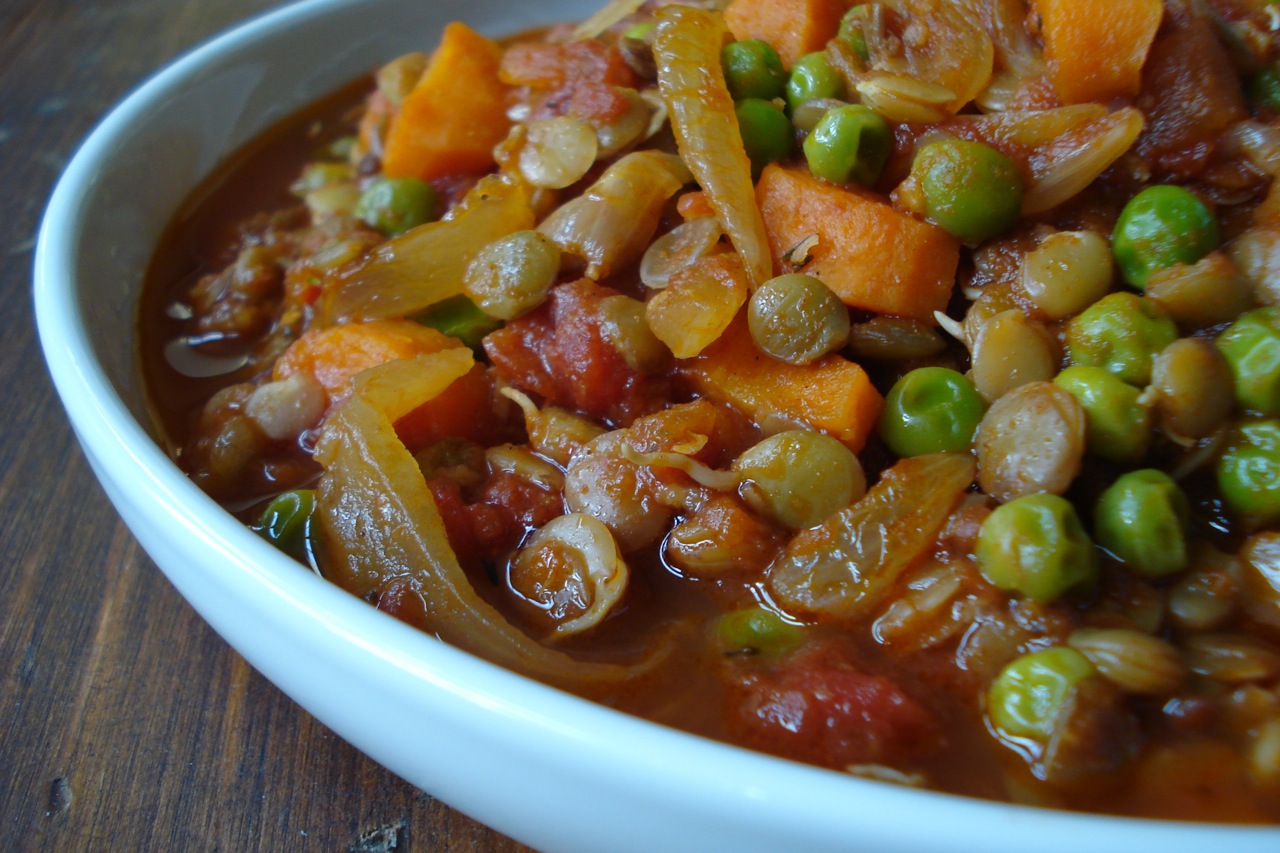 1 cup brown or green lentils
1/4 cup coconut oil
1 large onion, chopped
2 carrots, peeled & chopped
4 cloves garlic, crushed or minced
2 TBSP fresh ginger, grated or finely chopped
28 oz package chopped tomatoes
1 cup broth (veggie or chicken)
1 cup fresh or frozen peas
Spice Blend

:

2 tsps ground cumin
2 tsps paprika
1 tsp ground fenugreek (optional)
1/2 tsp pure salt
1/2 tsp dried thyme
1/4 tsp ground cardamom
1/4 tsp ground coriander
1/8 tsp ground cloves
1/8 tsp ground cinnamon
1/8 tsp cayenne pepper
Boil lentils for about 45 minutes or until tender.
In large saute pan over medium heat, warm the oil and saute onion & carrot for 10 mins.
Add garlic, ginger, and spices, and saute approx 3 mins.
Add the tomatoes and cook for 5 minutes more.
Add the broth and bring to a simmer.
Add lentils and peas, and simmer an additional 15 mins.
Serves 4.
______________________________________________________________________________________
SIDE NOTES

:

~ Adapted from "Veganomicon". Super delicious. Bursting with flavor. Great served with basmati rice, naan, corn bread, or any other type of bread or rice you like.  This was a big hit for us – kids included.

~ When in season, you can use 10 fresh plum tomatoes (chopped w/ their juice) and 1/2 cup tomato paste instead of the packaged tomatoes.

~ For the spices, you can alter the mix any way you see fit, depending on what you have on hand and what you like. I didn't have fenugreek, so omitted it. I'm not sure that I've ever tasted it, but I'm kind of curious now & will look for it to try next time. I believe it's a spice used in Ethiopian and Indian cuisine.

~ For the lentils… You have a few choices. 1 – As mentioned above – Boil them for about 45 mins or until tender (up to an hour).  OR – 2 – Soak lentils for 4 hours (up to 12 hours is ok), drain, then boil in fresh water for approx 30 minutes. The soak time will soften them somewhat, so a shorter cook time works unless you like them on the mushy side. Soaking the beans will make them more digestible. If beans tend to make you gassy, this should help with that. Taking that one step further (if you'd like) adding a small piece of Kombu (seaweed) as the lentils cook will reduce the possibility of gassiness even further.  OR – 3 – Use truRoots sprouted lentils and boil for 5 minutes, remove from heat, cover, let sit 2 mins, and drain. This method is of course the quickest, but more costly.

 For those with various food restrictions

, this recipe falls into the following categories:

Dairy Free, Gluten Free, Egg Free, Nut Free, Sugar Free, Grain Free, Vegan, Raw

If eating gluten free, be sure to double check labels of any packaged ingredients (tomatoes, broth).