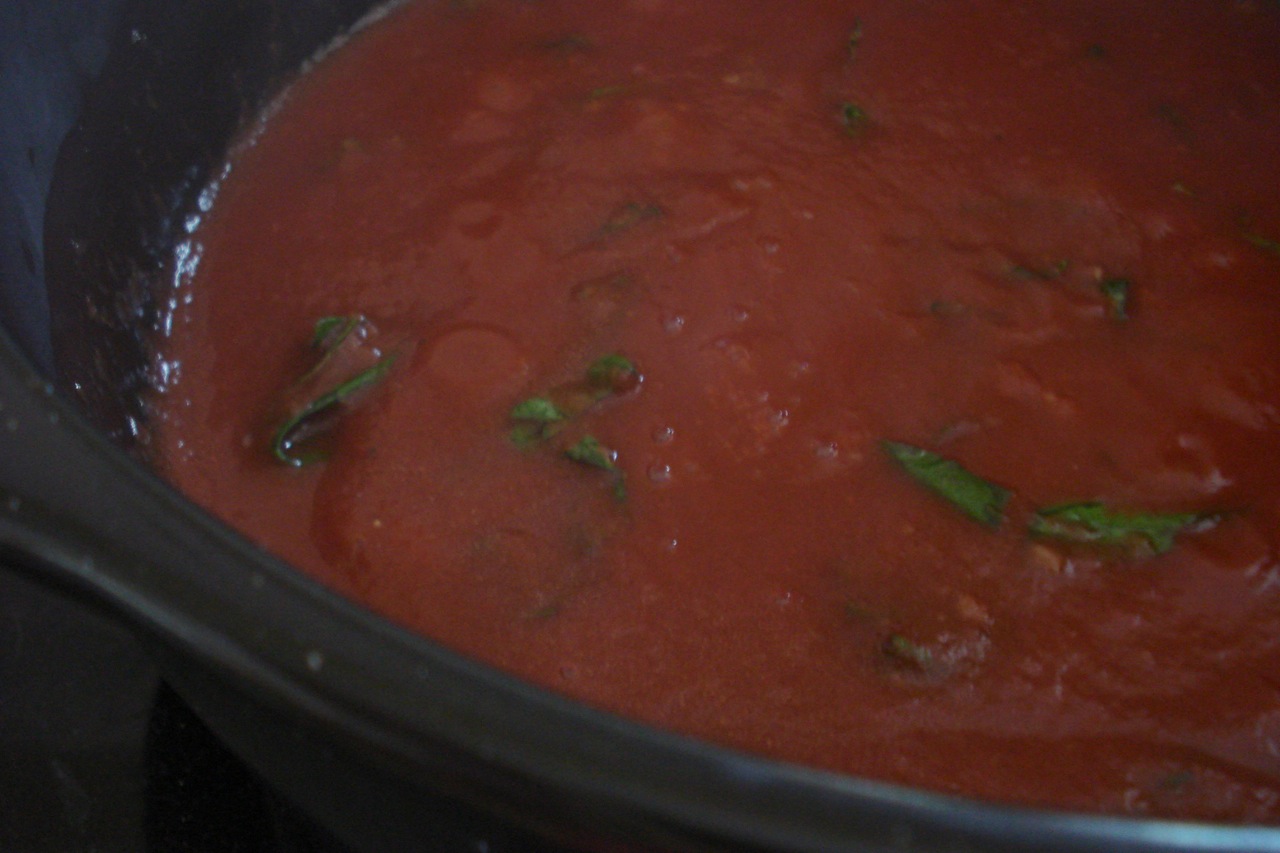 2 TBSP butter or ghee
4 garlic cloves, minced or crushed
28 oz package crushed or strained tomatoes
1 cup water
1/2 tsp pure salt
freshly ground black pepper to taste
fresh basil or parsley, chopped (as much as you'd like)
1 – 2 TBSP extra virgin olive oil
Warm butter or ghee over medium heat and saute garlic for 1 – 2 mins.
Add tomatoes, salt and pepper.
Add the water to the empty tomato container, swish it around (to collect the remaining remnants of tomato), and add it to the pot.
Simmer for approx 10 mins.
Stir in chopped basil, drizzle in the olive oil and serve.
Serves 4.
______________________________________________________________________________________
SIDE NOTES

:

~ Very basic, very fast! This simple sauce can be used over sauteed vegetables, for a homemade pizza, over pasta, or for something like eggplant/chicken/meatball parmesan.

~ I'd recommend a minimum of 2 TBSP fresh basil (but I use a whole lot more).

 For those with various food restrictions

, this recipe falls into the following categories:

Dairy Free, Gluten Free, Egg Free, Nut Free, Sugar Free, Grain Free, Vegan, Raw

If eating gluten and/or sugar free, double check the label on your tomatoes.  The only ingredient that should be listed is "tomatoes"!

~  Unfortunately, due to their acidic nature, tomatoes end up leaching undesirables such as BPA right out of the can lining.  There are a few companies working on a new, safer type of can to package their tomatoes, but until then, I've been using Pomi brand which are packed in non-toxic tetra boxes. I must admit, I have fallen in love with their fresh flavor and may never look back.  Click HERE for more information on what BPA is and why it's best avoided.