2 packages soy tempeh (total of 16 oz)
2 TBSP fennel seeds
2 tsps dried basil
2 tsps dried oregano
1 tsp red pepper flakes
1 tsp dried sage (or 3/4 tsp ground sage)
4 garlic cloves, minced or crushed
1/4 cup soy sauce
2 TBSPs extra virgin olive oil
3 TBSPs lemon juice (juice of 1 lemon)
In a large saute pan, crumble the tempeh (using your hands) and add enough water to almost cover it (about 3/4 cup).
Over medium heat, cover pan & steam the tempeh until the water is absorbed, about 10 minutes.
Drain any remaining water (if necessary), or cook it off with the pan uncovered.
Add the rest of the ingredients and cook over medium heat, stirring occasionally, until lightly browned – about 10 minutes.
Serves 4.
________________________________________________________________________
SIDE NOTES:
~  This recipe is pure genius, adapted from Post Punk Kitchen.
For those with various food restrictions
, this recipe falls into the following categories:
Dairy Free, Gluten Free, Egg Free, Nut Free, Sugar Free, Vegan, Grain Free Raw
If eating gluten free, be sure to use soy tempeh (not "three grain" or "vegetable", etc), and gluten free soy sauce (tamari).
~ Besides having this for breakfast – along side eggs, we've also had it tossed with marinara sauce & pasta, with sautéed onions & red bell peppers ("sausage & peppers"), as a pizza topping, and with sautéed greens.  So satisfying & so good.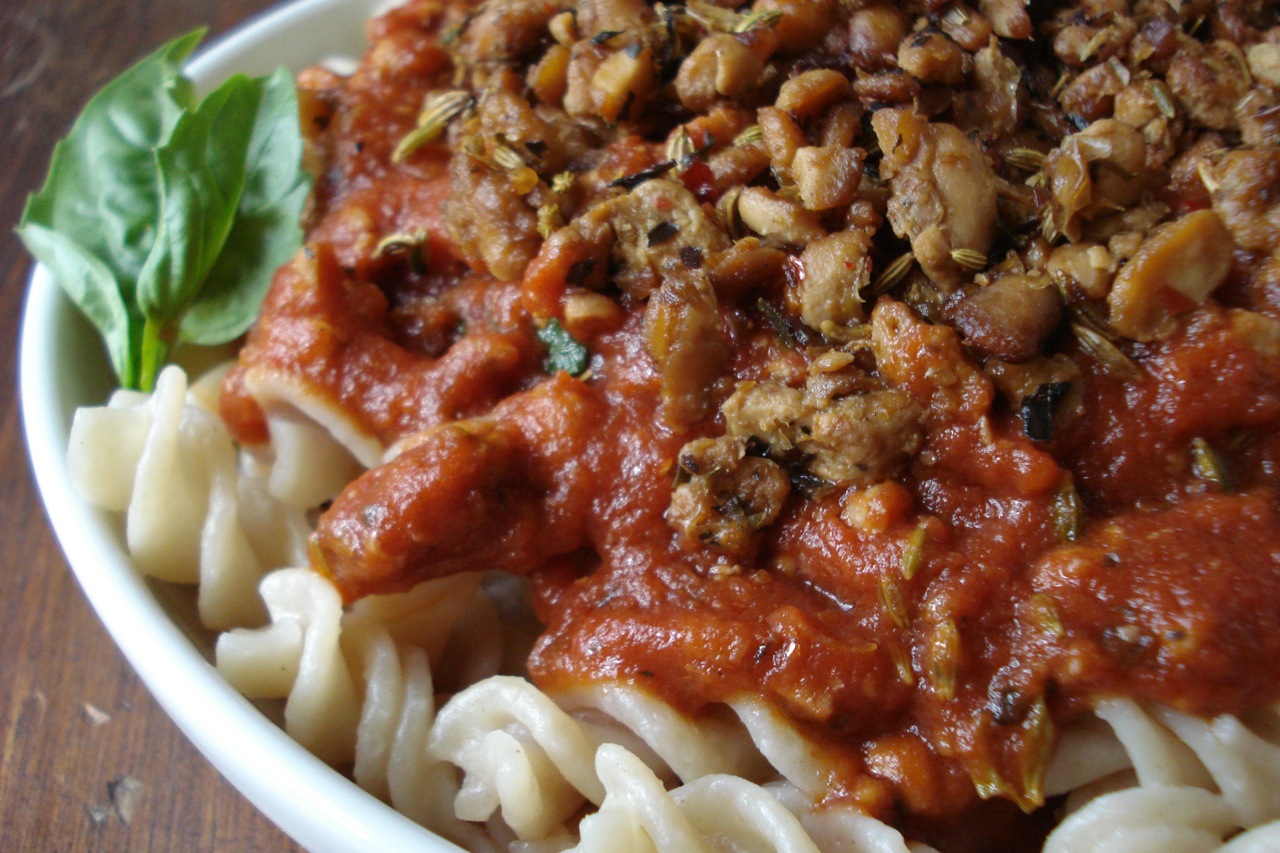 Shown above with 10-MINUTE-MARINARA-SAUCE.
________________________________________________________________________
~ To make things easier, if you know you'll be in a hurry later on, do some prep work ahead of time. For example, in this case, you can combine all of the liquid ingredients (and crushed garlic) in one container, and the dried spices in another. This way, when the time comes, all you have to do is open & dump =)