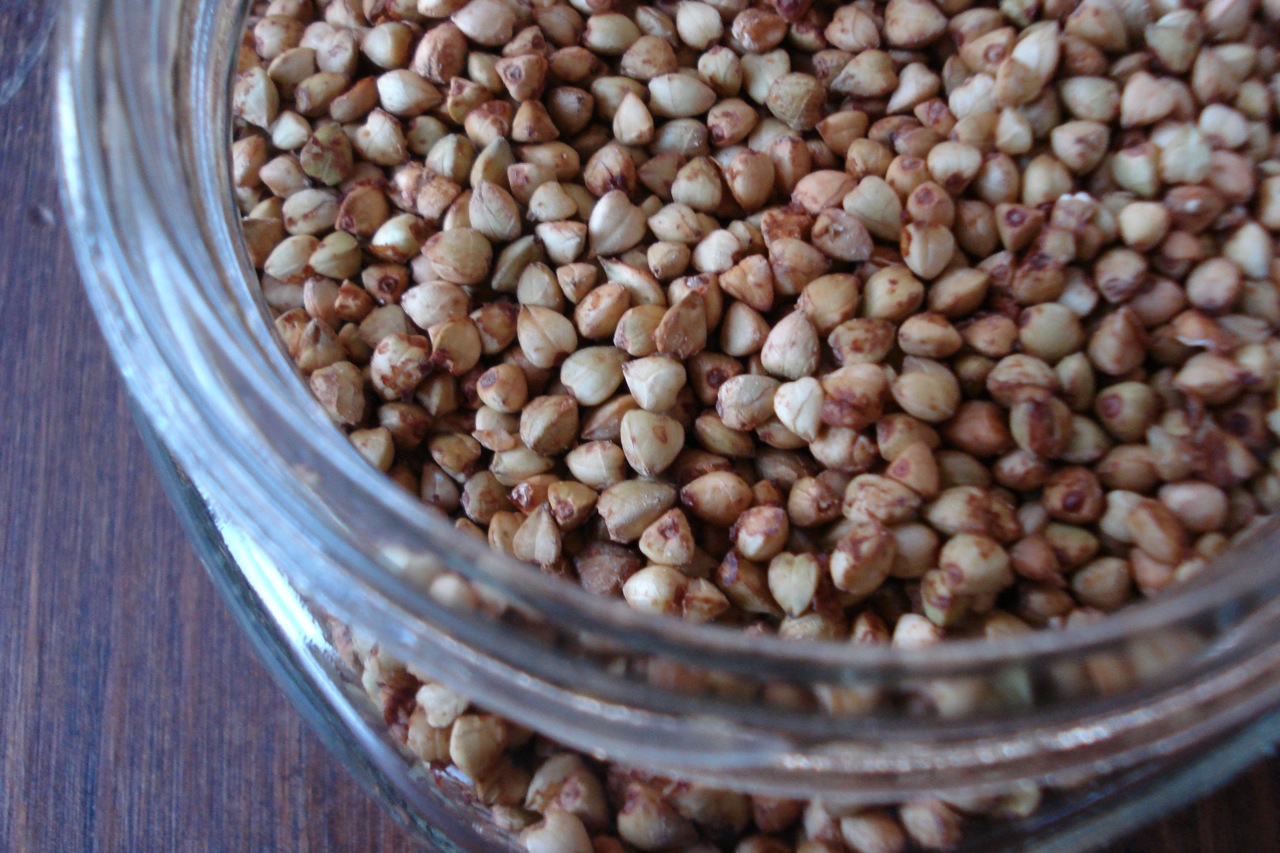 1/2 cup buckwheat groats
2 TBSP tamari/soy sauce
2 TBSP lemon juice
1/4 tsp garlic powder
1/4 tsp ginger powder
1/8 tsp cayenne pepper
Soak buckwheat groats for about 6 hours.
Drain & rinse in a fine mesh strainer.
Combine soy sauce, lemon juice & spices in a small bowl.
Add buckwheat & let marinate 1 hour.
Drain again, discarding the liquid (don't rinse).
Spread out buckwheat groats on large sheet, & dry either in a dehydrator (anywhere from 4 hours to overnight), or on low heat in the oven for an hour or two (the lowest bake temperature possible for your oven) until completely dry.
______________________________________________________________________________________
SIDE NOTES

:

~ These crunchy, tasty, little things are excellent added to salads, trail mix, or simply munched on as is.  My daughter likes them rotated in as a school snack.  The time the container fell off her desk, a few boys that sit next to her helped to clean up. I'm not big on eating off the floor, but apparently, the boys had a nibble & were wowed.

For those with various food restrictions

, this recipe falls into the following categories:

Dairy Free, Gluten Free, Egg Free, Nut Free, Sugar Free, Grain Free, Vegan, Raw

If eating gluten free, be sure to use a gluten free tamari.  If eating 100% raw, use fresh lemon juice, raw soy sauce, and use a dehydrator.

~ What is a dehydrator?  You've probably heard of a "slow cooker", which is a device that lets you cook foods at a low temperature over a long period of time. A dehydrator has a similar objective, but the temperature is even lower, and it's for drying as opposed to cooking. It circulates warm air (I usually set mine to 95 degrees) that pulls moisture from the food, which makes it crisp/crunchy while preserving all the nutrients & enzymes. It basically does what the sun would do to produce a "sundried tomato" but in a more controlled environment.

~ I use a dehydrator & let them dry overnight. If using an oven, keep in mind, the idea is not so much to cook them, but to dry them. If your oven has a "warm" setting, that would be ideal. Just pop a few in your mouth after an hour & see if they're crunchy.

~ Buckwheat is a good source of minerals (particularly manganese & magnesium), fiber, high quality protein (containing all essential amino acids, including lysine which is lacking in many vegetarian foods), and 2 particular antioxidants with significant health-promoting actions (rutin and quercitin). Can be served as an alternative to rice, as a breakfast porridge, ground into flour for pancakes, or added to soups & stews to give them a hardier flavor & texture. Great grain for those with gluten sensitivities as it's gluten free.