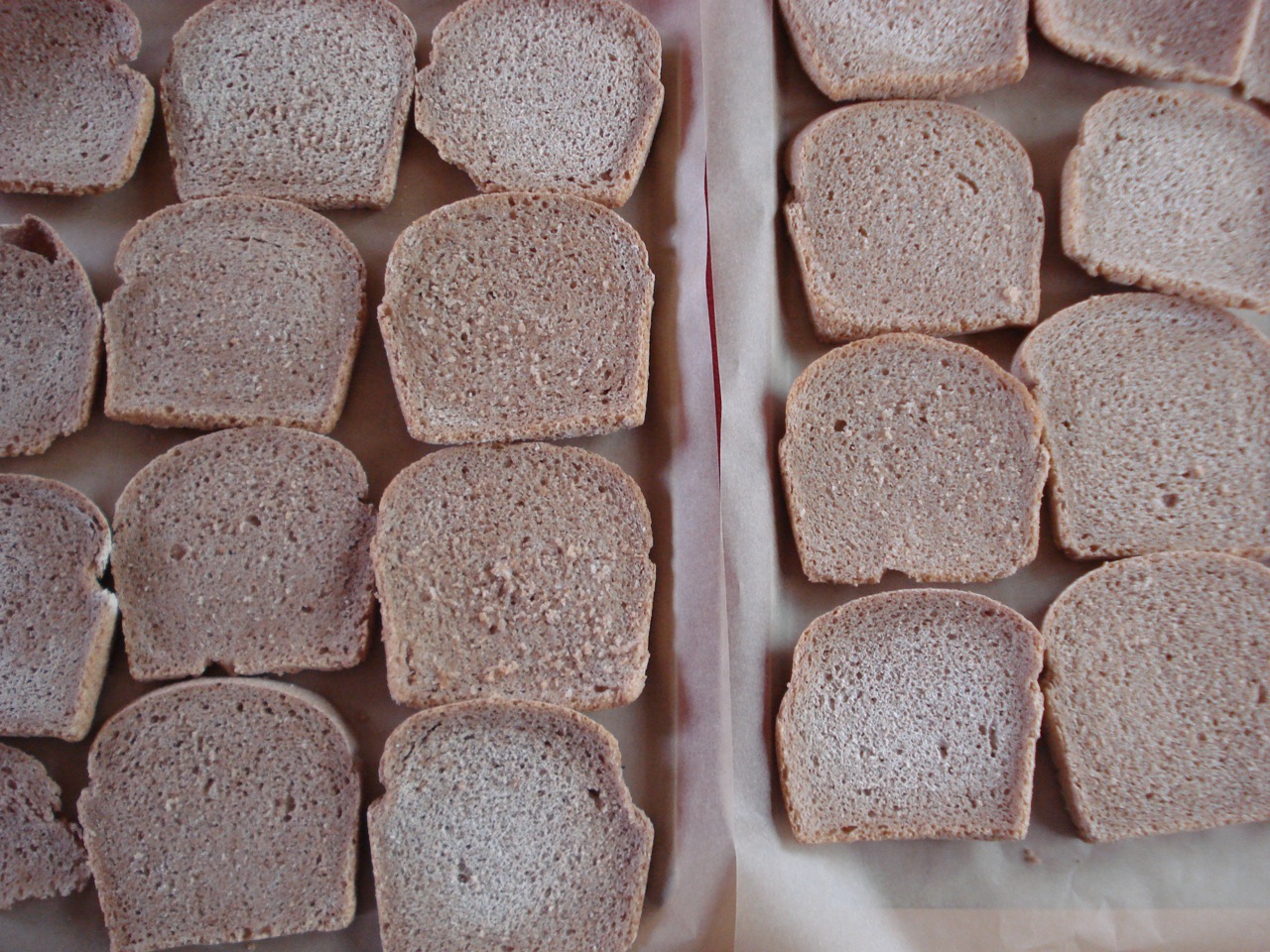 Bread crumbs are extremely simple to make at home. All you need is bread. Any and all kinds work – sliced bread, rolls, buns, ends, sourdough, whole grain, spelt, rye, gluten free – whatever you like, whatever you have.
If you keep sliced sandwich bread at home, making bread crumbs is one way to put the ends to good use. As you come across end pieces, just keep them together, in a bag in the freezer, and pull out slices as needed.
I don't recommend using stale bread (as is sometimes suggested), unless you want stale bread crumbs.
Use fresh or frozen bread.  All you have to do is dry it out & crumble it. Here are the details….
Simply defrost your bread (if frozen), and lay it on a baking pan (in a single layer) in an oven set to about 250 for 10 – 20 minutes – until it's completely dried out (you can turn the bread over, half way through if you'd like). You'll know it's dry if it snaps apart easily into pieces. If you have to tear it/pull it apart, there's still a bit of moisture left, so back in the oven for a few minutes more.
Once your bread is completely dry you have 3 options to make the crumbs. You can either use a blender, food processor, or a plastic bag/rolling-pin. Obviously, if you want really fine bread crumbs, the machines will do a better job, but mashing them by hand works very well for most purposes. For all 3 methods, simply break the bread apart into chunks into your device of choice & process. If using a plastic bag, release air from the bag before sealing it tightly. Then simply use a rolling pin or the side of a glass to roll over the bag until you have the desired consistency. If you only need a small amount of bread crumbs, using the bag method is easiest.
2 small slices of bread will yield about 1/3 cup of bread crumbs.
______________________________________________________________________________
Bread crumbs are not cheap, so making them at home will save money. Additionally, you'll only get crumbs of bread – without the long list of "stuff" that inevitably becomes attached to so many pre-packaged foods.
For example…. Here are the ingredients for CORA brand bread crumbs.
Enriched Flour [Flour, Malted Barley, Niacin, Ferrous Sulfate, Thiamin Mononitrate (Vitamin B1)Riboflavin (Vitamin B2) Folic Acid], High Fructose Corn Syrup, Partially Hydrogenated Vegetable Oil (Soybean and/or Cottonseed and/or Canola Oils), Water, Salt, contains 2 Percent or less of Yeast, Honey, Molasses, Sugar, Wheat Gluten, Whey, Soy Flour, Whole Wheat Flour, Rye Flour, Corn Flour, Oat Bran, Corn Meal, Rice Flour, Potato flour, Butter, Dough Conditioners (Mono- and Diglycerides, Sodium and/or Calcium Stearoyl Lactylate, Soy Lecithin, Calcium Carbonate)Yeast Nutrients (Ammonium Sulfate, Calcium Sulfate, Monocalcium Phosphate)Distilled Vinegar, Skim Milk, Buttermilk, Lactic Acid, Calcium Propionate (Preservative), Potassium Sorbate (Preservative), Sesame Seeds.
___________________________________________________________________________
To make ITALIAN STYLE BREADCRUMBS, simply make plain bread crumbs as described above, and add the following seasonings:
(per half cup of plain bread crumbs)
~ 1/4 tsp salt
~ 1/4 tsp black pepper
~ 1/4 tsp garlic powder
~ 1/4 tsp dried parsley
~ 1/8 tsp onion powder
~ 1/8 tsp dried basil
~ 1/8 tsp oregano
Of course, you can change this up as you see fit, based on what seasonings you have on hand, or which ones you like.
__________________________________________________________________________________________________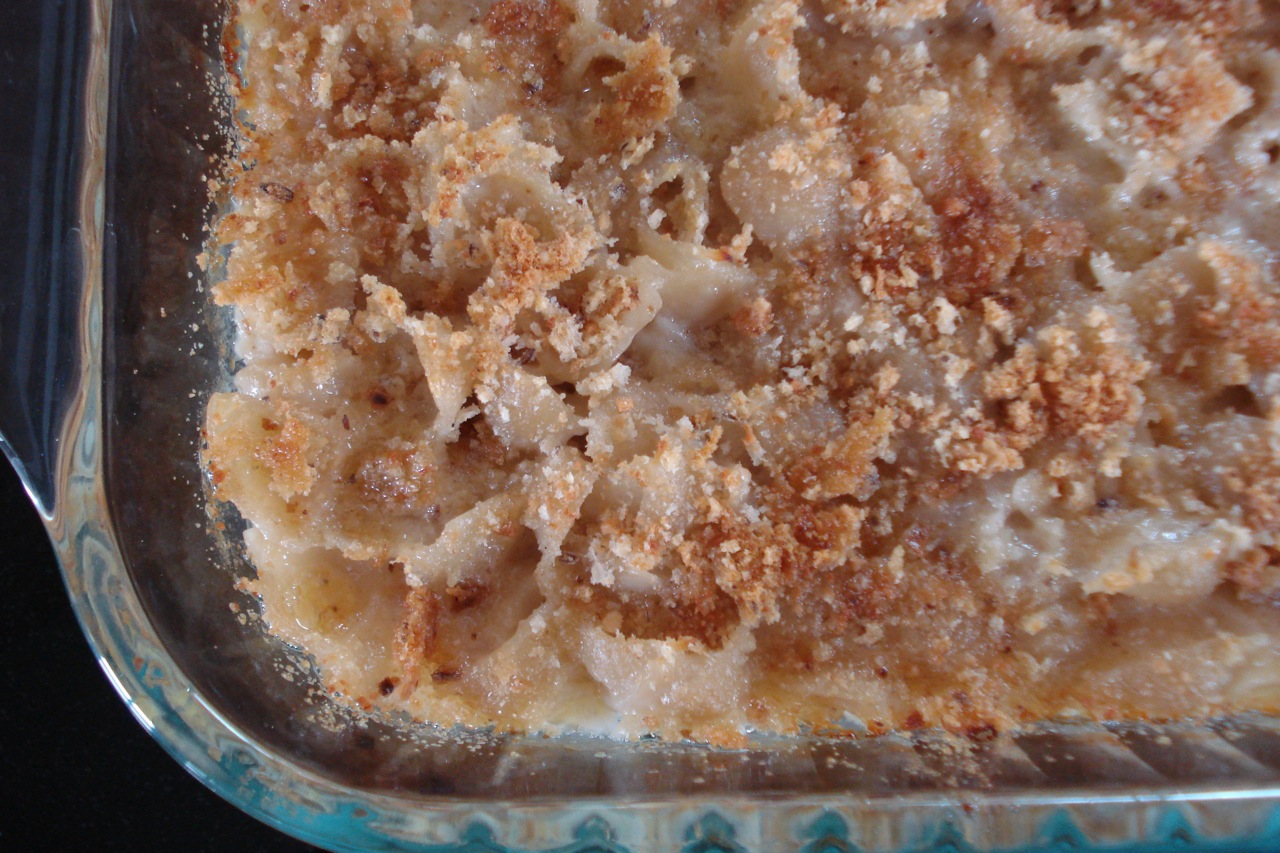 (our favorite BAKED-MAC-&-CHEESE w/ bread crumb topping)