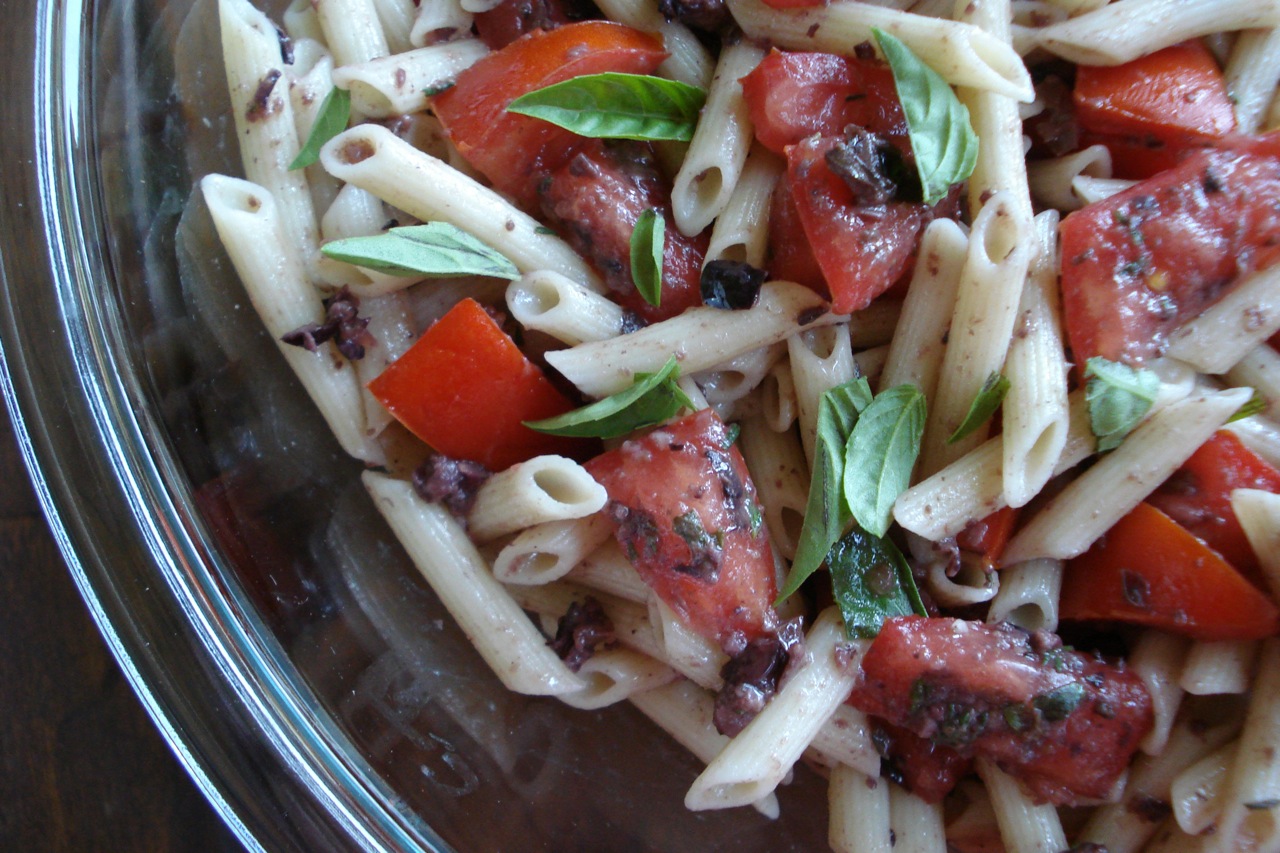 First make the Olivada

:

1 small garlic clove, chopped into a few pieces
3 large basil leaves, torn into a few pieces
1 tsp fresh thyme leaves
1/2 cup black olives, drained & pitted
2 tsps lemon juice
1 TBSP extra virgin olive oil

Place the garlic, basil and thyme in the work bowl of a small food processor. Process, scraping down sides as needed until the ingredients are finely chopped. Add the olives and lemon juice and pulse, scraping down the sides as needed, to form a coarse paste. Add the oil and pulse until it's just incorporated.
To prepare the meal

:

4 medium tomatoes (about 1 & 1/2 lbs), cored and roughly chopped
1 tsp fresh thyme leaves
pure salt to taste
1 lb pasta of choice (I actually used less)
Place the tomatoes in a bowl large enough to hold the cooked pasta.
Stir in the prepared olivada and thyme.
Taste and add salt sparingly.
Cook pasta until al dente and drain.
Add the pasta to the bowl with the tomatoes and mix well.
______________________________________________________________________________________
SIDE NOTES

:

~ Adapted from "The Complete Vegetarian Italian Cookbook." Very simple and tasty. A great way to make use of fresh, summer tomatoes.

~ If you prefer to make it even simpler, many gourmet stores sell a similar olive paste in jars (use about 1/3 cup).

~ Add some fresh basil or other herbs over the top if you'd like.

~ You can double the olivada recipe to have some leftover for spreading on bread, crackers, or to liven up a sandwich. Will keep for a few days in the fridge.

 For those with various food restrictions

, this recipe falls into the following categories:

Dairy Free, Gluten Free, Egg Free, Nut Free, Sugar Free, Grain Free, Vegan, Raw

If eating gluten and/or sugar free, use an appropriate pasta (brown rice pasta is our personal preference), and double check labels of any packaged products such as olives.