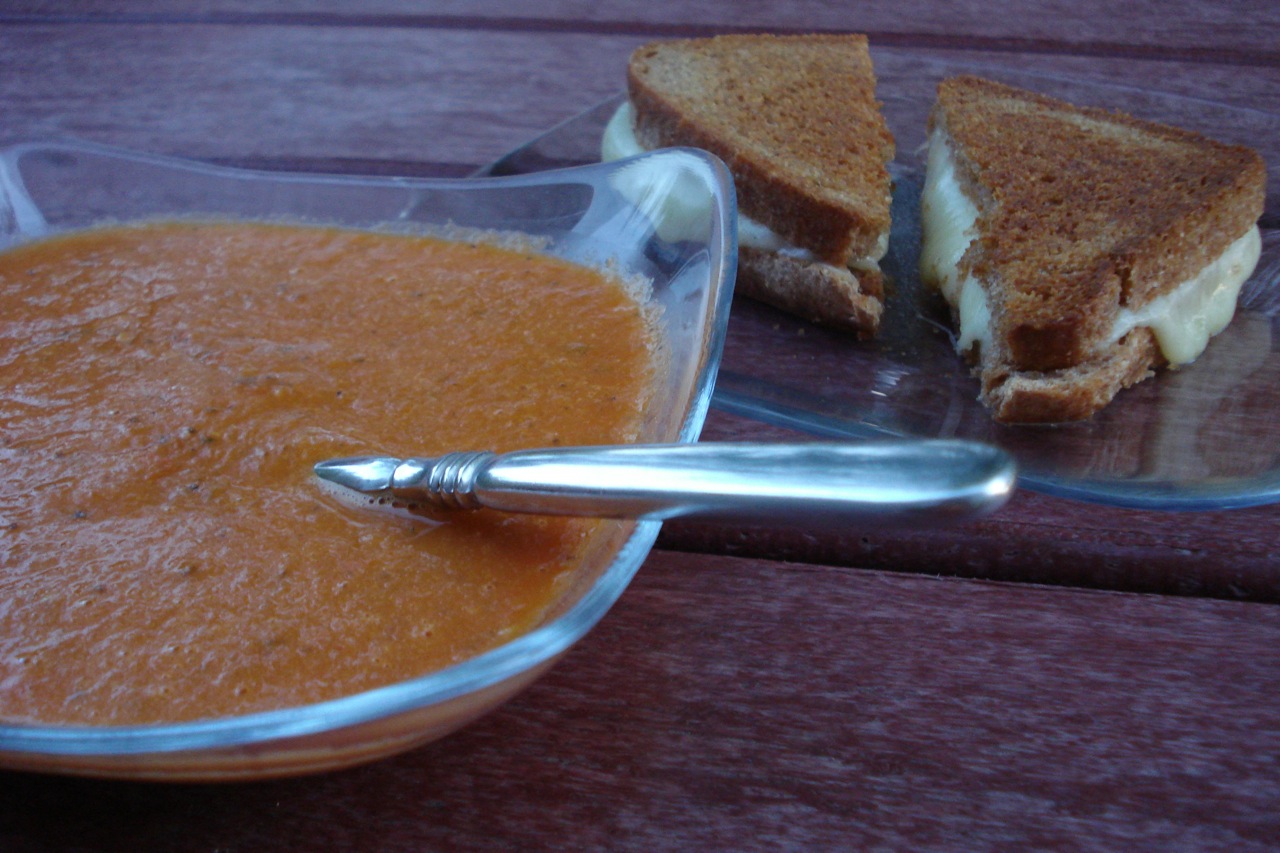 2 pounds of tomatoes
6 garlic cloves (peeled & whole)
1/4 of a medium red onion, sliced
1 TBSP extra virgin olive oil
1 TBSP balsamic or apple cider vinegar
2 sprigs fresh oregano (use leaves & discard stems)
4 large basil leaves, roughly torn into pieces
sea salt & freshly ground black pepper to taste
1 to 2 cups water or broth (depending on how thick or thin you like it)
cheese for sprinkling over the top (optional) (parm or cheddar)
Pre-heat oven to 375.
Wash and cut tomatoes in half.
Place them in a shallow baking dish, cut side down (9 x 13 pyrex works well).
Add onion, whole garlic cloves, oregano and basil.
Drizzle vegetables with olive oil and vinegar.
Sprinkle with salt and pepper, then bake for 45 minutes.
Puree vegetables by either transferring to a pot (if using a stick blender), or by transferring to a regular blender in batches.
Slowly add broth or water until desired consistency is reached.
Taste and adjust salt if needed.
Serve garnished with cheese if desired.
Yields 4 side servings.
______________________________________________________________________________________
SIDE NOTES

:

~ My sister found this recipe on food.com and highly recommended it. We really enjoyed it too. Once again, came in handy as another way to use up all the fresh tomatoes of the season. The house smells so good while it's cooking!

~ Any type of tomatoes you have on hand will do (though the original recipe calls for either cherry or plum tomatoes). I used some cherry, and some regular.

~ 1 cup of broth worked well (to me, adding 2 cups would have made it too thin), and of course, water would be fine if you don't have any broth.

 For those with various food restrictions

, this recipe falls into the following categories:

Dairy Free, Gluten Free, Egg Free, Nut Free, Sugar Free, Grain Free, Vegan, Raw

If you're eating dairy free, omit the cheese. Always check the labels of any packaged goods you're using (such as broth…) if eating gluten and/or sugar free.

~  There are a lot of ways to change this up, adding new dimensions of flavor.  Try chopping & roasting 2 carrots and 1 stalk of celery along with the tomatoes.  Add a swirl of fresh olive oil, and/or a 1/4 tsp cayenne pepper, and/or 1/3 cup cream to the soup after you've blended it.  If you don't have fresh herbs on hand, dried will work (though fresh will yield the best flavor). Substituting cilantro, rosemary, thyme, sage, parsley or any other herb you're in the mood for would be fine. Next time I make this, I'll increase the onion a bit (probably more like half an onion), add carrots, celery & cayenne (keep in mind, you may need to add more broth/water if using additional vegetables).  I'll also probably double the basil, but save half of it to add in fresh (uncooked), just before blending.  As always, I'll update the recipe, adding specific refinements as I play with it more (though it's very tasty & easy as is).

~ The old grilled cheese stand-by is of course great with this, but there are lots of things you could pair it with….  Get some brown rice going on the stove just before you start making this, and stir a large scoop into each individual serving.  Or add some cooked or canned white beans (can either puree them with the soup, or stir in whole, after blending). Crumble in some whole-grain crackers or croutons (alternately, can dry out a few pieces of whole-grain bread in the oven for 10 – 20 mins at 250 & break it up over soup). Eat it next to corn on the cob, a quesadilla, a big green salad, meat, tempeh, fish or whatever else sounds good to you.

Enjoy!