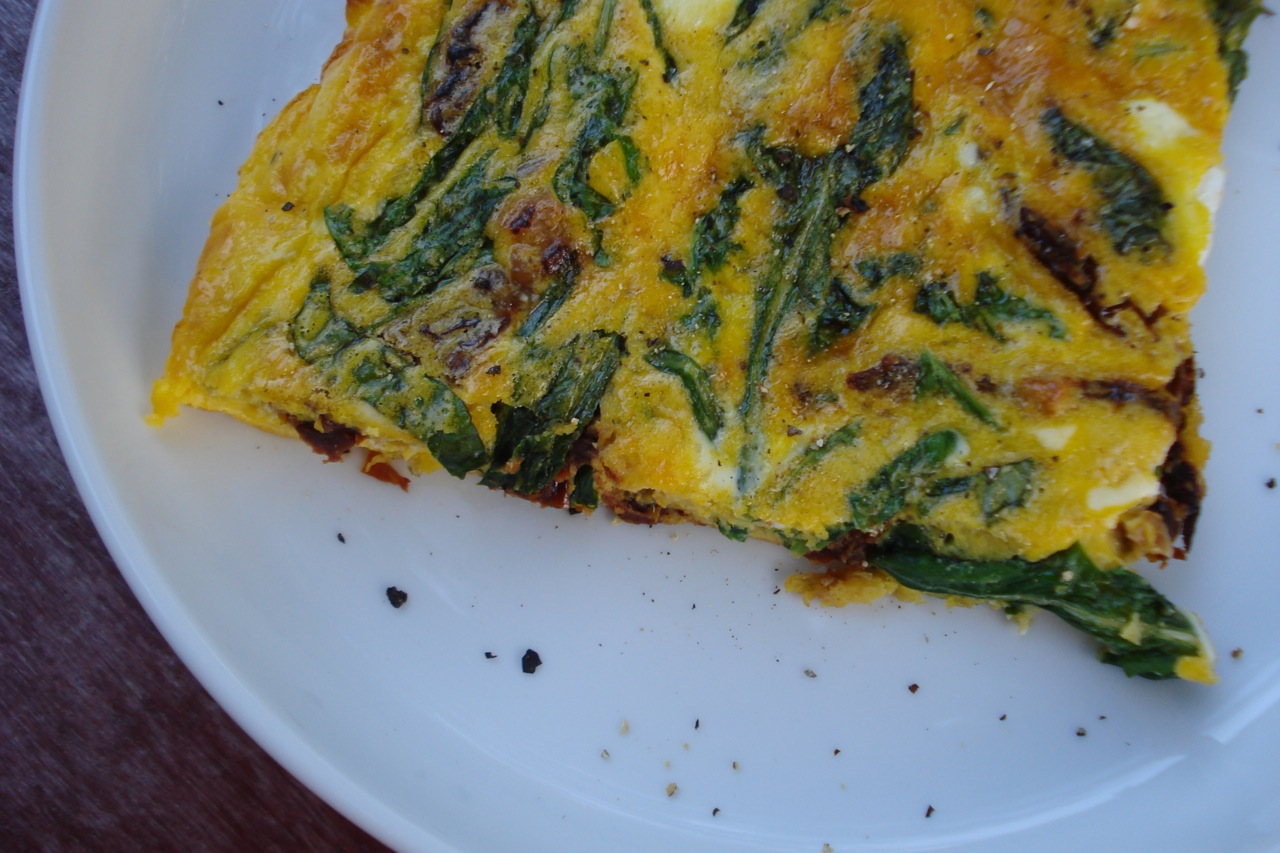 1 & 1/2 TBSP extra virgin olive oil
2 large garlic cloves, minced or crushed
8 sun-dried tomatoes packed in oil, drained & thinly sliced
6 oz arugula, washed and drained well
8 large eggs
1/4 cup fresh basil leaves, roughly torn apart
1/4 cup grated parmesan cheese (optional)
1/2 tsp sea salt
freshly ground pepper to taste
Preheat broiler to high.
Heat oil over medium heat in a 10-inch skillet (preferably non-stick) with an oven proof handle and swirl the oil to coat the bottom of the pan evenly.
While oil is warming up, use a fork to lightly beat the eggs, basil, cheese, salt and pepper together (set aside).
Add garlic to the warm oil, and saute until golden, about 2 mins.
Add sun-dried tomatoes and cook, stirring to coat well with the garlic and oil for 1 to 2 mins more.
Add arugula and saute just until wilted (another minute or 2).
Add egg mixture to the pan, toss gently, and make sure the vegetables are spread out evenly in the pan.
Cook over medium-low heat, occasionally sliding a spatula around the edges of the pan to loosen the frittata as it sets.
Continue cooking for about 8 minutes until the frittata is set (except for the top).
Place the pan directly under the broiler and cook just until the top is golden brown and set, about 2 minutes. Be careful not to let the frittata burn.
Slide (or invert) the frittata onto a large platter, cut into wedges and serve.
Serves 3 or 4.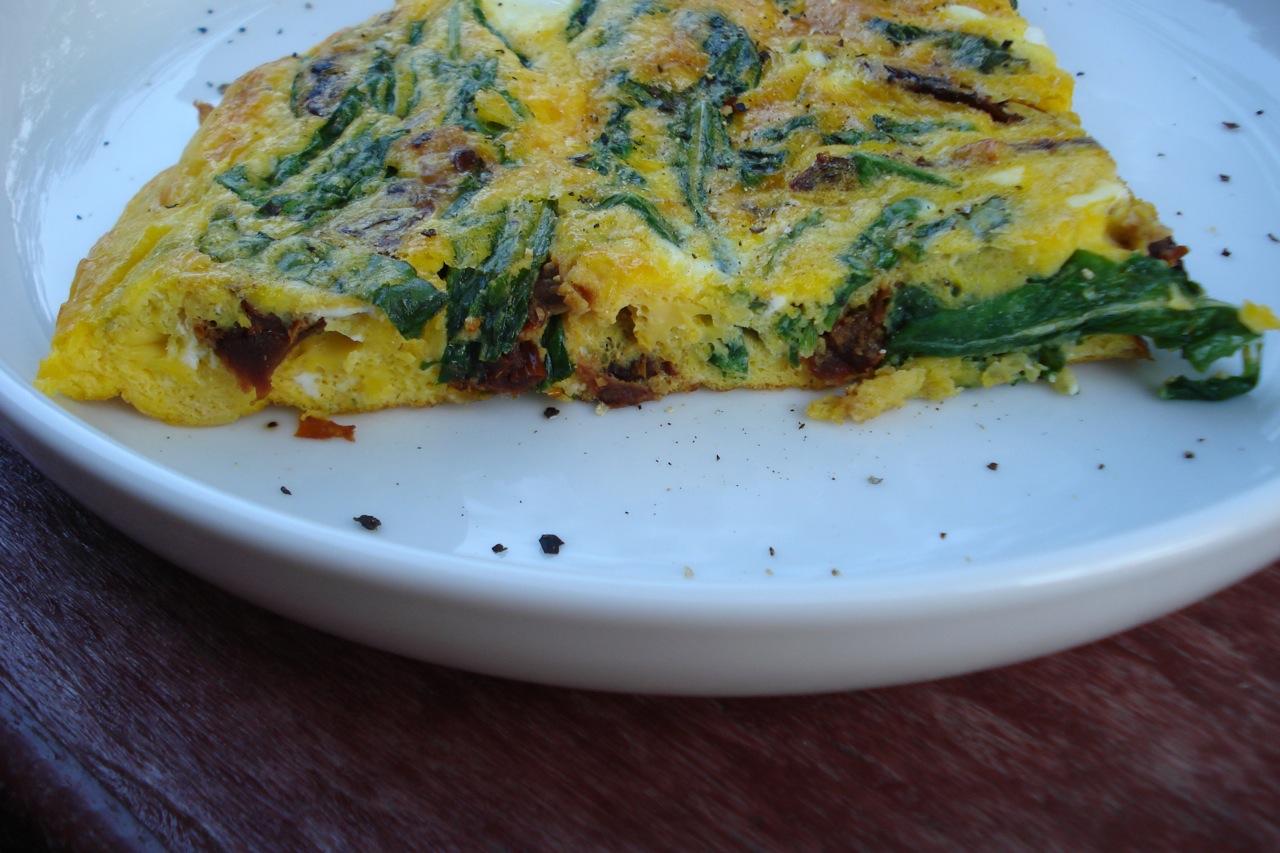 ________________________________________________________________________
SIDE NOTES:
~ A frittata sounds really fancy, but is actually no big deal to make. If you can make an omelette, you can make a frittata. The only difference is that instead of putting the vegetables on top & folding the omelette in half, you mix them in with the egg, and put the pan under the broiler for 2 minutes so the top portion of egg cooks.  I regret having to even put the word "frittata" in the recipe title, as some will skip right over it, thinking it's something only made by people named Fifi or John-Claude.  (I assure you this is not the case!)

~ If you'd like, you can chop up the arugula into smaller pieces, but I usually leave arugula whole when I cook with it. Up to you. It doesn't have to be exactly 6 oz. That just happens to be how much I got in my last CSA box.
~ Most non-stick pans are bad news. I highly recommend Cuisinart's Green Gourmet, non-stick skillets for when the need arises.
~ Can either be dinner, or Sunday breakfast.
~ Serve with whole-grain toast and/or a big salad.
~ After you take the pan out of the oven, keep a towel or oven mitt draped over the handle so you don't forget how hot it is & inadvertently grab it bare-handed.
~ I made this one up, just using what I had on hand. You can add anything you'd like to a frittata, so feel free to just scan the contents of your fridge & use your imagination 🙂
~ Another tasty frittata idea….FRITTATA-WITH-SPAGHETTI-&-HERBS
For those with various food restrictions
, this recipe falls into the following categories:
Dairy Free, Gluten Free, Nut Free, Sugar Free, Grain Free, Vegan, Raw, Egg Free
If eating dairy free, omit the cheese.