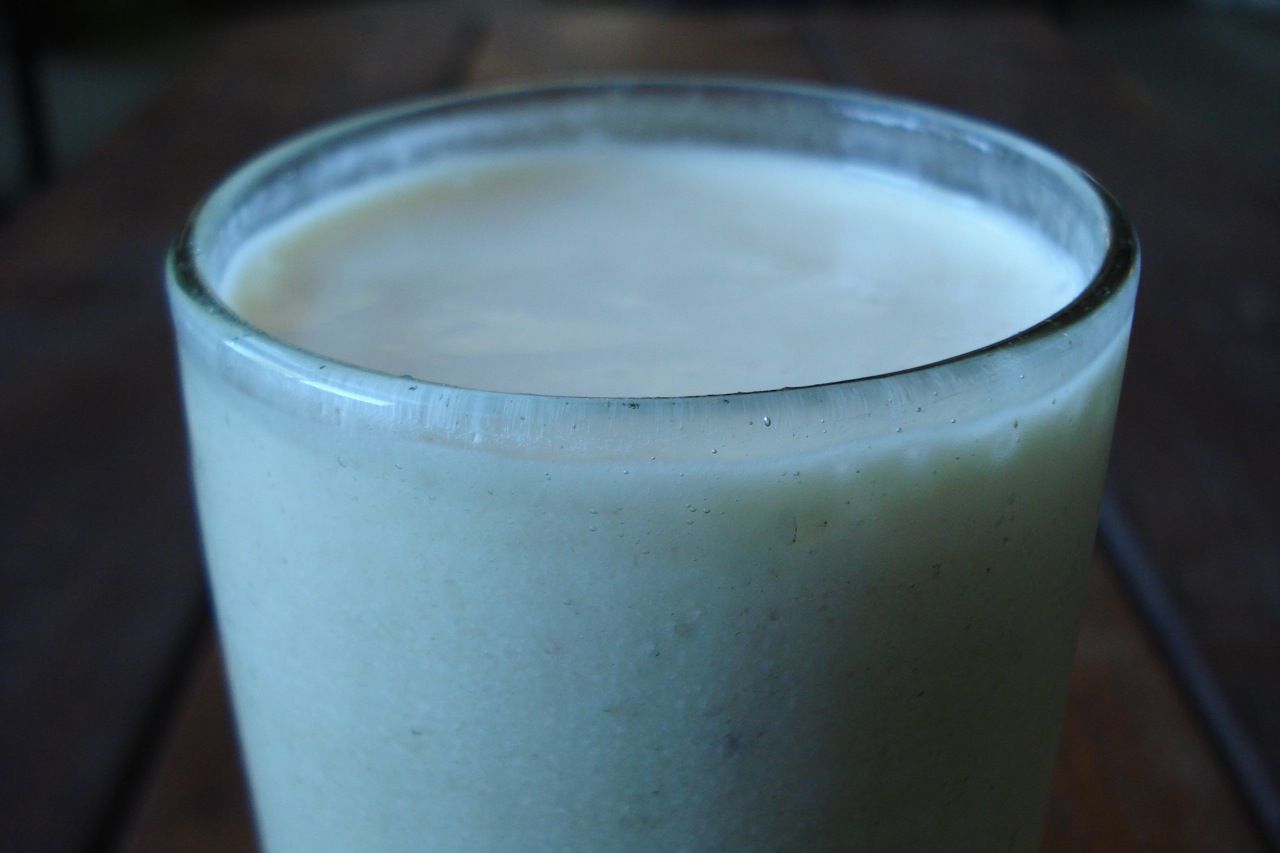 3/4 to 1 cup coconut-milk-tonic**
2 TBSP high-quality protein powder (optional)
1 banana
3/4 to 1 cup fresh or frozen fruit
Add to blender (in that order), and blend. Yields one serving (approx 16 – 20 oz).
________________________________________________________________________
SIDE NOTES:
**The COCONUT-MILK-TONIC is just coconut milk, thinned out with some water (equal parts of both). Nothing fancy or difficult to prepare.
~ I load the blender in that particular order for a reason. If you add the milk first, you can measure it accurately right in the blender (most blenders have measurement markers right on the carafe). This eliminates having to dirty a measuring cup which means less clean up. If using frozen fruit, adding it after the banana is much easier on the blender. If you've got rock-hard, frozen strawberries or peaches at the bottom of the carafe, the machine will have a hard time running, and you might even burn out the motor. Getting things going with soft banana at the bottom is the way to go.
~ Pictured above is peach, but there are so many tasty variations – try blueberry, pineapple, strawberry/raspberry, or any other flavor that appeals to you.   If you prefer, thaw out the fruit ahead of time so your smoothie isn't so cold.  And of course, use fresh fruit when it's in season and available.
~ There's really no right or wrong way to make a smoothie. Just toss in the ingredients you're in the mood for in amounts that taste good to you. This particular combination just happens to be one of our favorites. But here's a tip for adjusting the thickness… If you like a thicker smoothie, be sure to use a large banana, and consider using 3/4 cup milk to 1 cup frozen fruit. If you like more of a middle of the road thickness, try using equal amounts of milk and frozen fruit. And if you prefer it on the thinner side, use 1 cup of milk to 3/4 cups frozen fruit (personally, we don't like them that thin).
~ If you have a large enough blender and want to make 4 servings at once, just add a whole can of (regular, not "lite") coconut milk, 1 & 3/4 cups water, 1/2 cup whey powder, 4 bananas, and 3 1/2 to 4 cups of frozen fruit.
Enjoy  🙂
For those avoiding certain foods

, this recipe falls into the following categories:

Dairy Free, Gluten Free, Egg Free, Nut Free, Sugar Free, Vegan, Grain Free, Raw

Keep in mind, if eating raw, you need to make your own coconut milk using fresh or frozen (unpasteurized) coconut meat.  Additionally, if eating dairy free/vegan, omit the whey or substitute hemp protein powder.