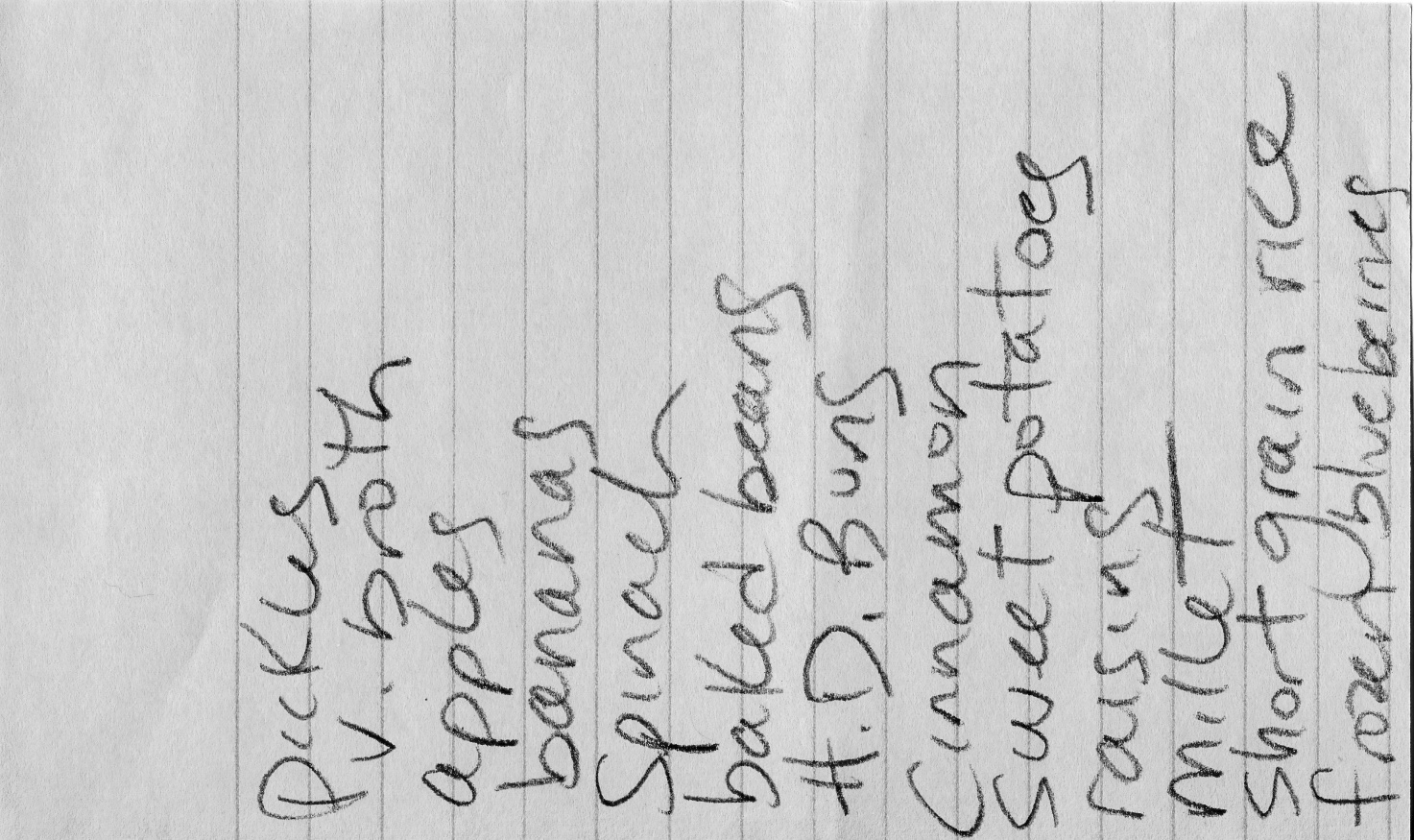 I've recently spent some time compiling a list of all the store-bought, convenience products I use. The list represents several hundred hours of research (over the years), as I'm not one to haphazardly grab random products from grocery store shelves. Over the past 6 months, I've done a great deal of additional research to seek out newer products. I was excited to have found so many new, tasty keepers =)
I purposely don't have a website with advertisements, as that's not my style, but of course, I do dedicate quite a bit of time to posting recipe ideas and health information in the name of sharing, and am very grateful to have the opportunity to do so.
If anyone is interested in this type of list, I'm humbly asking for a $30 donation. Upon receiving payment, I'll email you the list. It's as simple as that.
If you do decide you'd like to partake in this exchange, I hope the information included saves you time (from having to play food detective) and provides you with some additional choices you can enjoy and feel good about offering your family.
For those who purchase, I'd be happy to answer inquiries in regard to specific products you're curious about that aren't on the list (simply email me the product ingredients and I'll take a look as time allows). It could be that I'm unaware of the product, or that I purposely passed it up for one reason or another (of which I'd share with you).
If anyone would like to receive periodic updates (as I find new acceptable products), please include an additional $15 payment ($45 total). This service does not expire – You will receive personal email notifications from me indefinitely, whenever I come across a new product that makes the grade. Of course, all email communication will be sent BCC to protect privacy.
Please email me at dianeschnier@gmail.com with "YOUR SHOPPING LIST" in the subject line if interested in this exchange. Please also indicate whether you want the list – OR – the list AND periodic updates and I'll generate and email you a paypal invoice (if you prefer not to use paypal just let me know and you can mail a check).
To help you decide whether or not this exchange would be of value to you, there are over 300 individually listed items (specific brands) and here are the CATEGORIES INCLUDED….

APPLE BUTTER
APPLE SAUCE
ARTICHOKE HEARTS: CANNED
BABY FOOD
BAKING POWDER
BAKING SODA
BARS
BEANS: BAKED, CANNED
BEANS: CANNED
BEANS: DRIED
BREAD: BAGELS
BREAD: BUNS
BREAD: ENGLISH MUFFINS
BREAD: PIZZA CRUST
BREAD: SLICED
BROTH
BUTTER
CANDY
CAPERS
CEREAL
CHEESE: COTTAGE
CHEESE: CREAM
CHEESE: RAW
CHILI: CANNED
CHIPS: GENERAL SNACK
CHIPS: TORTILLA
CHOCOLATE: BARS
CHOCOLATE: CHIPS
CHOCOLATE: POWDER
CHOCOLATE: SNACKS
COCONUT: BUTTER
COCONUT: FLOUR
COCONUT: MEAT
COCONUT: MILK
COCONUT: OIL
COCONUT: SHREDS/FLAKES
COCONUT: WATER
COFFEE
COOKIES
CRACKERS
CREAM
CURRY PASTE
EGGS
FISH
FLOUR
FRUIT: FROZEN
FRUIT SNACKS: DRIED
GHEE
GRAINS
HOT SAUCE
ICE CREAM
KETCHUP
KOMBUCHA
MAYO
MEATS, PROCESSED
MISO
MUSTARD
NUT BUTTER
NUTS: PEANUTS
NUTS: SOAKED, DEHYDRATED
OATS: GROATS
OATS: ROLLED, STEEL CUT
OIL: FLAX
OIL: OLIVE
OIL: SESAME
OIL: TOASTED SESAME
OLIVES
PASTA
PICKLES
PIZZA: FROZEN
POPCORN
PRETZELS
PUMPKIN: CANNED
RELISH
RICE
RICE & BEANS: CANNED
SALAD DRESSING
SALSA
SALT
SAUERKRAUT
SEEDS
SOUP
SOUR CREAM
SOY SAUCE and/or TAMARI
SPICES
SUNDRIED TOMATOES
SWEET POTATO: CANNED
SWEETENERS: ALTERNATIVE
SWEETENERS: DRY
SWEETENERS: LIQUID
TAHINI
TEA
TEMPEH
TOMATO PRODUCTS
TORTILLAS
VEGETABLES: FERMENTED
VEGETABLES: FROZEN
VEGGIE BURGER: FROZEN
VINEGAR: APPLE CIDER
VINEGAR: BALSAMIC
VINEGAR: BROWN RICE
VINEGAR: RED WINE
WATER: BOTTLED
WATER: SPARKLING, BOTTLED
WORCESTERSHIRE SAUCE
YOGURT
Besides products, there are various tips and notes included here and there throughout the list.
HOLIDAY GIFT IDEA: Give a copy of my shopping list to someone who is striving to take better care of themselves, and include one or more of the healthy snack items on the list. If you want to go all out, make up a gift basket with a related group of delicious, wholesome foods!
FYI – I'm not affiliated in any way with any of the companies mentioned on my shopping list.