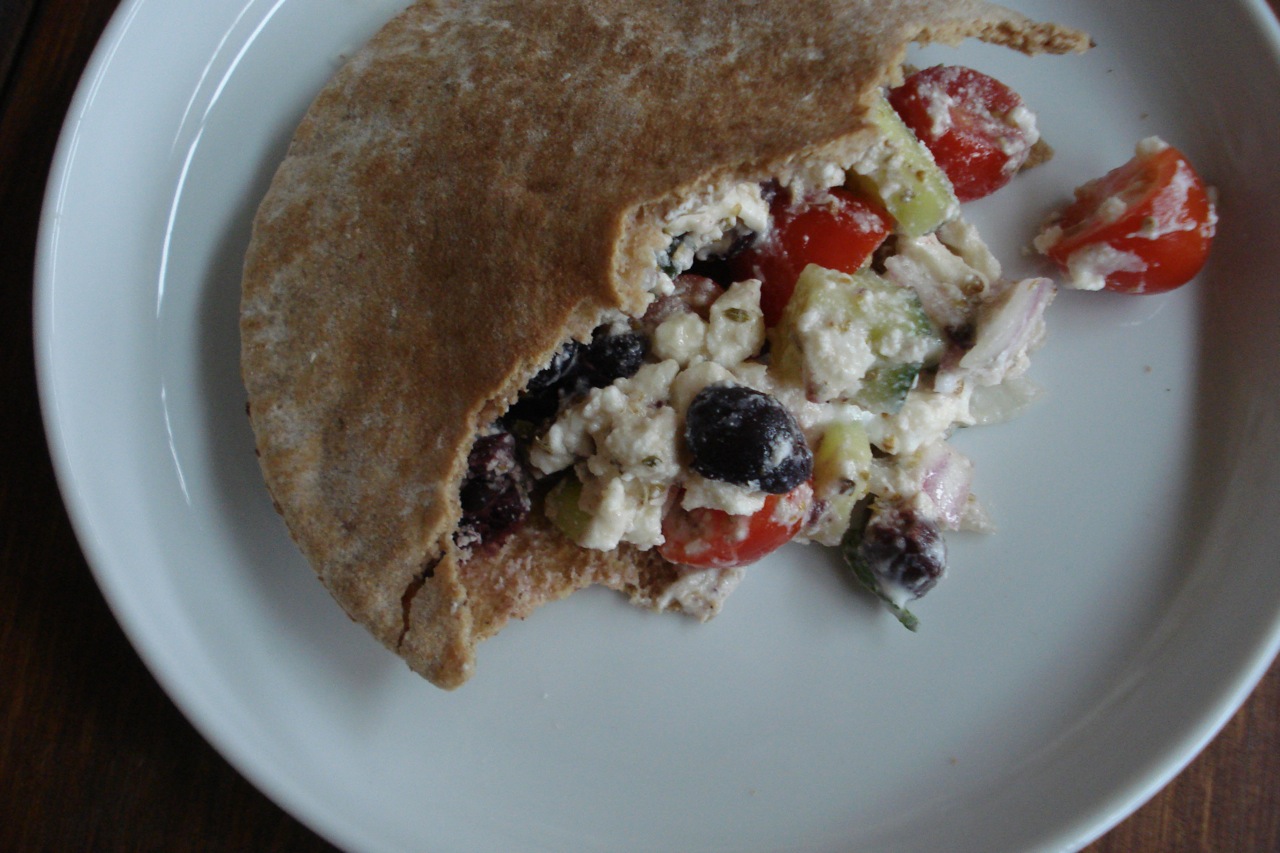 FILLING

:

about a quarter of a medium cucumber, diced
10 grape tomatoes (give or take), cut in half
diced red onion to taste (roughly 2 TBSP)
10 black olives (give or take), pitted & cut in half
1/2 cup crumbled feta cheese
2 TBSP lemon juice
1 & 1/2 TBSP extra virgin olive oil
1 tsp dried oregano (or 1 TBSP chopped fresh)
DRESSING

:

1/2 cup plain yogurt
1 TBSP chopped, fresh mint leaves
a few dashes of pure salt
freshly ground black pepper

2 whole grain or sprouted pitas
Mix together filling ingredients and fill 2 pitas.
Combine dressing ingredients and drizzle into each pita.
____________________________________________________________________
SIDE NOTES

:

~ There's a lot of give and take with this one – as it's a toss together, drizzle in kind of thing. Don't really need to count tomatoes or measure if you don't want to. Just add everything in the amounts that look good to you.

~  If you prefer, you can use red wine vinegar instead of lemon juice.  Depending on how much zing you're in the mood for, be careful that you don't add too much of either.  You can add it little by little and taste as you go if you're unsure. (My daughter & I like it a bit more lemon-y than my husband & son.)

~ Be sure to have a spoon handy, as it's a juicy, drippy sandwich that may or may not hold together until the last bite!

 For those with various food restrictions

, this recipe falls into the following categories:

Dairy Free, Gluten Free, Egg Free, Nut Free, Sugar Free, Grain Free, Vegan, Raw

If you're eating gluten/grain free, omit the pita and simply eat as a salad (or use gluten free bread if desired).  Always check the labels of any packaged goods you're using (such as olives and yogurt) if eating gluten and/or sugar free.