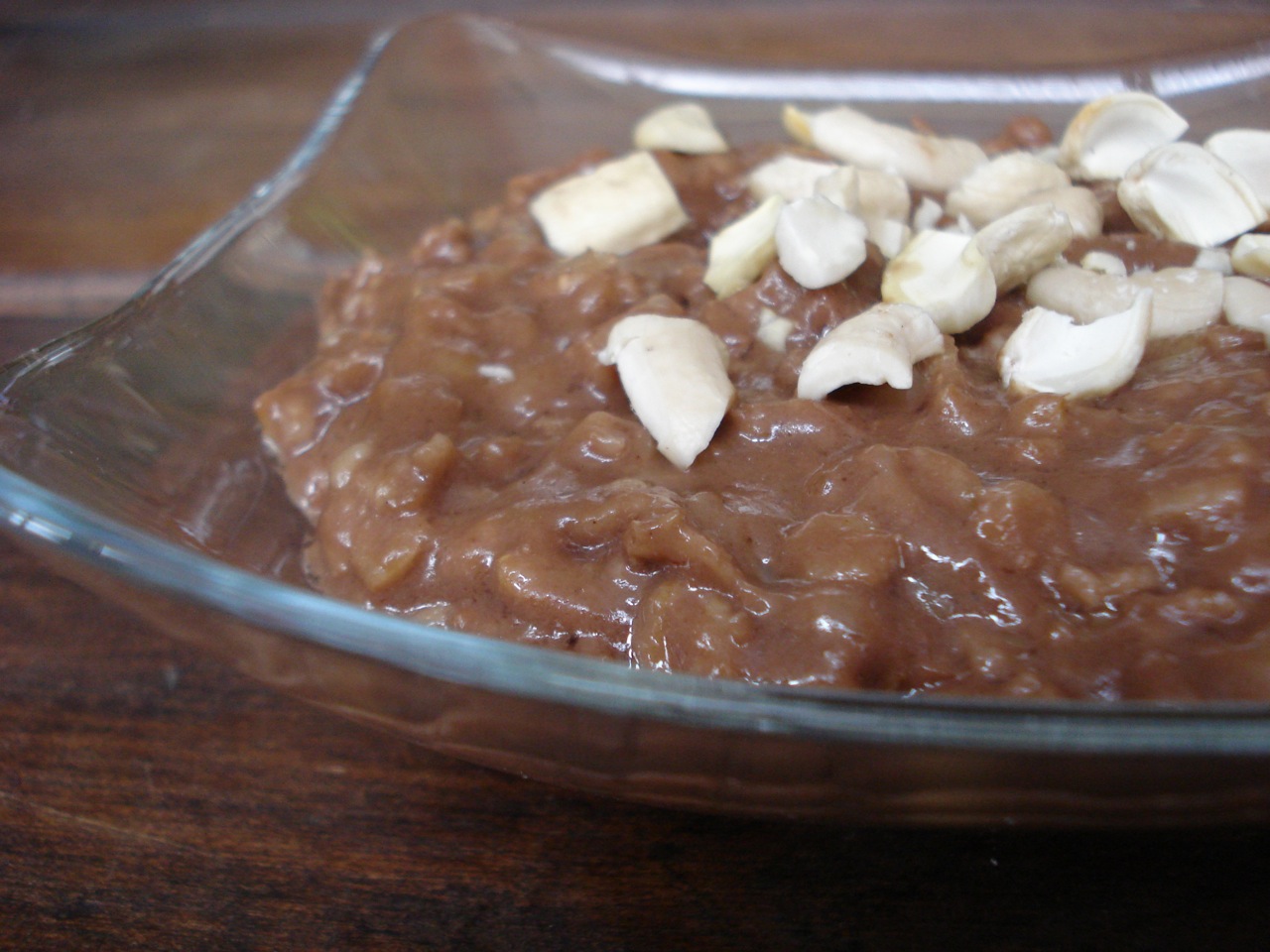 1 cup coconut milk (regular or "classic" – not "light")
1/2 cup water
2 tsps high quality, cacao (or cocoa) powder
1/2 cup old-fashioned rolled oats
1/4 tsp pure salt
1 banana, mashed
chopped cashews (optional)
Heat the coconut milk and water in a saucepan until hot (but not boiling).
Add the chocolate powder and stir until dissolved.
Add the oats and salt, stir to combine and bring to a low boil.
Cover and cook at a simmer for 10 minutes, stirring occasionally.
Uncover the pot, and cook (still stirring occasionally) until it reaches the desired thickness (about 3 mins, give or take).
Mash a ripe banana in your breakfast bowl, add the chocolate-y oats, and mix to combine.
Top with chopped cashews and enjoy.
Serves 1 or 2 depending on appetite.
________________________________________________________________________
SIDE NOTES:
~ You or your kids cuckoo for Cocoa Puffs?? Forget that & eat this!
~ But really, chocolate for breakfast?? Maybe not every day, but it's this type of delicious, guiltless, treat that can prevent someone from having a snickers bar at 3:00 pm. Incorporating a high quality, antioxidant and mineral rich chocolate product into a healthy, satisfying meal is definitely the better option =)
~ This is a yummy treat for the kids (or any chocolate lover), and if they are normally opposed to eating oatmeal, this one will change their mind. This recipe may be 1 or 2 servings, depending on appetite. If splitting into 2 servings, mash half of a banana in each bowl. My kids really love this. And it's another one of those breakfasts that can easily double as dessert. In fact another good name for this dish would be Chocolate Oatmeal Pudding. Sometimes it's all in the name – make it something fun =)
~ Of course, swap out the cashews for any nut you're in the mood for. Chocolate, banana & cashews just happen to go really nicely together (but I guess, what nut wouldn't go well with chocolate & banana??).
~ Although coconut milk has a mild sweetness, it's really the mashed banana that's sweetening this dish. If you don't have a ripe banana on hand, simply mix in 2 or 3 teaspoons of natural sugar (or a few drops of liquid stevia).
~ Doubling this recipe serves 3 nicely (after mixing in the banana, yields about 4 cups). If doubling, it might be helpful to note that 1 can of coconut milk is about 1 & 3/4 cups, so simply use 1 can and about 1/4 cup extra water (1 & 1/4 cups water total) to compensate (would be silly to crack open another can for only 1/4 cups worth of milk).
~ Soaking the oats overnight will yield a quicker cook time in the morning, and make the grain more digestible (this of course is a win/win situation and the preferred method). Additionally, some like to ferment the grain by including a TBSP of plain yogurt to the soak.
[I realize there are various levels of nutrition, so like to offer options to make everyone comfortable. I'd hate to turn someone away from a recipe simple because I mention soaking or fermenting the oats right up at the top. It's easy to add that additional information down here for those who are interested.]
~ If you prefer to soak your oats overnight, simply mix the oats with water (1/2 cup of each) in the pot you'll be using to cook in the morning, cover, and leave in a warm place overnight (inside an oven with only the oven light on works well). In the morning, heat up the coconut milk in a separate pot until hot, but not quite boiling (careful because coconut milk is thick, and you don't want the bottom to burn – be sure to stir it a bit as it's warming up). Mix the chocolate powder into the coconut milk and stir until dissolved. Add the chocolate milk to the oats, mix in the salt, and when it begins to bubble, lower heat, cover and cook for 5 minutes. Uncover and cook for another 2 or so minutes (until done to your liking). Proceed with mashing the banana into a bowl (or bowls) and add cashews.
 For those with various food restrictions

, this recipe falls into the following categories:

Dairy Free, Gluten Free, Egg Free, Nut Free, Sugar Free, Grain Free, Vegan, Raw

If eating strictly gluten free, be sure to use only certified gluten free oats. And of course, omit the cashews if you can't eat nuts
In addition to the cashews, this oatmeal is also very tasty with berries or chopped apple over the top.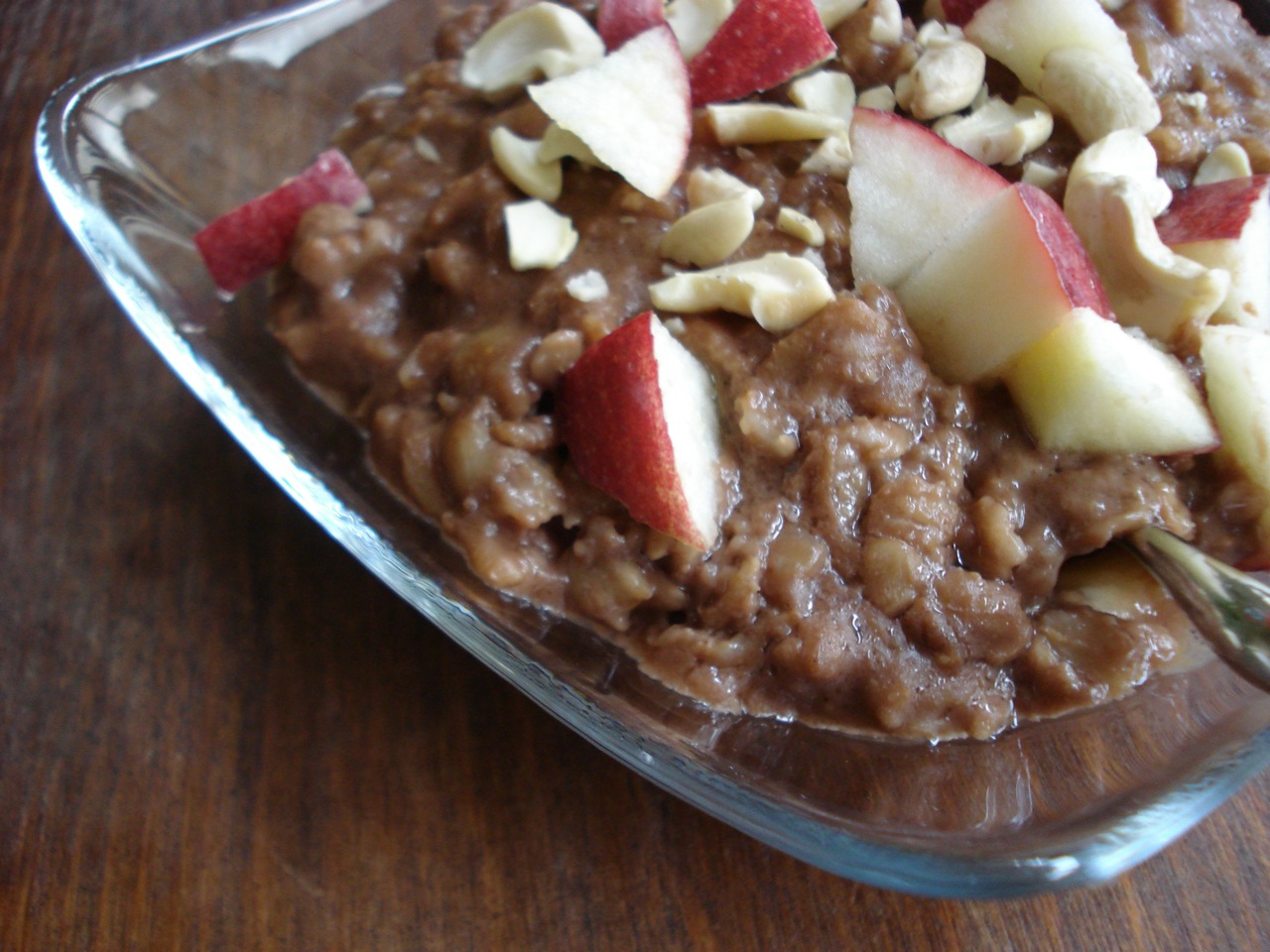 ENJOY =)
______________________________________________________________________________________
Upscaled to feed a family of 4:
2 & 2/3 cups coconut milk (about 1 & 1/2 cans)
1 & 1/3 cups water
5 & 1/2 tsps cacao (or cocoa) powder
1 & 1/3 cups old-fashioned rolled oats
2/3 tsp pure salt
2 & 2/3 bananas, mashed (give or take depending on size of bananas)
chopped cashews to taste (optional)