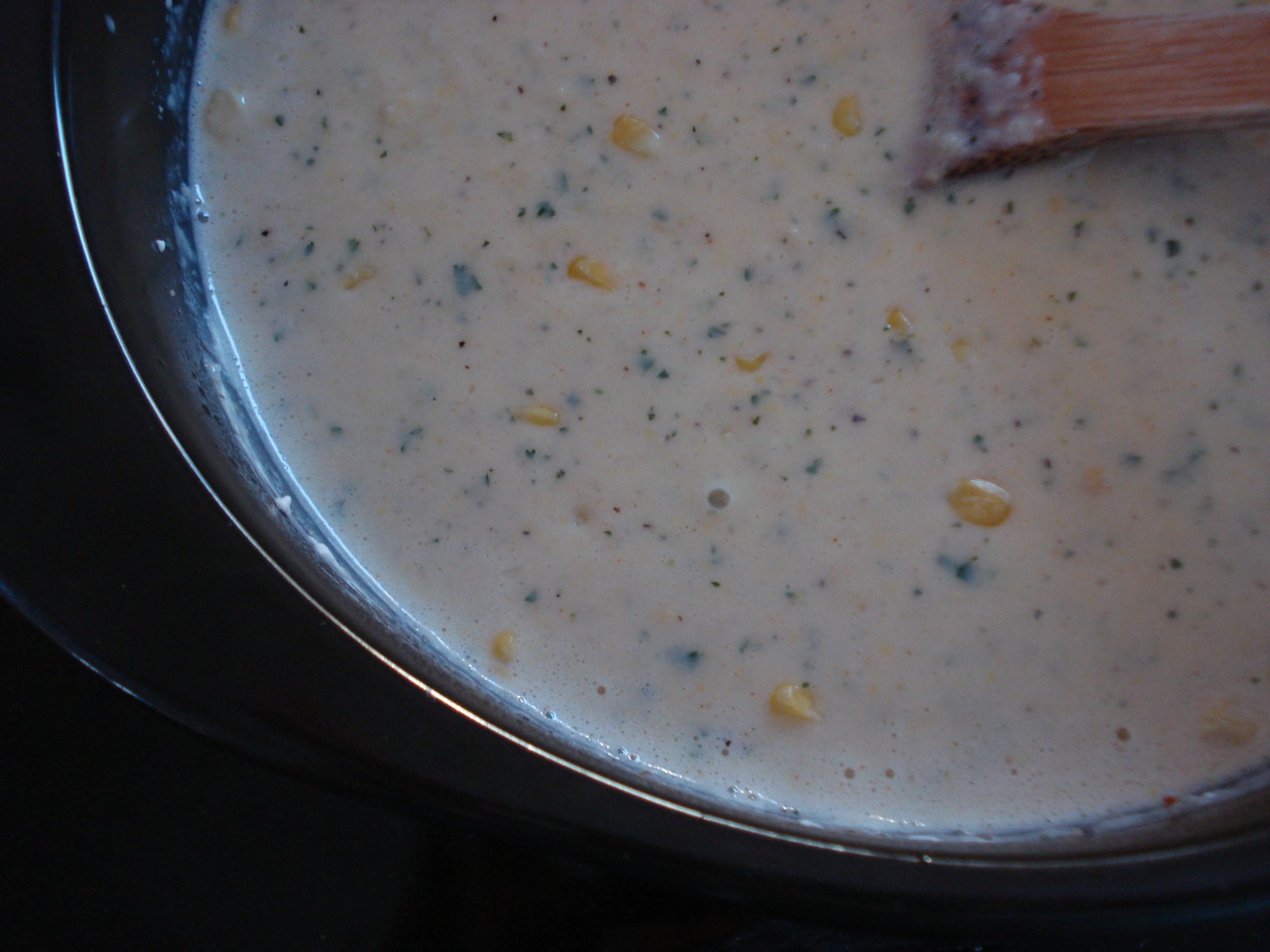 1 TBSP butter or ghee
1 small onion (or 1/2 of a large)
1 clove garlic, minced or crushed
1/4 cup fresh parsley, chopped
3 TBSPs flour (whatever kind you have on hand)
2 & 1/2 cups whole milk
1 cup broth (veggie, chicken, whatever you like)
24 ounces frozen corn kernels (divided in half)
2 & 1/2 TBSPs cream cheese, softened
1 tsp garlic salt (or 3/4 tsp salt + 1/4 tsp garlic powder)
1 tsp ground black pepper
1/8 – 1/4 tsp cayenne pepper (optional)
Heat butter in a medium pot (3 & 1/2 qt pot works well) over medium heat.
Add the onion, garlic, parsley, and saute for about 5 minutes (until onions are tender).
Add the flour, stirring well to make a pasty mixture.
Add the milk and broth, and continue cooking, stirring occasionally.
When the mixture is very warm, add half of the corn (about 12 oz) and the cream cheese and allow to heat through.
Puree mixture right in the pot with an immersion blender (or transfer to regular blender).
Add the rest of the corn, garlic salt, black pepper and cayenne pepper.
Stir to combine and serve.
(Serves 3 to 4).
______________________________________________________________________________________
SIDE NOTES

:

~ If the season allows, use fresh corn if you'd like.

~ If you don't have an immersion blender, transfer to a regular blender in batches to puree. If this step annoys you, know the ease of an immersion blender is only 30 bucks away. Alternately, you don't have to puree it at all.

~ Using 1/4 tsp of cayenne adds quite a kick, but this is how we like it. Use less or omit if you don't like spicy.

~ Can use the double boiler method to soften the cream cheese. You don't need an official double boiler set, just one small pot with boiling water in it on the bottom, and a pot large enough to sit securely on top for the cream cheese. You don't have to worry too much about this because you'll be pureeing the soup anyway, but it will be easier if the cream cheese is on the soft side first.  FYI – Double boilers are used when you need to melt something that would otherwise burn if put directly on the stove top.

~ I tend to use oat flour for things like this.

~ Adapted from http://allrecipes.com/recipe/creamy-corn-soup/

 For those with various food restrictions

, this recipe falls into the following categories:

Dairy Free, Gluten Free, Egg Free, Nut Free, Sugar Free, Grain Free, Vegan, Raw

If you're eating gluten free, be sure to use a gluten free flour. Always check the labels of any packaged goods you're using (such as broth) if eating gluten and/or sugar free.