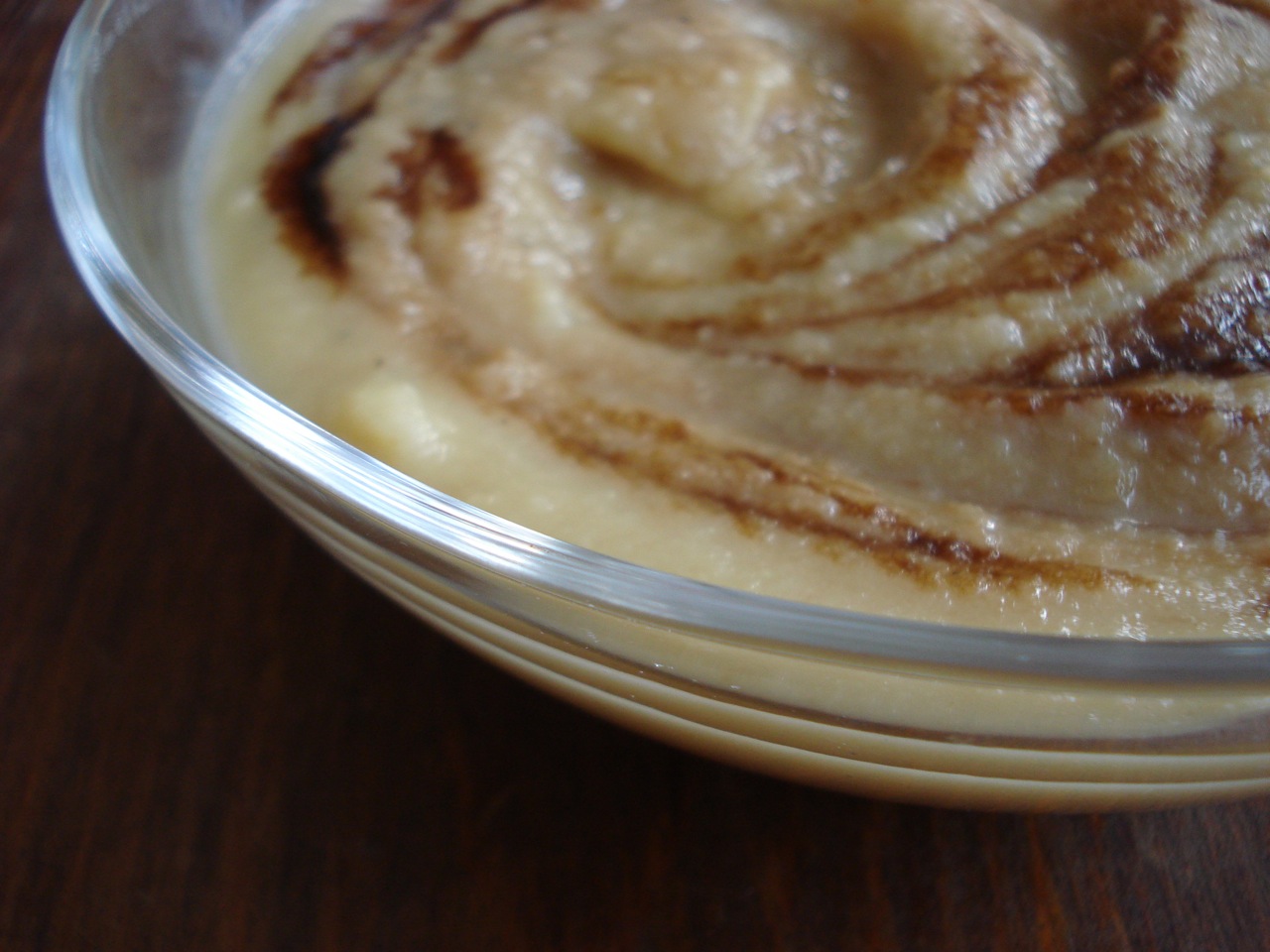 2 pounds parsnips, peeled
2 pears, peeled and roughly chopped
1 small onion, peeled and roughly chopped
2 TBSPs coconut oil
1 tsp pure salt, divided
1/4 tsp freshly ground pepper
1 cup balsamic vinegar
2 cups broth (veggie, chicken, whatever you like)
2 1/2 cups whole milk
Position rack in lower third of oven and preheat to 450.
Roughly chop parsnips and toss with, pears, onion, oil, 1/2 tsp salt, and pepper in a roasting pan (9×11 pyrex works well).
Roast, stirring approx every 10 mins, until very soft and starting to brown (about 40 mins).
Meanwhile, boil vinegar in a small saucepan until syrupy and reduced to about 1/4 cup (10 to 20 minutes, depending on how high the heat is) and remove from heat. Watch the syrup carefully during the last few minutes to prevent burning.
Transfer the roasted parsnip mixture to a large pot, add the broth, milk, and remaining 1/2 tsp salt.
Use immersion blender to puree until smooth & creamy (or transfer to a regular blender in batches).
Warm gently over medium-low heat for about 5 mins.
Ladle into bowls and drizzle the balsamic syrup over each serving.
Serves 4.
______________________________________________________________________________________
SIDE NOTES

:

~ This is a masterpiece! Adapted from www.eatingwell.com.  I've had a lot of milk on hand lately, so have been making lots of delicious creamy soups like this.

~ When my daughter asked earlier in the day, "What's for dinner?" and I told her roasted parsnip & pear soup, she said something like "That sounds kind of weird – I don't think I'm gonna like it." At first glance, this recipe actually really appealed to me, but did seem like it could go either way. In the end, holy parsnips… was it good. I mean, jaw dropping. Maybe it's just us, but myself & both kids were in love with it (husband traveling so hasn't had the pleasure yet). It's also very simple to make. Nothing to it, especially if you have an immersion blender.

~ Of course, if you don't have an immersion blender, you can puree in 2 batches in a regular blender.  Add half of the roasted veggies to the blender with the broth.  Blend and transfer to a large pot.  Then blend the remaining veggies with the milk, add to the pot and heat through.

 For those with various food restrictions

, this recipe falls into the following categories:

Dairy Free, Gluten Free, Egg Free, Nut Free, Sugar Free, Grain Free, Vegan, Raw

Always check the labels of any packaged goods you're using (such as broth) if eating gluten and/or sugar free.

~ When heating the pureed soup, if the heat is too high, it tends to splatter because of how thick it is. Keep your eye on it and reduce heat if necessary.

~ I've never attempted to reduce balsamic vinegar before. It did reduce, but didn't really get syrupy. It didn't seem to matter though, as the flavor was nicely condensed and blended so beautifully with the rest of the flavors in the soup.