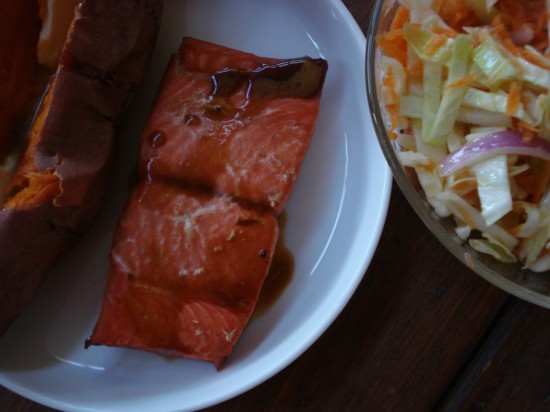 Been making fish pretty regularly these days & have a few new tasty recipes to share. Here's one of them….
FOR THE MARINADE

:

4 salmon fillets (about 6 oz each)
2 TBSP tamari/soy sauce
1/4 cup brown rice vinegar
1/2 cup mirin
1 tsp peeled & grated fresh ginger (see tip below)
Place the fillets in a baking dish just large enough to hold them in a single layer.
In a small bowl, combine the soy sauce, vinegar, mirin, and ginger.
Pour over the fillets, turning to coat all sides, and marinate at room temp for at least 30 mins but no longer than 1 hour.
__________________________________________________________
FOR THE SAUCE

:

Make the sauce just before broiling the fish.

4 tsps wasabi powder
2 TBSPs fresh lime juice (see tip below)
1/4 cup tamari/soy sauce
1/2 cup honey
In a small saucepan, mix together the wasabi, lime juice, soy sauce and honey.
Place the pan over medium heat and bring to a boil, stirring constantly.
Lower the heat and simmer (still stirring constantly), until the sauce thickens and turns syrupy – just a few minutes more.
Set aside and keep warm.
__________________________________________________________
TO BROIL THE FISH

:
Preheat the broiler with an oven rack placed so the fish will be about 3 – 4 inches from the heat source.
Remove the salmon from the marinade, wiping off any excess marinade.
Place them on a broiling pan, and broil until they begin to color, 3 – 4 mins (if your fillets have skin on one side – place them skin side down).
Flip the salmon and cook about 3 minutes longer, until almost opaque throughout, but still very moist.
Arrange on plates, drizzle the sauce over the salmon and enjoy.
__________________________________________________________
SIDE NOTES

:

~ If starting off with frozen fillets…..transfer from freezer to refrigerator the day before.  If you need to defrost in a hurry, place filets (sealed in plastic) in a bowl of cold water and let sit on the counter until thawed.  Should only take an hour or two, depending on thickness. Might want to change the water once or twice to keep it cold.  If you're really in a hurry to defrost, put the fish (in sealed package) in a bowl in the sink, and let it sit under cold running water.  Should be completely thawed in about 20 mins.

~ Mirin can be found in a bottle similar to soy sauce in the asian aisle of the grocery store or health food store. It's a sweet japanese rice wine.

 For those with various food restrictions

, this recipe falls into the following categories:

Dairy Free, Gluten Free, Egg Free, Nut Free, Sugar Free, Grain Free, Vegan, Raw

If eating gluten free, be sure to use a gluten free tamari.  If you're vegan and don't use honey, substitute another sweetener such as maple syrup.

~ GRATED GINGER TIP – Buy a large bulb of ginger, wrap it in a piece of parchment paper and store it in a freezer bag in the freezer.  When you need fresh ginger, no need to thaw.  Just take it out & peel a little nub of it (can use a paring knife or potato peeler).  Then use a microplane zester to grate as much of it as you need.  Wrap it back up & put it back in the freezer for the next time you need it.  Ginger is so much easier to grate when frozen.  And of course, you'll never again have to worry about finding your ginger shriveling up & mushy in a corner of the fridge.

~ LIME JUICE TIP – Sometimes I don't have fresh limes or lemons on hand when I need them. On the other hand, when I used to buy bottled lemon juice, I was inevitably at some point holding half a bottle in my hand, alternating between sniffing & wondering if those floating white "things" are supposed to be there. I've found the best thing to do is to buy a whole bunch of organic lemons or limes when they're available, juice them all, and put them into my cube trays in 1 TBSP servings. This way, when I need a tablespoon or 2 of fresh juice, I just pop out a couple of cubes!  See 32-FAVORITE-KITCHEN-TOOLS-&-GADGETS for the covered cube trays I use for this (and also the microplane zester mentioned above).

~ The reason you shouldn't marinate the fish longer than an hour is because the acid in the marinade will begin to "cook" the fish.

~ I assumed this fish would be spicy because of the wasabi powder, but it really wasn't at all. Just unbelievably tasty. Adapted from "Salmon" – a beautiful book by Diane Morgan.

~ It's nice served with a big salad or sauteed greens and brown rice. Shown here with TANGY-SWEET-COLESLAW.