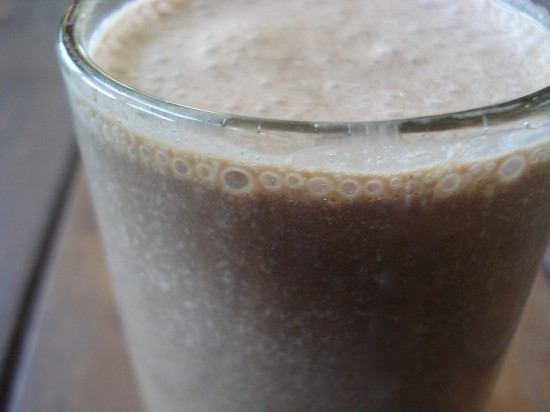 3/4 cup milk of choice
1 TBSP natural peanut butter (or other nut/seed butter)
1 TBSP cacao (or cocoa) powder
1 banana
Add ingredients to blender and blend.
Yields about 12 oz.
______________________________________________________________________________________
SIDE NOTES

:

~ Very simply. Very delicious. This is one of the first things we make when we get a gallon of fresh, raw milk from our local farm.

~ To turn this into more of a thick, dessert-style, milk shake, simply increase the milk to 1 cup and use frozen banana instead of fresh (slice banana & freeze on tray in a single layer overnight or at least 6 hours).

~  Using peanut butter is delicious, but it's also very good with sunflower seed butter (tried pecan butter, but didn't like that particular combo).

~ Of course, you can omit the nut butter and just make this a plain chocolate smoothie.  Likewise, I guess you could omit the chocolate and make this a peanut butter/banana shake as well.

Enjoy =)

 For those avoiding certain foods

, this recipe falls into the following categories:

Dairy Free, Gluten Free, Egg Free, Nut Free, Sugar Free, Grain Free, Vegan, Raw

If eating dairy free, you can use coconut milk or another non-dairy option.  If avoiding nuts, but can tolerate sunflower seeds, use sunbutter (or omit the nut-butter entirely).  If eating gluten free and raw, be sure to use an appropriate chocolate powder such as Navitas Naturals.