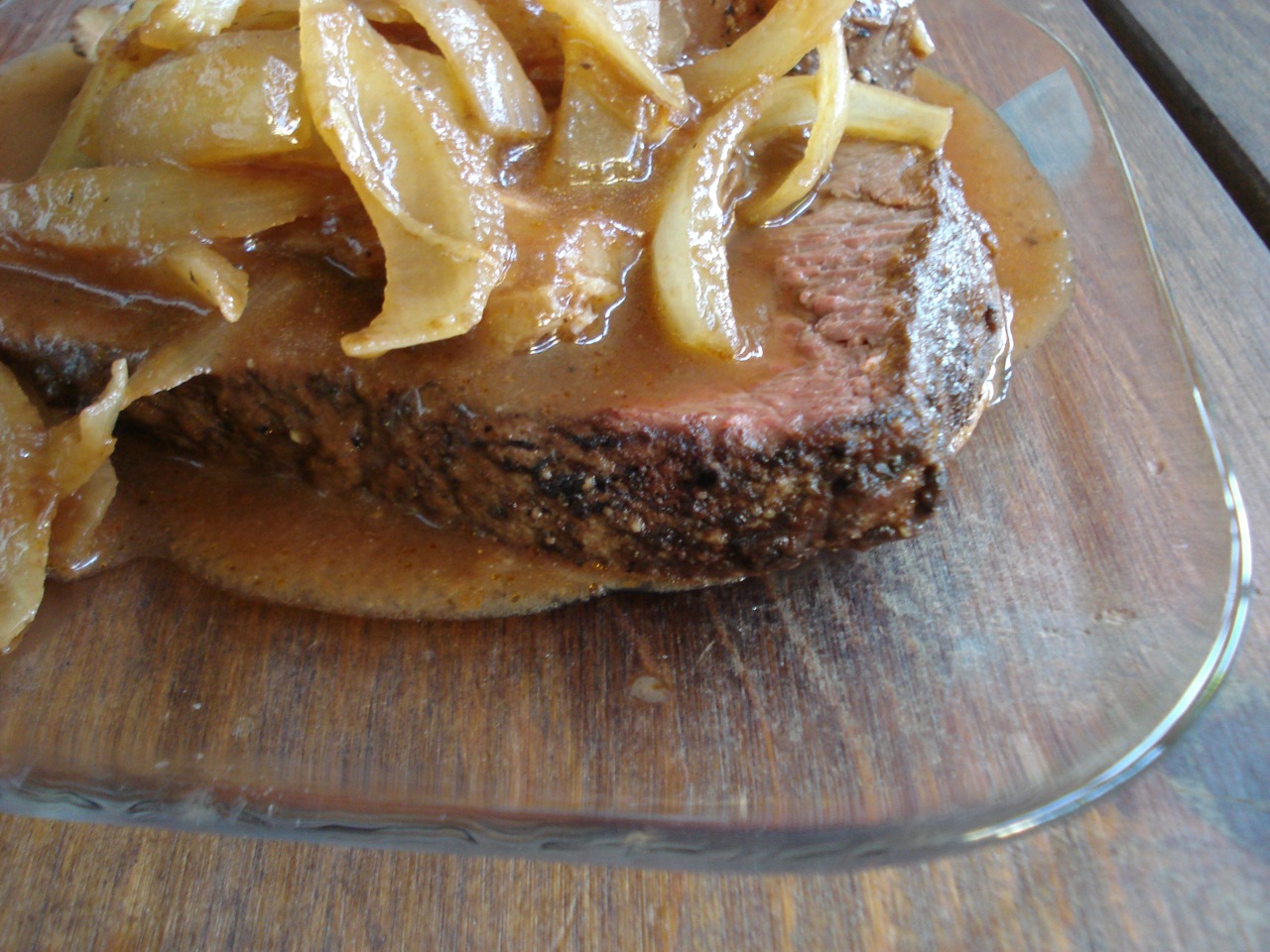 one 4 – 5 lb roast (chuck, rump, or round roast)
1 TBSP pure salt
2 tsps freshly ground black pepper
3 TBSP coconut oil
1/2 cup water
2 cups tomato sauce, fresh or packaged
1 onion, coarsely chopped
2 cloves garlic, minced
2 TBSP natural, brown sugar (optional)
1/2 tsp dry mustard
1/4 cup fresh lemon juice
1/4 cup apple cider vinegar
1/4 cup high quality ketchup (no high fructose corn syrup!)
1 TBSP Worcestershire sauce
Combine the salt and pepper and rub into the roast.
Heat the coconut oil in a large skillet over medium-high heat, and brown the roast, about 3 mins per side.
Place the meat in a slow cooker with the water, tomato sauce, onion, and garlic. (I do not have a slow cooker, but was able to make this recipe without any problem – see notes below.)
Cook on low heat all day, for about 5 – 6 hours
About 1 & 1/4 hours before you are ready to eat, combine the brown sugar, dry mustard, lemon juice, vinegar, ketchup, and Worcestershire sauce.
Pour over the meat, and continue cooking another hour until fork-tender.
Remove the meat, slice, and place on a warm platter.
Meanwhile, let the sauce thicken by simmering on the stove for a few minutes.
Pour over sliced roast and serve.
______________________________________________________________________________________
SIDE NOTES

:

~  I made a pot roast!  This was my first try, and I kind of can't believe I did it.  And it was good.  Very good!  If any readers out there are also recently reformed vegetarians, feel free to join me as I figure things out.  We can do this together.  Personally, I got over the mental block of eating meat a long time ago.  It's been a few years now, though only occasionally, and only at the one restaurant in town that serves organic grass-fed beef.  It's taken me quite a bit longer to muster up the courage to cook it myself.  I'm over it & here we go….

~  As mentioned, I do not have a slow cooker.  I simply cooked the roast in a heavy ceramic pot (5.5 quart), covered, in the oven at 170 degrees fahrenheit.  I used the same pot to first brown it on the stove top, so there was no need to transfer the roast to a different pot for the oven.  FYI – my roast happened to be 4 & 1/2 pounds and I cooked it for 5 & 1/2 hours total.  Seemed just right.

~  I actually forgot to add the sugar, and didn't even realize it until the next day.  It was delicious without it, so I gave it optional status.

~  I used a chuck roast for this.  And even though it was extremely tasty, there was a giant bone through the middle of it, and a lot of fat throughout.  Not that a little fat from a normally raised, healthy animal is anything to worry about – to the contrary.  Personally, I just find it a bit hard to chew!  I'm inexperienced in regard to different types of roasts, but I will try a different cut next time to see if there's less bone and fat.  Live & learn.

For those with various food restrictions

, this recipe falls into the following categories:

Dairy Free, Gluten Free, Egg Free, Nut Free, Sugar Free, Grain Free, Vegan, Raw

If eating gluten free, be sure to check the labels of any packaged goods you may be using (ketchup, Worcestershire sauce, etc).  Technically, you could make this recipe sugar free if need be by using a ketchup sweetened with xylitol.

~  Recipe adapted from The Grassfed Gourmet Cookbook.