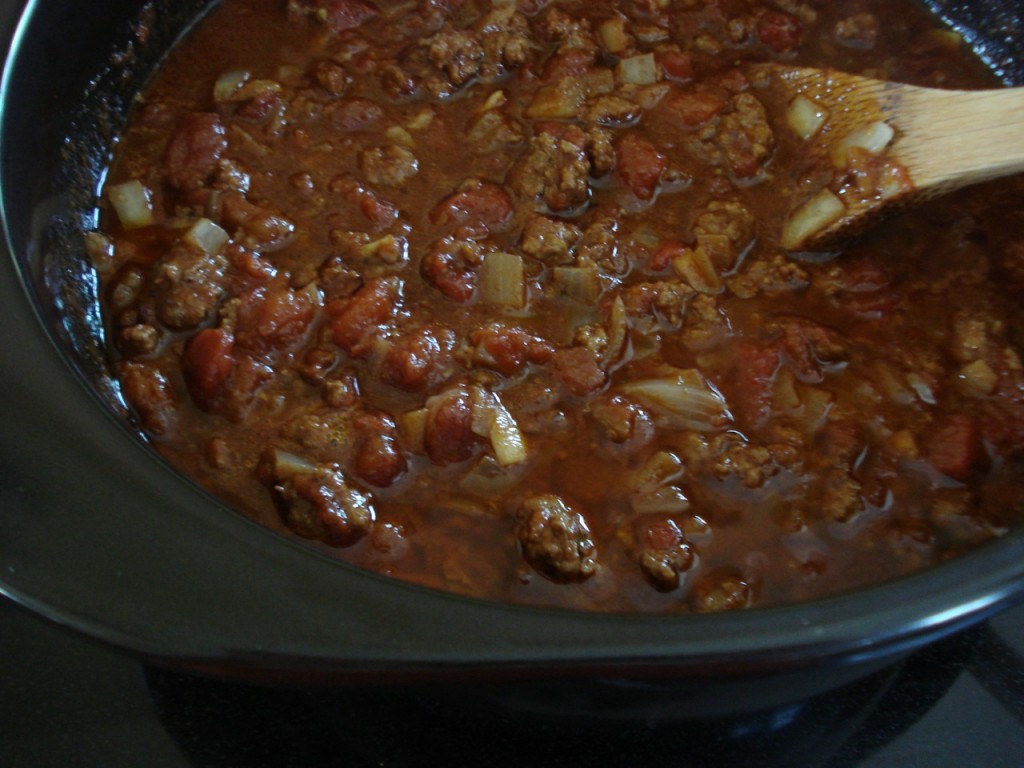 2 TBSP coconut oil
1 pound grass-fed ground beef
2 cloves garlic, minced or crushed
1 large onion, chopped
1 red bell pepper, chopped (about 3/4 cup)
2 TBSP chili powder
1 tsp dried oregano
1 tsp ground cumin
1 tsp hot sauce or 1/4 tsp chipotle pepper powder  (optional)
1 (28 ounce) package crushed, chopped, or strained tomatoes
1/4 cup Worcestershire sauce
Heat the coconut oil in a stock pot or large Dutch oven over medium heat & crumble in the ground beef.
Add the onion, garlic, bell pepper, and cook stirring frequently until beef is evenly browned.
Stir in the chili powder, oregano, cumin and chipotle powder (or hot sauce).
Stir in the tomatoes and Worcestershire sauce.
Bring to a boil, then reduce heat to low, and simmer for 1 hour covered.
Stir occasionally to prevent burning on the bottom.
Serves 4.
________________________________________________________________________________
SIDE NOTES

:

~   This is a very tasty chili, and is great for those who don't do well with beans (though you can certainly add some beans to this if you'd like).  Very simple to prepare.

~  This time, I didn't have a bell pepper on hand, so omitted it — you'll still get a great chili.

~  It's nice with a little cilantro over the top and dollop of natural sour cream on the side.

~  Sprinkle in some salt at the table if needed.

~  A 3 & 1/2 quart pot works well for this.

~  When I double or triple the recipe, I use a 5 & 1/2 quart pot.  It's almost silly not to double this and stick a bunch in the freezer for a busy day.  Food for thought….  =)

For those with various food restrictions

, this recipe falls into the following categories:

Dairy Free, Gluten Free, Egg Free, Nut Free, Sugar Free, Grain Free, Vegan, Raw

If eating gluten free, double check labels of packaged ingredients such as Worcestershire sauce and tomatoes.

Enjoy!