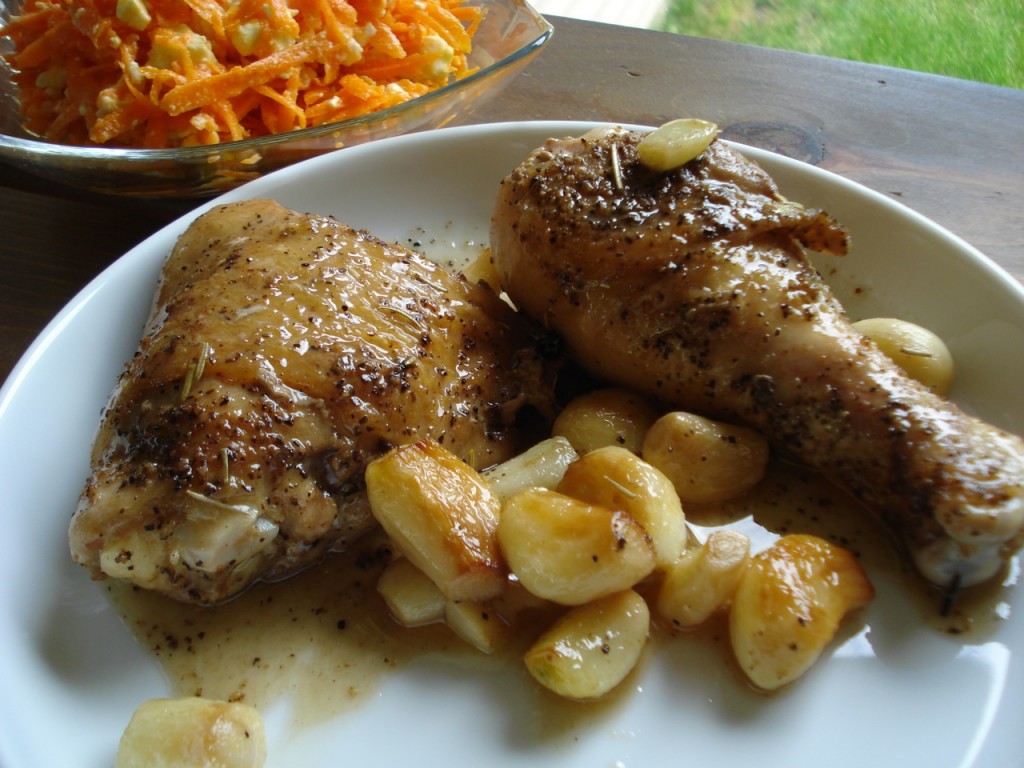 1 pastured chicken (3 – 4 lbs)
3 & 1/2 tsps salt
2 & 1/2 tsps ground black pepper
2 TBSP butter or ghee
2 TBSP coconut oil
40 cloves garlic, peeled (left whole)
3 sprigs fresh thyme
1 sprig fresh rosemary
2 sprigs fresh sage
10 whole black peppercorns
1/2 cup dry white wine
Rinse the chicken and pat it dry with paper towels.
Combine the salt & pepper in a small dish, then rub into the chicken parts.
Heat the butter and oil in a large saute pan or dutch oven over medium heat.
Add the chicken and brown, about 5 – 7 mins per side (this can be done in batches if necessary to avoid crowding).
Remove the browned pieces to a shallow bowl.
Lower the heat, and add the garlic.
Stir constantly to pick up any browned bits of chicken and to prevent the garlic from burning.
Continue cooking for about 10 minutes, until the garlic is soft.
Using a slotted soon, remove the garlic to a small bowl (smaller cloves may need to come out sooner).
Return the chicken and any juices that might have drained off back to the pan.
Add the herbs, peppercorns, and wine, and pour the garlic cloves on top.
Bring to a boil, then lower the heat until the liquid is just lightly simmering.
Cover and cook for 25 to 30 minutes, basting occasionally.
Serve the chicken topped with the juices and soft garlic.
__________________________________________________________________________________________________
SIDE NOTES

:

~  Adapted from The Grassfed Gourmet.  A very tasty dish!

~  Of course, there's really no need to use 40 cloves of garlic.  Use as much or as little as you'd like based on how many cloves each person you're serving is inclined to eat.

~  I didn't have fresh rosemary on hand, so used 1/2 tsp dried.

For those with various food restrictions

, this recipe falls into the following categories:

Dairy Free, Gluten Free, Egg Free, Nut Free, Sugar Free, Grain Free, Vegan, Raw

If eating dairy free, omit the butter and use more coconut oil.  Most wines are gluten free, but you'll have to check with the manufacturer to be sure.