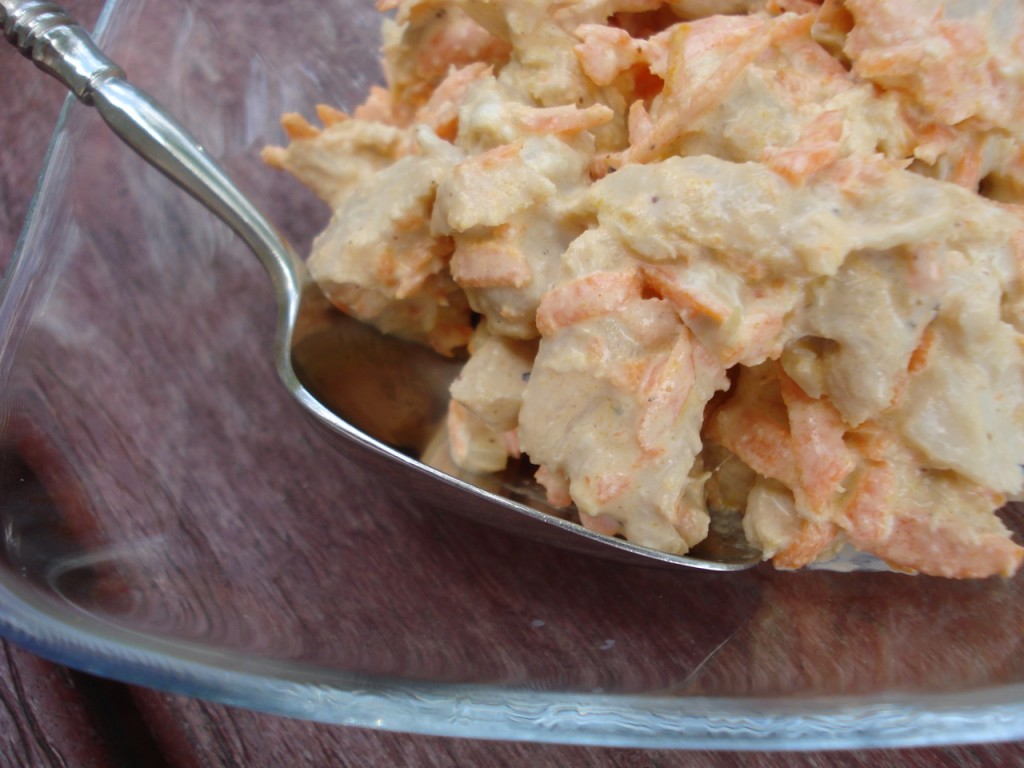 2 TBSP coconut oil
2 cloves garlic, minced
1 lb pastured chicken breast, cut into strips
salt and pepper to taste
3 carrots, shredded
1/2 cup creamy dressing (preferably homemade)
Heat oil over medium heat.
Add garlic and cook for about 2 minutes, until just beginning to color.
Add chicken strips, sprinkle with salt & pepper, and saute until cooked through – approx 10 mins.
Remove chicken from pan, place in a glass container with cover, and refrigerate until cool.
Cut chicken into small pieces and combine with shredded carrot.
Mix in dressing and enjoy.
Serves 4.
_________________________________________________________________________________
SIDE NOTES

:

~  Of course, you have many different options for cooking the chicken.  Whatever works best for you is fine, and it doesn't specifically have to be breast meat.  I've poached a whole chicken before & diced up some of it for chicken salad.  Up to you!

~  You can add a little celery or whatever else floats your boat.

~  Instead of using a creamy dressing, if you prefer, you can substitute some high quality mayo or simply use olive oil.

 For those avoiding certain foods

, this recipe falls into the following categories:

Dairy Free, Gluten Free, Egg Free, Nut Free, Grain Free, Vegan, Sugar Free, Raw

If eating dairy free, use mayo or olive oil instead of a creamy dressing.  If eating gluten and/or sugar free, be careful with your choice of packaged goods such as mayo or dressing.  If eating egg free, use olive oil instead of a creamy dressing (unless you use one that doesn't contain egg).