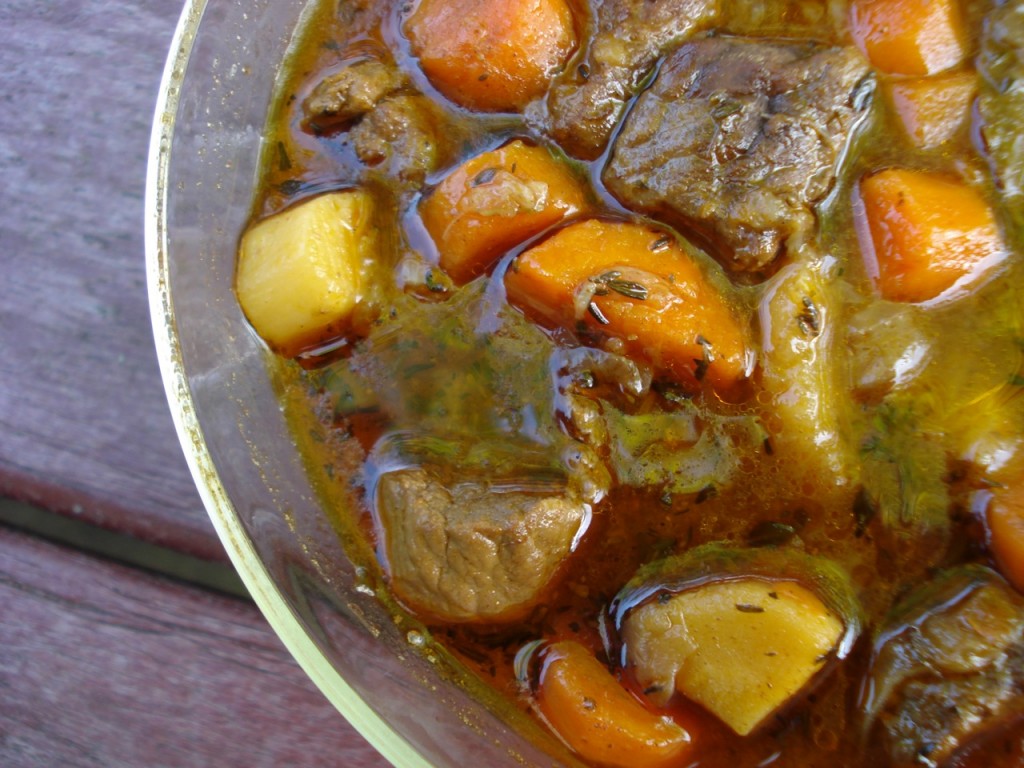 2 – 4 TBSP coconut oil
1 & 1/2 to 2 pounds grass-fed stew beef
1 TBSP chili powder
1/4 tsp chipotle powder (optional)
1 tsp salt
1/8 tsp black pepper
1 large onion, sliced as thin or thick as you like
1 lb carrots, coarsely chopped (3 – 5 depending on size)
1/2 lb parsnips (or turnip), coarsely chopped (1 – 3 depending on size)
1/2 lb white potatoes, peeled & chopped
2 cups beef stock
1 TBSP Worcestershire sauce
2 tsps dried thyme
3 bay leaves
Heat the oil over medium heat in a large stock pot.
Add the meat, chili powder, chipotle powder, salt, and pepper.
Brown the meat on all sides (5 – 8 mins), remove from pan and set aside.
If the pan is dry, add a little more oil.
Add the onions and saute until translucent (5 – 6 mins), scraping up any brown bits from the bottom of the pan.
Add the carrots and parsnips and saute until the onion just begins to brown (5 – 7 mins), scraping up the brown bits (don't allow any to burn).
Add the potatoes and toss to coat.
Return the meat to the pot, add the stock, Worcestershire sauce, thyme, and bay leaves.
Bring to a boil, reduce to a simmer, and cover.
Cook the stew for 1 & 1/2 to 2 hours, until the meat is fork-tender.
Serves 4. _____________________________________________________________________
SIDE NOTES:
~  In my neck of the woods, the past few days we've been waking up to that cool, crisp feeling of Autumn.  So this stew felt really good going down last night as we adjust to the cooler temps.  This is my favorite time of year, but sometimes it's a little bit of a shock that first day!
~  The prep work for this meal takes only about 30 mins, but it's that long, slow simmer that makes a stew a stew.  For this reason, it's best to make on a weekend or a day off from work.    If you want to eat at 6:00, start preparing the meal at around 3:30 or 4:00.  Remember, it's only 30 minutes of prep, then you can walk away for 2 hours until dinner time (nice!).  It's not a bad idea to double the recipe and freeze half for a busy day (although keep in mind the prep work will take just a little bit longer since you'll have more veggies to chop).
~  I prefer to cut my stew meat chunks in half before cooking so that they're bite sized.  Up to you.
~  It's a total of 2 lbs veggies (carrots, parsnips, potatoes) – include them in whatever ratio you'd like.
~  I cut my onions long and thin so they're easy for my daughter to pick out!
~  I've been working on this recipe over the past several months and have gotten it just right (for us).  Keep in mind, it has a bit of a spicy kick to it.  It's not too much for us, but feel free to adjust the seasonings to your own taste.
~  A 5 & 1/2 quart pot will work with lots of room to spare, but this also fits into a 3 & 1/2 quart pot.  The meat will just take longer to brown in the smaller pot.  When I double the recipe my 5 & 1/2 qt pot is full.
For those with various food restrictions, this recipe falls into the following categories: Dairy Free, Gluten Free, Egg Free, Nut Free, Sugar Free, Grain Free, Vegan, Raw If eating gluten free, double check labels of all packaged ingredients such as Worcestershire sauce, and beef stock.