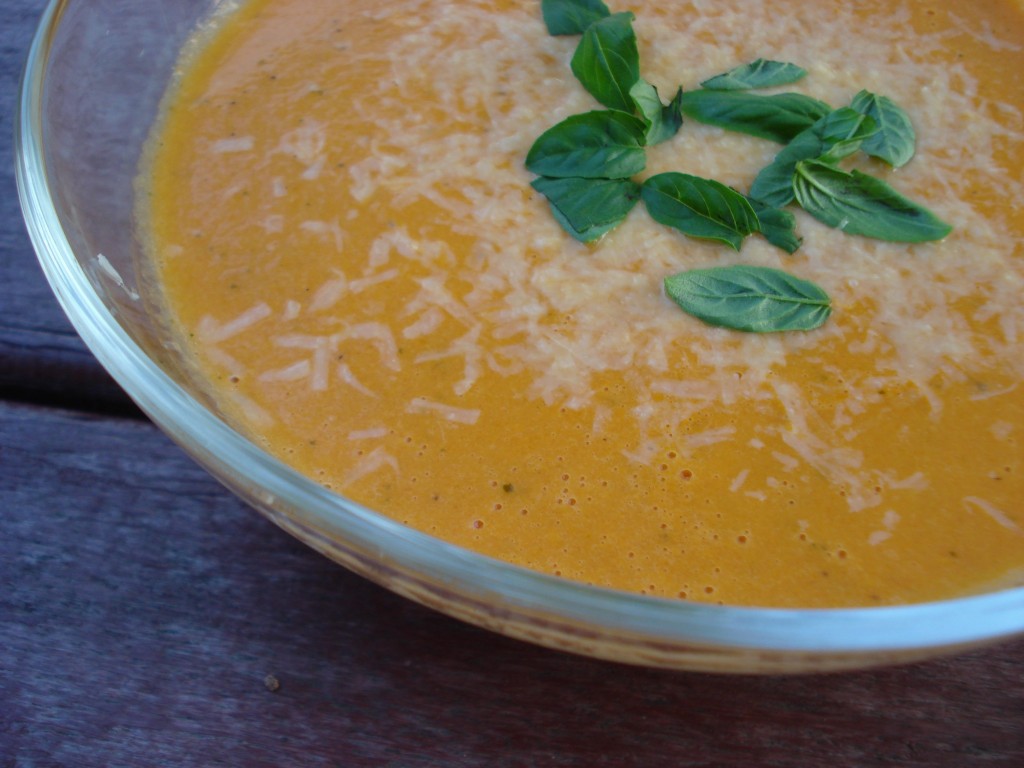 3 TBSP coconut oil, butter, or ghee
1 1/2 cups chopped red onions (approx 1 large)
2 carrots, roughly chopped
3 cloves garlic minced (about 1 TBSP)
4 pounds tomatoes, coarsely chopped
1 & 1/2 tsps natural sugar or 3 drops liquid stevia
1/4 cup packed, chopped, fresh basil leaves, plus extra for garnish
2 cups broth (chicken or veggie)
1 tsp pure salt
2 tsp pepper
1 cup whole milk
3/4 cup heavy cream
Heat the oil or butter in a large pot over medium-low heat.
Add the onions and carrots and saute for about 10 minutes, until very tender.
Add the garlic and cook for 1 minute.
Add the tomatoes, sugar, basil, broth, salt, and pepper and stir well.
Bring the soup to a boil, lower the heat, and simmer, uncovered, for 30 to 40 minutes, until the tomatoes are very tender.
Add the milk and cream to the soup and puree with an immersion blender (or blend in batches in a regular blender).
Reheat the soup over low heat just until hot and serve with julienned basil leaves.
________________________________________________________________________________________
SIDE NOTES

:

~  We've enjoyed this soup several times as the late summer tomatoes were falling off the vines.  I know I already have a few tomato soups posted, but I'm constantly tweaking things and trying new versions.  This one happens to be milk based and uses fresh tomatoes.  I adapted the recipe from the food network:  http://www.foodnetwork.com/recipes/ina-garten/cream-of-fresh-tomato-soup-recipe/index.html.  I meant to post the recipe weeks ago  – your summer tomatoes are likely gone by now – sorry!

~  You can shred a little high quality parmesan or cheddar over the top if you'd like.

~  I like to peel the tomatoes first for this recipe.  It's not necessary, just my personal preference.  Click HERE for details if interested.

 For those with various food restrictions

, this recipe falls into the following categories:

Dairy Free, Gluten Free, Egg Free, Nut Free, Sugar Free, Grain Free, Vegan, Raw

If eating sugar free, use stevia.  If eating gluten free, be careful choosing packaged ingredients such as broth.