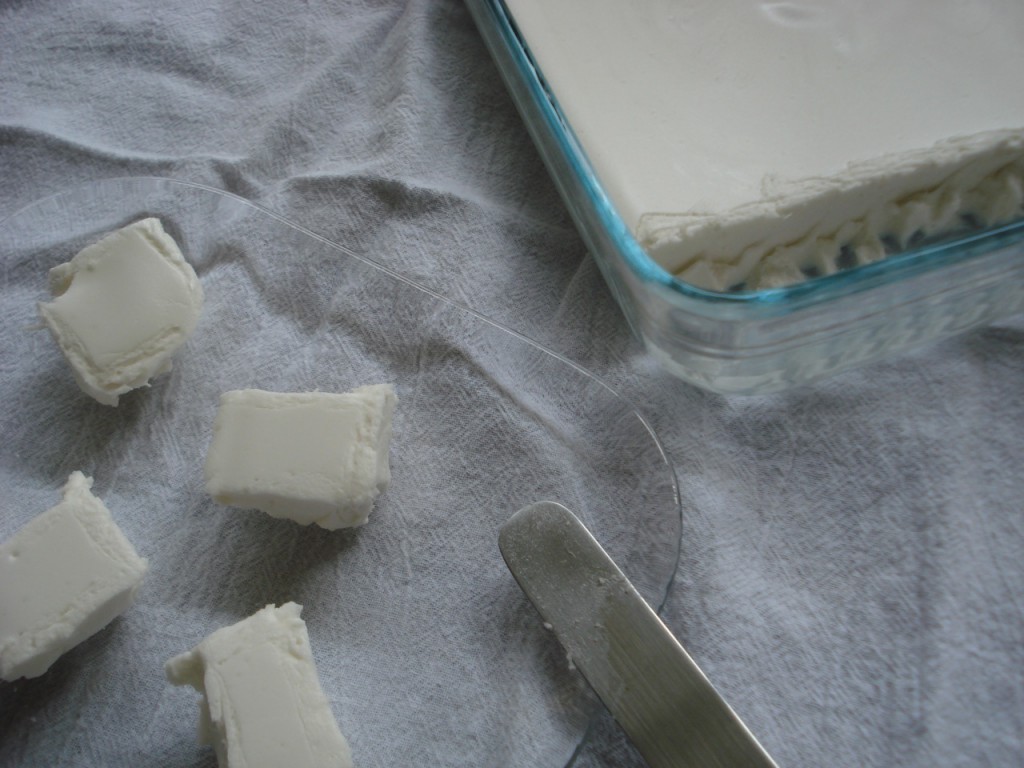 1/2 cup water
3 TBSP non-hydrolyzed gelatin
1/2 cup water
2 cups sugar
1/2 TBSP pure vanilla extract
Pour 1/2 cup of water into a large mixing bowl and sprinkle gelatin over the top.
Let sit about 30 minutes.
Gently boil remaining 1/2 cup water and sugar until liquid turns clear, about 12 – 15 minutes (stirring occasionally).
Transfer melted sugar to bowl with gelatin.
Add vanilla and blend with electric mixer for about 10 minutes, until a sticky marshmallow consistency is reached.
Transfer to an 8 x 12 baking dish, cover, and refrigerate for 12 hours.
Cut into squares and enjoy.
___________________________________________________________________________
SIDE NOTES

:

~  I myself have always hated marshmallows, even as a kid, so have never tasted these, but I make them for the kids from time to time and they really LOVE them.  Apparently, they taste like a true marshmallow but the consistency is slightly heavier, a little more gummy & less airy (I'm sure this is due to the fact that no chemicals are used in this version!).  They have also been tested on the kids' friends with great success.

~  Don't try this with any type of fancy, natural sugar – won't work.

~  I typically use two 8 x 6 pyrex baking dishes.  Just use whatever you have that's close – doesn't have to be that exact size.

~  Homemade marshmallows will stay fresh for at least a month in a sealed container.  Apparently you can keep them at room temp (as long as the container is sealed), but I prefer to keep them in the fridge and cut them as needed.

~  If as a parent, you're looking for ways to reduce the candy load this time of year, feel free to read through one of my older posts from this time last year:  HALLOWEEN-CANDY-DILEMA

~  It's always interesting to compare ingredients with commercially made versions:

JET PUFFED MARSHMALLOW INGREDIENTS:

Corn Syrup, Sugar, Dextrose, Corn Starch Modified, Water, Gelatin, Tetrasodium Pyrophosphate A Whipping Aid, Flavor(s) Artificial, Color(s) Artificial (Blue 1)

 For those with various food restrictions

, this recipe falls into the following categories:

Dairy Free, Gluten Free, Egg Free, Nut Free, Sugar Free, Grain Free, Vegan, Raw

If eating gluten free, be sure to choose a gluten free vanilla extract.