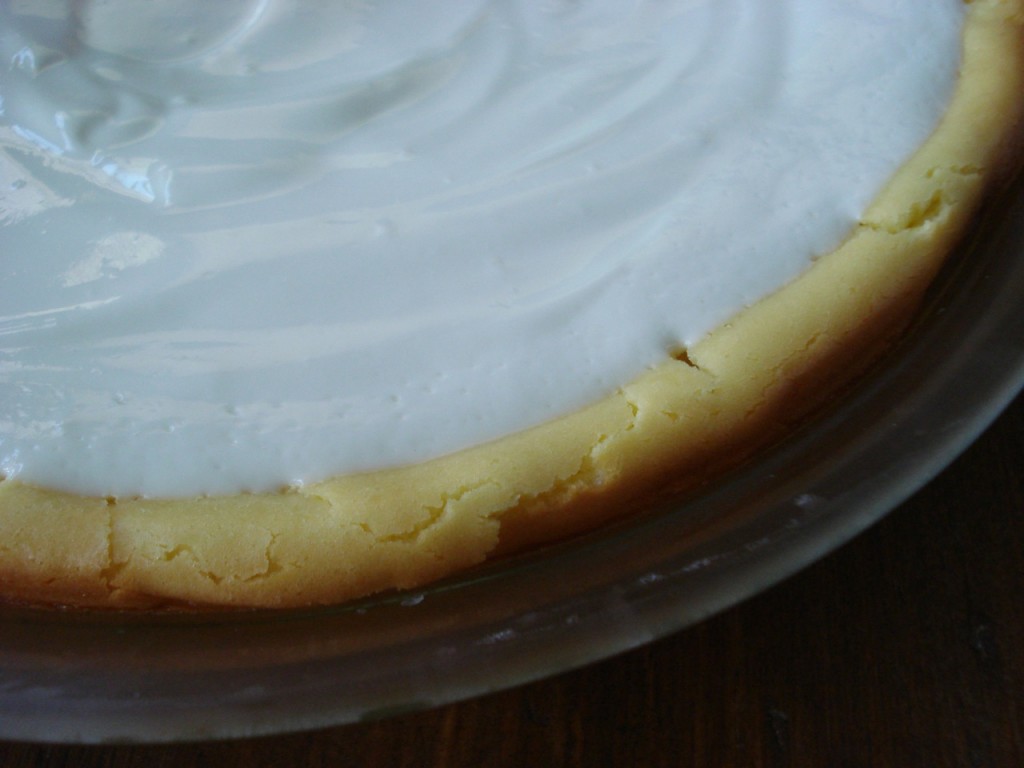 1 pound (16 oz) high-quality cream cheese
3 free range eggs
1/2 cup sugar of choice
1/8 tsp pure vanilla extract
For the Topping:
1/2 pint (8 oz) high-quality sour cream
1 tsp pure vanilla extract
3 TBSP sugar of choice
Preheat oven to 325 degrees.
Beat cream cheese with an electric mixer.
Add eggs one at a time, beating well after each.
Add sugar and vanilla, and beat again until just combined.
Pour batter into an 8 x 8 inch, coconut oil-greased, square, baking dish.
Bake for 40 minutes, or until lightly browned.
Let cool.
Combine topping ingredients and spread over pie to within 1/2 inch of plate edge.
Allow topping to firm in the refrigerator for at least 4 hours (overnight is best).
Enjoy!
_____________________________________________________________________________
SIDE NOTES

:

~  Not much to say here really, except grab a fork!  Of course, if you're eating gluten and/or grain free – this is a sweet treat, and in general, a nice dessert for Thanksgiving.

~  Personally, I like using mascarpone cream cheese for this.

~  For me, it overflowed in the oven twice – first when I used a 9-inch round pie plate, and again when I tried it with a larger, 10-inch plate.  Once I started using the 8 x 8 square dish, there was no mess to clean up in my oven afterward.  I know the photo shows round, but if you saw the side of the pie that's not in the photo, it wouldn't be such a pretty picture.  FYI – mascarpone cream cheese is lighter/fluffier than regular cream cheese, and I have a feeling this could be the cause of the overflow.  In other words, this might work fine for you in a round pie plate using regular cream cheese.  I have just never been able to find a regular cream cheese that didn't have a bunch of undesirable additives – even the organic varieties – so using mascarpone is my personal preference.  Do what works for you.

~  Make sure you let it cool enough before you try to spread on the topping (otherwise, some of the top layer of cake will break up as you spread, and the topping will be a little lumpy – not the worst thing in the world – but worth a mention.

Happy Thanksgiving everyone….  Enjoy each other  =)

 For those with various food restrictions

, this recipe falls into the following categories:

Dairy Free, Gluten Free, Egg Free, Nut Free, Sugar Free, Grain Free, Vegan, Raw