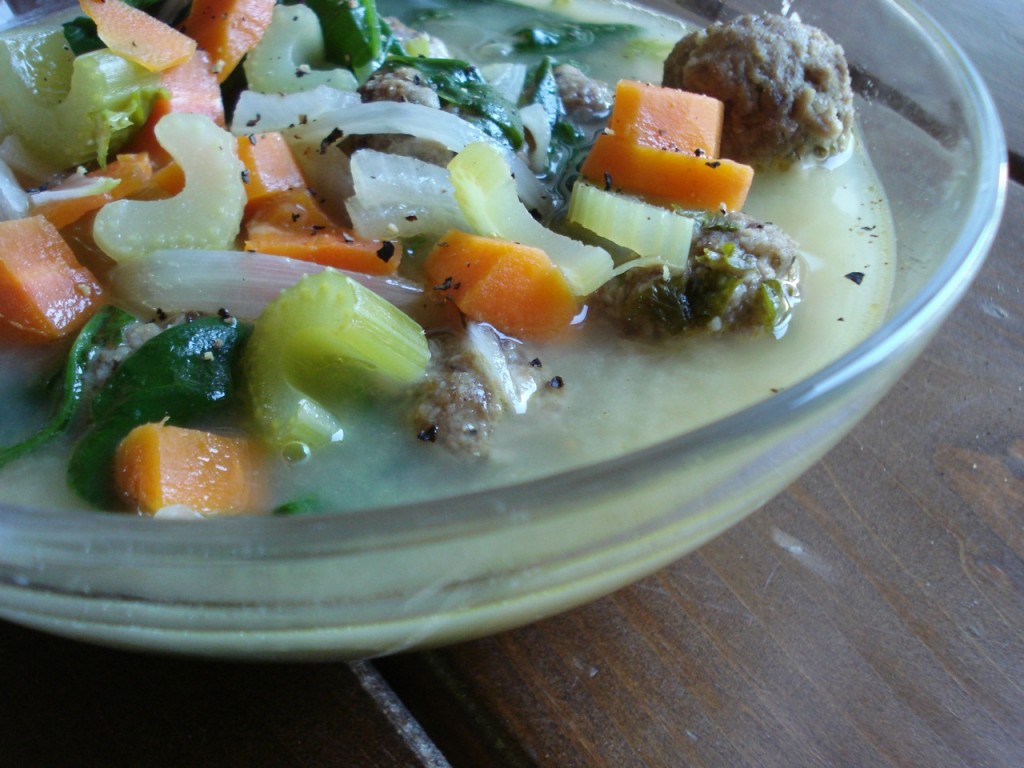 24 – 40 cooked meatballs (depending on how many people you're serving)
2 TBSP butter, ghee, or coconut oil
1 cup onion, diced
1 – 2 large cloves of garlic, minced or crushed
3 – 4 large carrots, diced (2 cups or more)
2 stalks celery, diced (approx 3/4 cup)
10 cups broth (chicken, beef, or vegetable)
1/2 cup dry white wine (optional)
12 oz baby spinach
pure salt and freshly ground black pepper to taste
freshly grated parmesan cheese (optional)
Make meatballs (or use some you've defrosted if you made extra last time).
Heat butter or oil over medium heat in a large soup pot.
Add onion, garlic, carrot and celery, and saute for 5-6 minutes.
Add broth and wine, and bring to boil.
Add cooked meatballs and simmer for 2 minutes.
Stir in fresh spinach and cook for 1 minute, until spinach is slightly wilted.
Serve with a sprinkle of salt and pepper and topped with grated cheese if desired.
______________________________________________________________________________
SIDE NOTES

:

~  I'm full blooded Italian and have been to many weddings, but don't recall ever having this soup at any such occasion! Upon looking into this a bit, I found that somewhere along the way, the original (Italian) name for this soup, "Minestra Maritata" was mis-translated.  The literal translation is "married soup" which in this case, refers to the ingredients — a perfect "marriage" of meat and greens.  You may now kiss the spinach…

~  This is kind of like chicken or matzoh ball soup but with meatballs instead – very delicious!

~  Plan on using about 5 meatballs per person (this recipe will feed 5 – 8 people depending on portion size).  It's a pretty easy meal to prepare, especially if you made an extra batch of meatballs last time & are just pulling them from the freezer.

~  Some like to add pasta or orzo to this soup.  In this case, simply add a cup or two of uncooked pasta to the broth mixture before you add the spinach, and simmer until al dente.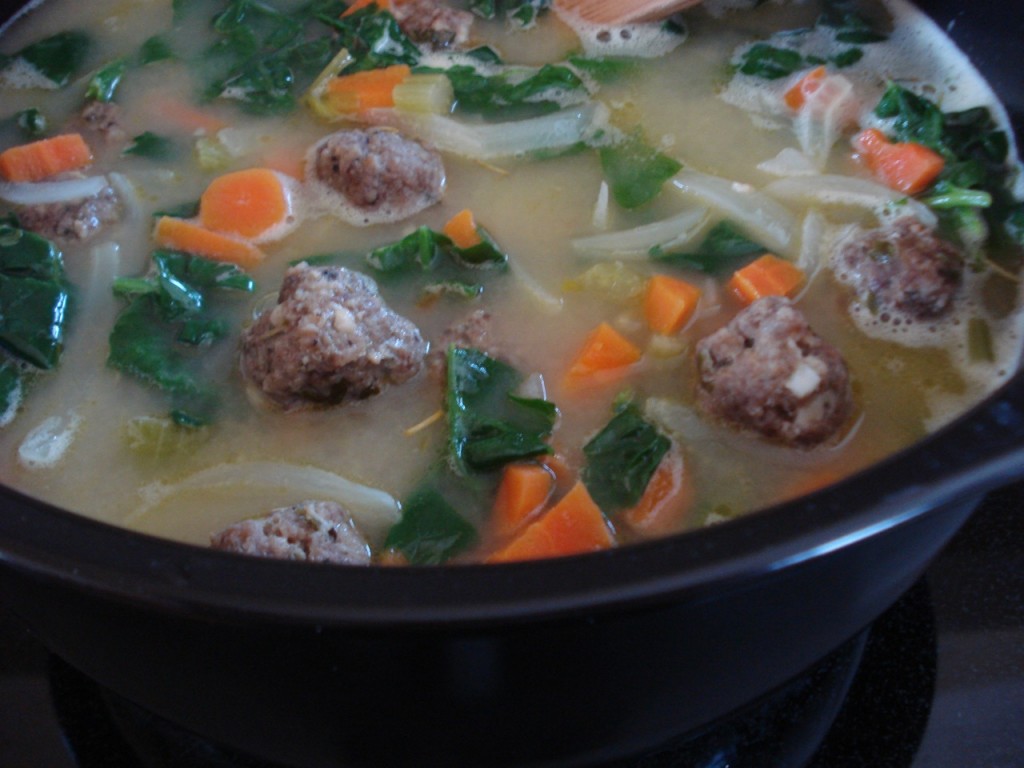 For those with various food restrictions

, this recipe falls into the following categories:

Dairy Free, Gluten Free, Egg Free, Nut Free, Sugar Free, Grain Free, Vegan, Raw

If eating dairy free, use coconut oil instead of butter and omit the parmesan cheese.  If eating gluten free, use gluten free breadcrumbs in the meatballs, and double-check your wine (or omit it if necessary).  Be sure to check labels of packaged ingredients if eating gluten and/or sugar free (omit the Worcestershire sauce in meatballs if necessary).  If eating grain free, use almond flour for the meatballs instead of breadcrumbs. 
Adapted from  www.foodnetwork.com