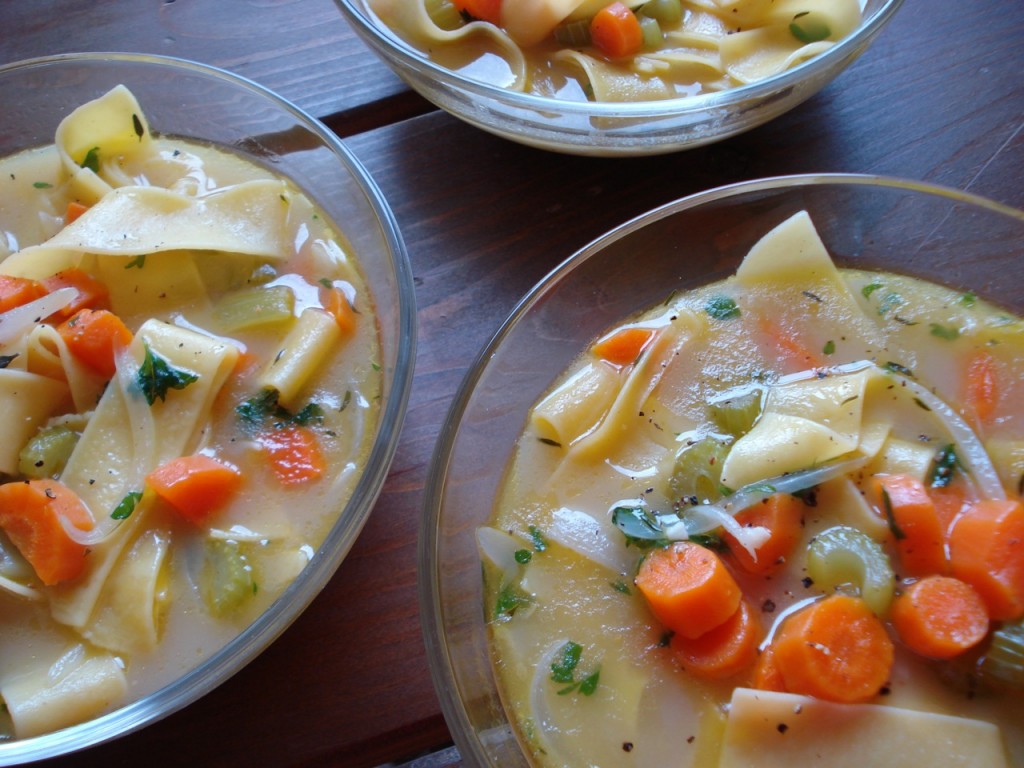 2 tablespoons coconut oil, ghee, or butter
1 medium onion, chopped
3 garlic cloves, minced or crushed
3 medium carrots, roughly diced
3 celery stalks, halved lengthwise and roughly diced
4 fresh thyme sprigs (or about 2 tsps dried)
1 bay leaf
2 quarts (8 cups) chicken broth
8 ounces dried wide egg noodles (optional)
1 & 1/2 cups shredded cooked chicken (optional)
pure salt and freshly ground black pepper
1 handful fresh parsley, roughly chopped
Place a soup pot over medium heat and heat the oil.
Add the onion, garlic, carrots, celery, thyme and bay leaf.
Cook and stir for about 6 minutes, until the vegetables are softened but not browned.
Pour in the chicken broth and bring the liquid to a boil.
Add the noodles and simmer for 5 minutes until tender.
Add the chicken, and continue to simmer for another couple of minutes to heat through
Season with salt and pepper and sprinkle with chopped parsley before serving.
_______________________________________________________________________
SIDE NOTES

:

~  True comfort food…

~  You don't technically have to put any chicken in this soup.  The broth alone can hold that part of the title.  Likewise, chicken soup doesn't have to have noodles, but I wouldn't omit both the chicken and the noodles.  One or the other should be in there.

~  Of course, you can use a high-quality store-bought broth for convenience if you prefer, but if you have your own broth in the freezer, all the better…

Enjoy!

For those with various food restrictions

, this recipe falls into the following categories:

Dairy Free, Gluten Free, Egg Free, Nut Free, Sugar Free, Grain Free, Vegan, Raw

If eating dairy free, use coconut oil.  If eating gluten free and/or egg free, you can substitute rice noodles.  If eating entirely grain free, omit the noodles.

~  Recipe adapted from Tyler Florence at www.foodnetwork.com