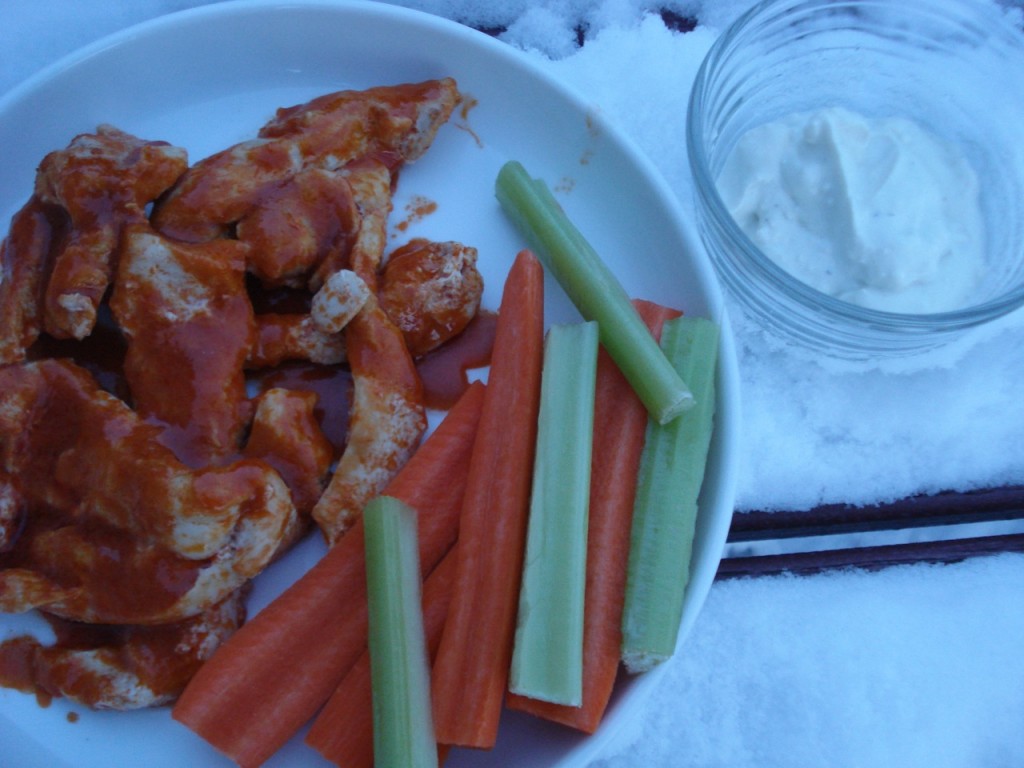 2/3 cup high-quality hot sauce (1 full 5 oz bottle)
1/2 cup high-quality butter
1 & 1/2 TBSP apple cider vinegar
1/4 tsp Worcestershire sauce
1/8 tsp cayenne pepper
1/8 tsp garlic powder
1/8 tsp pure salt
2 pounds chicken strips or chicken cutlets
Preheat oven to 375.
Combine all ingredients (except chicken) in a small pot and place over medium heat.
Bring to a simmer while occasionally stirring or whisking.
As soon as the liquid begins to bubble on the sides of the pot, remove from heat, stir, and set aside for use.
Place chicken in a 9 x 11 glass pyrex dish.
Pour 1/2 cup prepared sauce over chicken and toss to combine.
Bake 20 – 25 minutes – until cooked through.
Use the extra sauce for dipping.
__________________________________________________________________________________
SIDE NOTES

:

~  Cut up some carrot & celery sticks, and dole out the creamy blue.

~  I have not made these with actual wings, so the cooking time may vary if that's what you're using.

~  Yes, that plate is on the snow-covered picnic table on the deck.  Every time I make this, daylight is practically gone (this happens often in the winter around dinner time).  Just made this tonight.  Even though it was only 5:15 – it was still too dark inside, so I did what I had to do to get the shot   =)  Thought maybe someone would want to give this a go for Superbowl Sunday.  It's ridiculously easy to make!

~  If cutting this recipe in half, an 8 x 8 pyrex works well.

~  Enjoy your Sunday, whether you're watching football or not  =)

 For those avoiding certain foods

, this recipe falls into the following categories:

Dairy Free, Gluten Free, Egg Free, Nut Free, Sugar Free, Vegan, Grain Free, Raw

If eating gluten and/or sugar free, be careful choosing any packaged products such as Worcestershire sauce and hot sauce.

~  Buffalo Hot Sauce adapted from http://allrecipes.com/recipe/buffalo-chicken-wing-sauce/