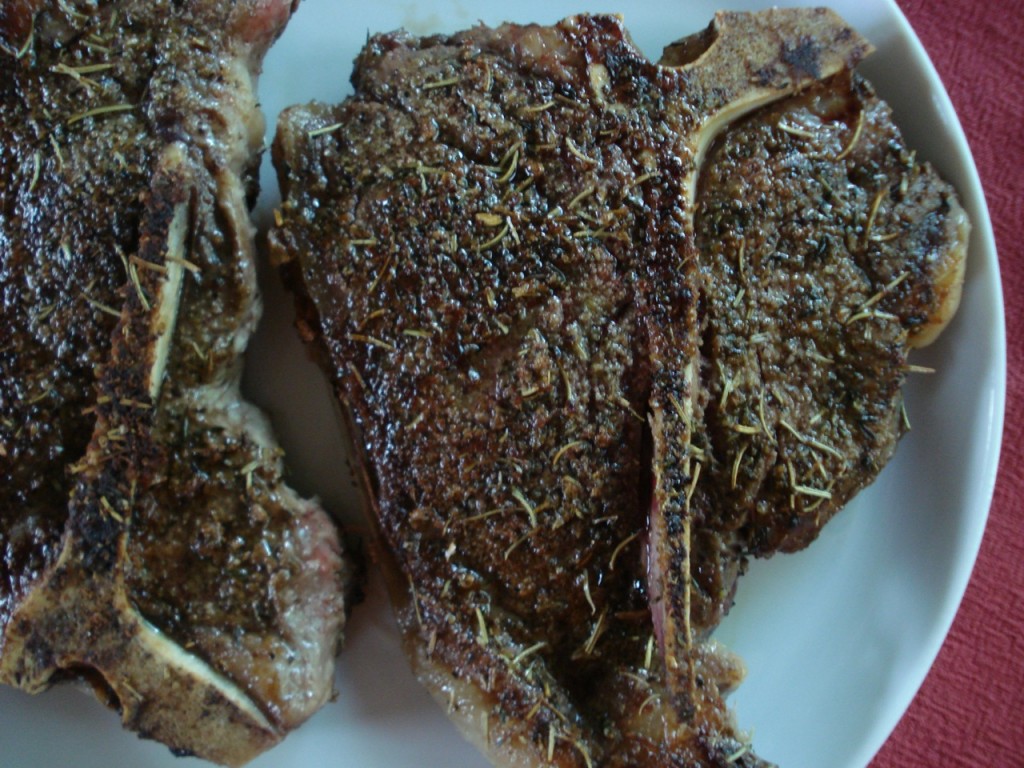 For The Steaks

:

2 grass-fed steaks, approx 1 inch thick (T-bone, porterhouse, top blade, filet mignon, NY strip, rib eye)
3 TBSP garlic-herb-rub (see below)
2 TBSP coconut oil
2 TBSP butter or ghee
1/2 cup bourbon
Garlic-Herb-Rub

:

2 TBSPs dried oregano
1 TBSP dried thyme
1 TBSP dried rosemary
2 & 1/4 tsps pure salt (or 1 & 1/2 TBSP coarse salt)
2 tsps garlic powder
2 tsps ground black pepper
1 tsp ground fennel
Combine the garlic-herb rub ingredients, and generously coat both sides of each steak (use your fingers and press firmly) (store extra seasoning mix in a sealed container for future use).
Set the steaks aside for about an hour and bring to room temperature.
Heat the oil and butter in a skillet over medium heat.
Once the oil is hot (begins to splatter lightly), add the steaks.
Cook for about 5 – 6 mins per side for medium-rare, or until they achieve the desired level of doneness (the internal temp should be between 120 and 130 degrees).
Remove the steaks from the pan and let rest.
Turn heat to low, add the bourbon, and simmer 2 mins longer, stirring constantly and scraping up any browned bits.
Set the steaks on plates, top with the bourbon pan sauce and serve.
__________________________________________________________________________________________________
SIDE NOTES

:

~  So far, I've made this with T-bone, porterhouse, and rib eye.  It is absolutely delicious.  I have failed a few times, trying to cook steaks under the broiler.  For me, this stove-top method (adapted from "The Grass Fed Gourmet") is much easier, and to be honest – produces some of the best steaks I've ever had.  I know many people use an outdoor grill for steak, but flames & meat aren't a good combination.

~  It's important to let the steak come to room temp (have it sit out for about an hour) before you begin to cook, otherwise, you'll have to cook it longer and it may become tough.

For those avoiding certain foods

, this recipe falls into the following categories:

Dairy Free, Gluten Free, Egg Free, Nut Free, Sugar Free, Vegan, Grain Free, Raw

If eating dairy free, omit the butter and use extra coconut oil.  Some people with gluten sensitivity do not react to alcoholic beverages made from glutenous grains (such as bourbon) – others do.  If eating strictly gluten free, simply omit the bourbon.  The steak by itself – covered in the garlic herb rub – is plenty tasty on its own, though the bourbon sauce really does add a special "WOW" if you can tolerate it